Around Town Home Edition: Meat and Dairy
Annie McBay takes us on a digital Around Town, to give us the lowdown on where you can (still) source ethically sourced meat and dairy, from smaller nature-friendly farms around London, during lockdown and beyond.
Check out this list of ethical butchers and dairies providing delivery and local farmers' markets open for business. Plus a few for the non-London folk… #buylocal
Shops and online ordering
The Butchery
Check website for up to date open outlets, and their expanding delivery service.
Various locations across London
The Butchery dry age all their meat and are especially careful to cut only when each carcass has reached its optimum. Read about their regular suppliers and breeds from across the UK and discover exactly where your food has come from. Many of there shops are remaining open – check the hours online.
@TheButcherySE23
Crown and Queue
Crown and Queue creates dry cured sausages and prepared meats using food grown, reared, brewed and conceived of in and around London. They only use UK, heritage breed, high-welfare pork as well as herbs and beers from growers and brewers near their site in Bermondsey. Currently offering free delivery to give everyone a chance to taste London's best.
@crownandqueue
Cobble Lane Cured
Cobble Lane, N1
Based in Islington Cobble Lane Cured cut, cure, smoke and hang meats all from British farmers. Look no further for salamis, hams, sausages, and pancetta. Now delivering.
@cobblelanecured
Hill & Szrok  
Visit the website and ring for same day delivery
Broadway Market, E8
Part butcher shop, part restaurant, Hill & Szrok is a true gem for ethical shopping. Located on Broadway market, they source meat from small-herd farms where animals are treated humanely and reared outdoors their whole lives. Hill & Szrok also stocks whole animal carcasses in order to reduce food waste and offer their customers unique cuts.
Turner & George  
Clerkenwell, EC1
An invaluable source of everything from chops to sausages. All the meat is guaranteed hormone, antibiotic, and cruelty-free. Their meat boxes are ideal if you want a lasting supply of good quality meat.  
The Ginger Pig   
Various locations across London
Located just off Victoria Park, this shop started out sourcing meat exclusively from its own farm in North Yorkshire. However, their popularity soon outstripped their ability to meet their demands sourcing from just one small farm, so they branched out into partnerships with like-minded farmers: "We only work with farmers who produce slow-reared and therefore fully matured free-range animals fed on a natural diet who share our commitment to maintain high standards in animal welfare and husbandry" says Ginger Pig team member Amelia.
Neal's Yard Dairy  
Currently open in Bermondsey and Borough Market, SE1
This Borough Market staple is a one-stop shop for a variety of high-quality British cheeses. They partner only with small farms that meet their high standards of land and animal care, especially those that provide raw milk. Their dairy boxes include milk, cheeses, yoghurts, eggs and a sourdough loaf.
Kappacasein
Know best for the raclette style toasted cheese sandwiches, this London-made cheese uses the finest organic milk. During lockdown they have reduced their offerings but are still available at Borough Market, who also have a number of other meat and dairy options and are offering some online delivery slots too – although they are in high demand.
@kappacasein
Farmers' Markets
London Farmers Markets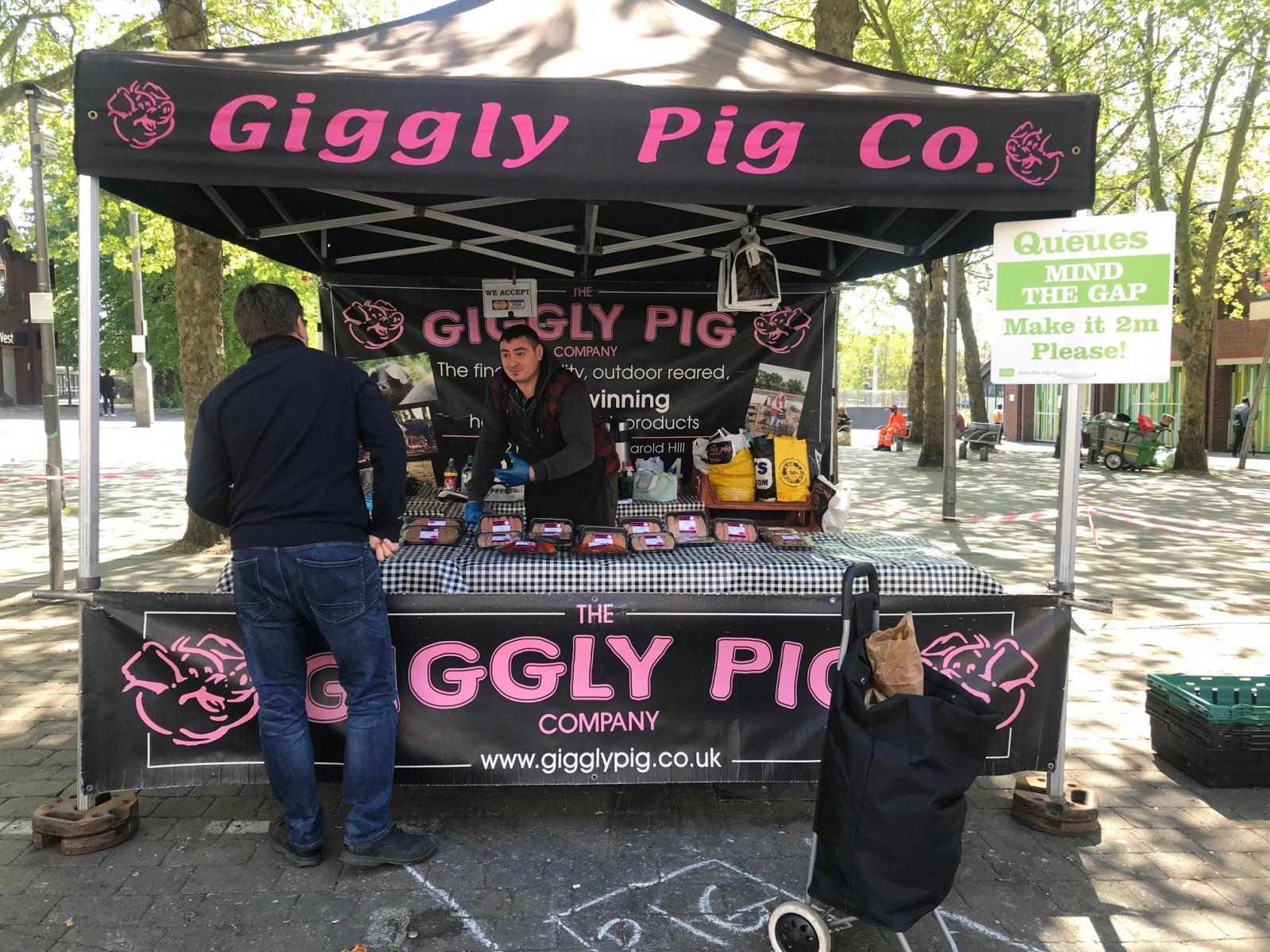 With locations across London, and many of whom are open for business despite Coronavirus (with extra measures to ensure social distancing) you can support local farmers and pick up some great tasting ethically sourced meat and dairy. Markets include:
Balham Farmers Market
This market is a one-stop shop for ethical meat and dairy, stocking raw milk and cream from Midgham Farm, Laycroft free range beef and poultry, and seasonal wild game. It's also got a variety of fruit and vegetable stalls. It's open every Saturday from 9am-1pm with extra lockdown distancing measures.
Growing Communities Farmers Market
Stoke Newington, N16
If you are lucky enough to be in walking or cycling distance, then you are probably already aware. Again, they are open for business but moving to pre-order – and have, arguably, some of the finest organic meat (courtesy of Galileo Farm – a small family organic farm on the Fosse Way in Warwickshire, south of Leamington) and dairy (from favourites Hook and Son) on offer from in the capital, at this Organically certified market in the heart of Stokey.
Crystal Palace Farmers Market
Upper Norwood, SE19
A truly inspirational community led markets, who have amazing dairy courtesy of Hook & Son (also find them at Growing Communities) and meat stall. To adapt they have different stalls on different days.
Out of London?
Here's some national platforms that might be of interest:
Big Barn 
Online Shop  
Designed to connect users with local farmers, restaurants, and producers.  Shoppers can browse by category, region, or for seasonal deals. They also have a handy 'Local Food Map' that shows stockists near you, including any schemes they are certified under, and any reviews other users have left. You can also check out their 'Recipes' section if you're in need of some dinner-time inspiration.  
FarmDrop  
Online shop  
Farmdrop work with a variety of farmers across Britain. They have an interactive platform that is easy to use, including farmer bios and photographs of the farms themselves. Farmdrop have a wide range of delivery options available and they also have the option to buy whole chickens so you can use more parts of the animal and reduce food waste (and make tasty stock afterward!) 
RELATED ARTICLES
NEWS