New Food Strategy promised for London
Mayor of London Sadiq Khan, and the Food Programme team at London's City Hall, have committed to a new London Food Strategy. Applications are now sought for a refreshed London Food Board, to oversee strategy delivery, with an application deadline of Wednesday 18th January.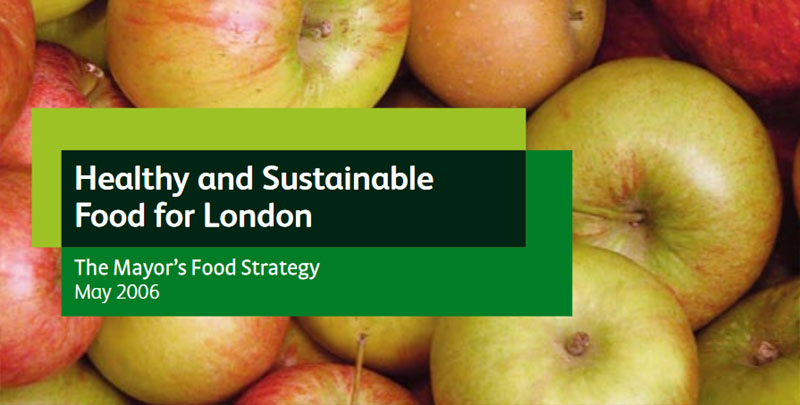 The commitment to a new London Food Strategy is very welcome news. Sustain and our London Food Link network were involved in the establishment of the original ten-year London Food Strategy (2006), instigated by our then colleague Dan Keech, for which Sustain ran the public consultation. This original London Food Strategy has been implemented under two Mayors and the strong and inspirational leadership of Jenny Jones and Rosie Boycott (who still leads the programme).
Working with many colleagues in third-sector organisations, local authorities and businesses, Sustain and London Food Link have also helped to coordinate several of the implementation projects over the past decade, such as Capital Growth, Good Food Training for London (working with GCDA), Sustainable Fish City, the London Food Poverty Campaign, Good Food on the Public Plate, Good Food for London maps and league table of borough progress on key food policies and practical solutions, Urban Food Fortnight and the Urban Food Awards, and the London 2012 Olympic Food Vision and Food Legacy project – to name but a few.
London's food work was also part of the inspiration for the Sustainable Food Cities network, which now works with 47 towns and cities across the UK.
We were therefore proud and impressed to read about how far London had come on food policy and practice on a range of important themes, in the GLA's Capital of Food report, documenting a decade of food leadership. In the light of the Mayor of London's renewed commitment, this now feels like a springboard to ever more ambitious work to transform the capital's food system, for the benefit of all.
The text of the invitation to apply for membership of the London Food Board, published by the Greater London Authority, reads as follows:
"The Mayor of London is inviting applications from across the food sector to join London Food Board. London Food Board advises the Mayor and Greater London Authority on food matters across the capital. It will play an integral part in the development and delivery of a new Food Strategy for London and will build partnerships to deliver improvements in London's food system."
"We are keen to ensure that members are as diverse as London's communities, bringing excellent knowledge of the opportunities and challenges facing London's food sector. Members will have senior and substantial experience and a genuine passion for London's food system, and will be able to provide expert advice to address food inequalities in the capital."
"The Board will consist of up to 14 members who between them will have expertise and an understanding within one or more of the following areas; food access and food poverty, public health, food economy (including SME's, manufacturing and hospitality), procurement and supply chain management, and environmental issues such as food waste and food security. We also welcome applications from those with food-related expertise and experience in; local government, markets, children and young people, and academia."
"Board Members will represent the interests of the public, private (entrepreneurs and both small and large businesses) and third sector."
"More information on how to apply can be found at https://www.london.gov.uk/about-us/jobs-and-working-city-hall/current-vacancies/foodb001-london-food-board-members-0. The deadline for applications is Wednesday 18 January."
"Please pass this message on to people you are aware of who may be appropriate and interested in applying."
Support our work
Your donation will help support community food initiatives and enterprises to thrive as part of a more sustainable food system.