Imports produced using pesticides banned in the UK, GMO crops and wool from mulesed sheep are all likely as a result of the UK-Australia trade deal. The deal could also see agrifoods from deforested land and increased amounts of beef from feedlots.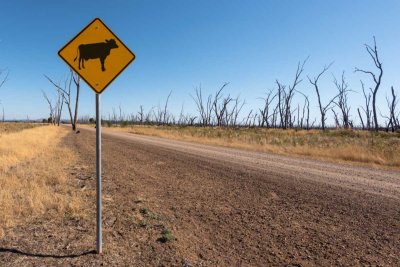 Australian cow sign. Credit: Richard Pantling | Pexels
The Trade and Agriculture Commission has concluded that the UK-Australia trade deal will not see the importation of hormone treated beef, but argues that even if it did, the produce could be labelled. In the view of the Sustain alliance, and in repeated public consultations, this would be much weaker than the UK's current position.
With regard to food, animal welfare and environmental standards, the TAC concludes that the deal could lead to more agri-food imports produced using pesticides banned in UK and that this will offer a cost advantage to Australian farmers
Ominously it also states: "regulatory cooperation under the FTA (free trade agreement) may facilitate the UK's exposure and understanding of the Australian pesticides approvals regime as it continues to consider the best future model for its own independent regime."
Australian pesticide regulations are weaker than in the UK so aligning UK standards with theirs will lower them. (See our Toxic Trade report for more)
The report finds that the deal is likely to result in:
imports of GMO crops – especially oilseed rape – to the UK
More wool from sheep that have be museled (but that mutton from these sheep is likely to be 'negligible')
more beef from feedlot systems
produce from Australian livestock farms which perform a greater range of procedures for longer periods of time without pain relief in comparison to UK
increased imports from deforested land, such as beef and cereals
Vicki Hird, Head of Farming at Sustain said: "We have long warned that this deal could result in a lowering of food, animal welfare and environmental standards in the UK and this TAC report confirms our fears. They conclude the deal could result in the UK having to accept imports of agrifoods produced with pesticides banned in the UK, GMO crops and wool from mutilated sheep. It is also likely to increase imports of beef from feedlot systems and produced to lower welfare standards.

The TAC also found that agri-foods from deforested land could be imported in greater quantities. This lowering of standards sets a dangerous precedent ahead of future trade negotiations with larger agricultural nations such as the US, Canada and Brazil.

"We urge the UK Government to introduce urgently a trade strategy as well as a set of core standards that domestic produce and imports alike must meet. "
Support our charity
Donate to enhance the health and welfare of people, animals and the planet.