Case study of Riverside Sourdough, which is a small bakery based in Cardiff. Its bakers specialise in baking sourdough loaves using traditional methods, whilst doing all they can to reduce food waste and to put surplus bread to good use.
Riverside Sourdough: background and core values
The bakery was started as part of the Hungry Planet Wholefood Co-op, selling freshly baked breads in store and at local markets, as well as supplying cafes across Cardiff with freshly-baked sourdough. Hungry Planet has now closed, but thanks to the master baker, Mark Stevens, Riverside Sourdough is still a thriving enterprise based in Cathays.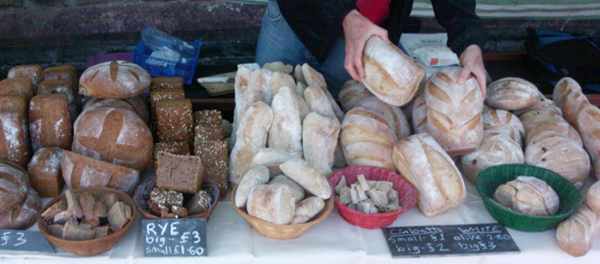 How Riverside Sourdough minimises waste
Each week, Mark, Vaida, Huw and Geraint make loaves to be sold at local markets and to local cafes. They bake bread late in the evening for sale the next morning at their stall at Riverside Market every Sunday. They have an early start every Wednesday when they bake bread to be sold fresh later that day at the Chapter Pop-up Market, which is held from 4-8pm every week.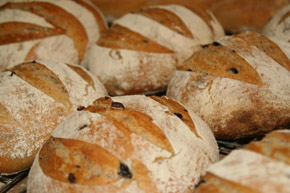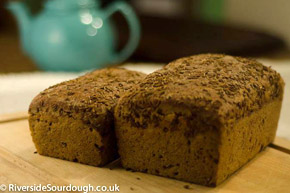 Because the bread is baked for sale at markets, fluctuations in demand are to be expected and this can be difficult to plan for. If the weather is particularly bad, fewer people are likely to visit the markets and this can result in loaves being left unsold.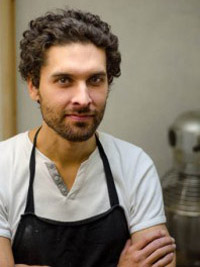 Riverside Sourdough ensures that leftover loaves are not wasted and it employs several measures to make sure that its delicious bread is put to good use.
Some surplus loaves are given to the activist organisation Food Not Bombs and some are donated to Cathay's Youth and Community Centre for use in its café. The bakery also has a list of customers who have signed up for leftover loaves. If there is spare bread that has not been sold at the end of the day, the people on the list are contacted and they can collect their loaves from the bakery and decide how much money they wish to pay when they arrive.
The team (including Master Baker Mark Stevens, pictured right) also attends a local community currency meeting, which takes place once a month directly after the market. After leaving the market, loaves that haven't been sold are taken to these meetings to be exchanged for other goods. Finally, if there are any loaves left after all of these ideas have been put into action, some bread can be frozen for future use.
Contact for Riverside Sourdough: website: http://riversidesourdough.co.uk/ Twitter: @RSourdough
This case study has been prepared by Sustain: The alliance for better food and farming, as part of the FoodSave project, helping small- and medium-sized enterprises to reduce food waste. If you run a small food business in London and want help reducing your food waste, please get in touch. Email:charlotte@sustainweb.org; tel: 0203 5596 777; web: www.sustainweb.org/foodsave/

FoodSave is funded by the European Regional Development Fund (ERDF), the London Waste and Recycling Board (LWARB) and the Mayor of London, co-ordinated by the Greater London Authority (GLA) and supported by the London Food Board.
Share
Get updates
Menu
Support our charity
Donate to enhance the health and welfare of people, animals and the planet.