Case study of Borough Market, where unsold bread, fruit and veg from the Market has been collected by local charities, with the help of FoodSave and Plan Zheroes, to feed hundreds of vulnerable local people.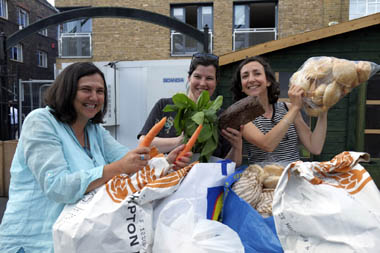 Borough Market was matched with local charities by the FoodSave project, which offers free support to small and medium food businesses in London to help them address the food waste issue. The development of the scheme has been supported by Plan Zheroes, which supports and inspires food businesses that are willing to donate their surplus food to local charities.
Food businesses trading in Borough Market often have delicious surplus food left over at the end of the day, which they now make available to a range of local charities that help vulnerable people in the local area to eat well.
The Borough Market traders involved to date are: the Bread Ahead Bakery, Karaway Bakery, Olivier's Bakery, Paul Wheeler (Fresh Supplies) Ltd., Ted's Veg, The Flour Station and Turnips. Between them they supply four charities on a regular basis:
Mental Fight Club, which serves over 200 people each week at its pop-up caf

é

The Dragon Café, which is open to all but aimed at those with experience of mental health difficulties
Look Ahead, which runs Gateway Foyer: supported accommodation for 116 vulnerable young people in Southwark
The Manna Society, which feeds over 200 homeless people a day, seven days a week
The Abbey Community Centre, which runs various services from The Abbey Centre in Westminster, including a free meal service which provides over 115 hot meals each week (rising to 160 in the colder months) to homeless people.
As well as occasional collections from the Missionaries of Charity, who run a hostel for single homeless men in Elephant & Castle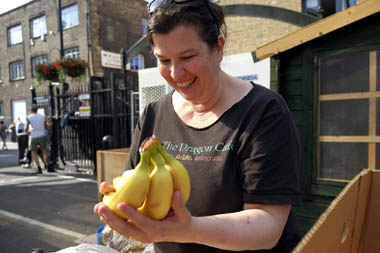 In the first month, FoodSave and Plan Zheroes helped these food businesses to divert well over a tonne of food to good causes.
Keith Davis, Managing Director of Borough Market said: "Borough Market is committed to inspiring people about food, creativity and sustainability - whether it's our 100% landfill free policy or collecting coffee grounds from our restaurants to use in our Market Hall garden. Working with FoodSave, we are proud to be doing our bit to reduce as much food waste as possible, before using surplus food to feed people in need."
Charlotte Jarman, FoodSave project officer at Sustain, said: "We are very excited to be working with such an iconic London food destination as Borough Market to divert surplus food to good causes. Let's hope that this move inspires other markets around the capital to set up similar schemes."
Borough Market is London's most renowned food market, and a source of exceptional British and international produce. Borough has long been synonymous with food markets and as far back as 1014, and probably much earlier, London Bridge attracted traders selling grain, fish, vegetables and livestock. In the 13th century traders were relocated to what is now Borough High Street in Southwark, South London, and a market has existed there ever since.
For more information about Borough Market, its traders and events visit www.boroughmarket.org.uk
Contact Ellie Weehuizen, Communications Assistant, 020 7940 7908; ellie@boroughmarket.org.uk
Photo credit: Stephen Burrows. More photos available on request.
This case study has been prepared by Sustain: The alliance for better food and farming, as part of the FoodSave project, helping small- and medium-sized enterprises to reduce food waste. If you run a small food business in London and want help reducing your food waste, please get in touch. Email: charlotte@sustainweb.org; tel: 0203 5596 777; web: www.sustainweb.org/foodsave/

FoodSave is funded by the European Regional Development Fund (ERDF), the London Waste and Recycling Board (LWARB) and the Mayor of London, co-ordinated by the Greater London Authority (GLA) and supported by the London Food Board.
Share
Get updates
Menu
Support our charity
Donate to enhance the health and welfare of people, animals and the planet.