Food Talks: How can the circular economy move us to better food systems?
Webinar 7 Jun 2022 18:00 19:00
Join the latest event in our #FoodTalks series to explore how circular economy thinking can move us to food systems that are better for people, animals and the planet.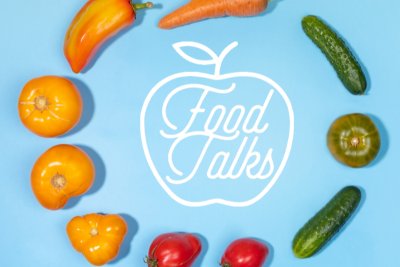 Food Talks: Circular Economy and food systems. Credit: Food Talks
In this ONLINE event, we will consider what a circular economy means in relation to food and farming, and key questions including:
What role can a circular economy for food play in helping a green recovery?
What examples already exist of organisations doing 'in the round' circular economy thinking in practice?
How can we overcome barriers to the wider uptake of circular approaches?
And what practical actions can we all, as food citizens, take?
These are some of the pressing questions we'll dive into in this event, which takes place just ahead of Circular Economy Week 2022. Speakers include:
Hear insights from our expert speakers and share your own views. Our speakers will be announced soon.
We look forward to seeing you at #FoodTalks! Visit the Food Talks website for further information and for insights from past talks.
#FoodTalks is brought to you by a partnership of the Food Ethics Council, Impact Hub Kings Cross, Organico, and London Food Link, part of Sustain.
Published 7 Jun 2022
London Food Link: This is the umbrella for all of Sustain's initiatives in London. Our work includes helping to influence local government policy, hands-on food growing training, running sessions for public sector caterers, creating guidance for independent eateries and food producers, public awareness campaigns, and joining the dots between people around specific food issues. The LFL supporter network is open to everyone who grows, produces, teaches, peddles, promotes and simply enjoys good food in the capital.
Support our work
Your donation will help support community food initiatives and enterprises to thrive as part of a more sustainable food system.