Haricot beans and better meat
Leicestershire County Council have been taking steps towards sustainable and climate-friendly catering in schools and working with Good Food Leicestershire to build a case for supplying regeneratively reared meat and sourcing a new variety of haricot bean that can be grown locally.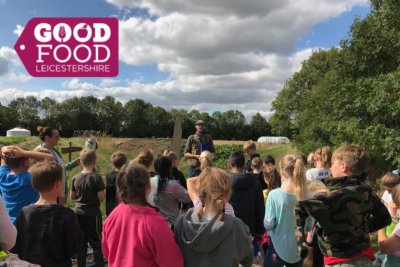 School children at Stanford Hall CSA. Credit: Leicestershire food partnership
Leicestershire County Council's inhouse caterers supply close to 35,000 school meals a day and have been leading the way in embedding sustainable food procurement practices. Through their Gold Food for Life Served Here award, they have been working towards serving the next generation planet-friendly meals.
Better meat, more veg
Serving meat from better sources, including organic, and reducing the total amount in the portions is a major commitment to reduce the impact of school meals on the climate and nature crisis.
In the last three years, they have reformulated all meat recipes to contain 20% less meat by adding beans and pulses into many of their dishes as an alternative protein source. The standard menu now incorporates two to three vegan options each week and the caterers have also increased their 'meat-free' days from one to five over a three-week cycle. The meat that they do serve comes from farms in the Midlands to support local farmers and reduce mileage. Reducing the reliance on meat-based meals is a key way to reduce the carbon footprint of a meal and the inhouse caterers have incrementally shifted towards a more plant-based offer that the students have gratefully received.
The caterers have also committed to high-quality vegetables and buy in a large amount of their fruit and vegetables from Total Produce and Organic Pantry, who source seasonal produce from Leicestershire and the surrounding counties. They are hoping to build on this model in the future to ensure they are supporting small and medium (SMEs) enterprises through co-operative buying models.
In some of the schools in Leicestershire, they are getting the students involved in growing the food. Three schools near Stanford Hall have linked up with a local community garden and the students and volunteer growers work together to grow food that is then served as part of the meal service which has been a fantastic way to get students excited about what they are eating.
Jackie Manship, the Catering Manager for Leicestershire Trading Services (LTS), who has spearheaded the drive towards planet-friendly school meals said:
"LTS recognises the huge impact that we can have on children's health and their understanding of the food system, but also the benefits that local purchasing and relationships can have for the local economy. Demonstrating this, leading by example and telling the story is important to us".
Looking forward
Good Food Leicestershire has been involved in supported Jackie and the team to reach their Gold award and is currently exploring how the school meals service can do more to support biodiversity and reduce their carbon footprint. They have been working with the Stanford Hall CSA to find new ways to support climate-friendly school meals. The farm is currently trialing a new variety of haricot beans that has been adapted to our climate and has a thinner skin to enable quicker cooking time, with the plan to see if those beans could enter the school meal food supply chain. If successful, this pilot will be used as a model to encourage other agroecological farmers to follow.
The food partnership is in discussion with meat farmers using regenerative methods to evaluate the biodiversity and carbon benefits of using their product in the supply chain versus existing contracts to build up the evidence and justification for better meat in school meals.
Gavin Fletcher, Coordinator of Good Food Leicestershire, the local food partnership added:
"The work that Jackie and her team have done, supported by Food for Life, has been the precursor to so much of Good Food Leicestershire's work. I am excited to see how we can use this to really connect people to food through the chain"
In many ways, the sterling work happening at the school meal level was the precursor for the Leicestershire food and farming dialogues, which aim to push sustainable food and farming agenda forwards in Leicestershire. Leicestershire County Council have declared a climate and nature emergency and the food partnership wants to ensure that this declaration is filtered across all departments and decisions made within the county council.
Are you interested in climate-friendly food procurement? Sign up to Food for the Planet, a campaign of Sustainable Food Places led by Sustain.
Sustain annual conference - 8 December

Book now
Published 4 Oct 2021
Food for the Planet: Food for the Planet is helping local authorities, businesses and organisations take simple actions to tackle the climate and nature emergency through food.
Ren is the Sustainable Food Places Local Action Coordinator (on maternity cover) and leads the Programme's Good Food Movement work, Good Food Economy and coordinates the Sugar Smart campaign. She previously coordinated Feedback's Gleaning Network and is a Registered Associate Public Health Nutritionist.
Ren Piercey
Campaign Coordinator
Sustainable Food Places
Event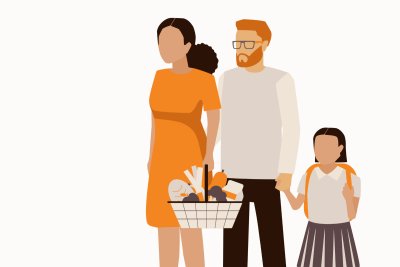 Sustain annual conference - 8 December
Support our charity
Donate to enhance the health and welfare of people, animals and the planet.