Meals on wheels: something to be proud of
Simon Shaw recently travelled to France, Italy and South Korea to learn about meals on wheels services, as part of his Winston Churchill Memorial Trust Fellowship. In a previous blog he discussed some of the key issues facing services in the UK; during Meals on Wheels Week 2019 Simon sets out some of his emerging thinking.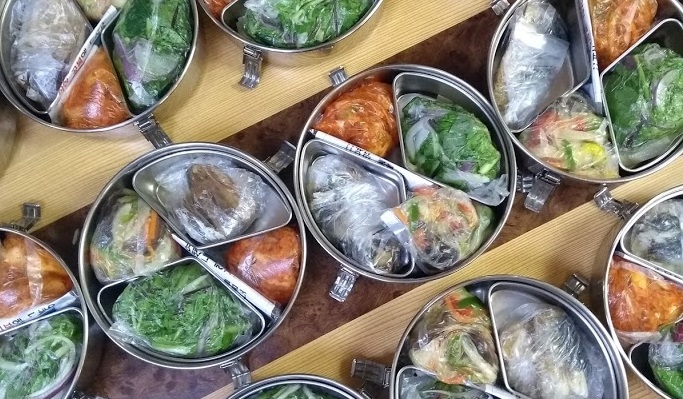 Freshly prepared meals on wheels ready for delivery at the Eunpyeong Senior Welfare Center Photo credit: Simon Shaw
"A good service is like a badge of honour."
While there are of course examples from the UK, one of the things which struck me the most during my travels was the level of ambition for meals on wheels services among commissioners and other public sector professionals, not just third-sector providers. Indeed, for some, having a high quality and widely-used meals on wheels service was seen as a 'badge of honour'. In Seoul in South Korea, I was hit by a wave of positive energy as I entered the senior welfare centre where meals on wheels, a lunch club and a wide range of activities from ping pong to calligraphy to maths were offered – people were so proud to be offering these services to their community.
"If it's not tasty, people won't eat it."
This level of ambition was also evident in aspirations around food quality and the scale that services should be operating at, given the known levels of poor nutrition and/or social isolation. In all three of the countries I visited, the people I met were very clear to emphasise the importance of providing decent, appetising and well-presented meals. I heard how a focus on maintaining the high quality of meals is core to the service, including making sure it is attractive to people from different income levels. Indeed, this mixed audience is a part of some services' business models as better-off people pay the most for their meals, helping to sustain the service for all.
All the services I visited have to negotiate challenges around preparing tasty and nutritious meals at scale, presenting them in an appetising way, allowing for the practicalities of production and delivery and maintaining budgets and affordability for users. However, I do think there's a challenge for some UK commissioners and providers to not set unnecessarily low aspirations for meals and their presentation.
Taking an enterprising approach
My Winston Churchill Memorial Trust study fellowship has a particular focus on enterprise. The services I visited are delivered by different combinations of public sector, charity, social enterprise and for-profit businesses. Across these different sectors I was struck by an enterprising approach to services, whatever type of organisation was involved.
In Seoul, a pilot had increased the price of the meals by a modest 1,000 won (roughly 70p) to improve the overall quality of meals and offer different menus for people with health conditions. In Paris, France, rather than just accepting what the market currently offers, commissioners and nutritionists design the meals they would like to offer and then ask organisations to tender to provide these meals. In Milan, Italy, a publicly-owned social enterprise produces meals on wheels alongside meals for schools, care homes and other services at a scale which gives it the buying power to maximise value and include local and organic produce in meals. And La Poste (France's mail service) has piloted meals delivery.
The services I visited used different combinations of full-time or part-time staff, supported employment, apprenticeships and volunteers. I remain convinced that the future of meals on wheels services must be intertwined with providing 'good food jobs' – with reasonable pay and conditions, training and open to part-timers. In Milan, delivery staff are generally parents wanting to fit around school-times, artists and performers needing part-time work and some who face barriers to employment. I can see how there is certainly a role for a mixed team of people in employment, training and voluntary roles.
Organisations can obviously only take more enterprising, and admittedly sometimes riskier, decisions when the 'market conditions' support this. A strong social care policy system and availability of reliable public funding and support are of course two elements of this. But political support, clear and efficient referral processes, joined-up services across the public, community and sometimes private sector, tax and other incentives, opportunities to link in with employment, apprenticeship and training schemes were all given as examples of meaningful support to help services thrive. So, are we doing enough in the UK, at both national and local levels, to ensure services can take an enterprising approach?
"It's not just about the food…food influences how people act and interact with other people."
In many of the places I visited, the value of meals on wheels for prevention of other, more costly needs was taken as a given by commissioners – and not just in terms of nutritional value, but also in terms of human contact and regular welfare checks. People acknowledged that home delivery visits are usually quick, but argued that even brief regular checks can play a part in monitoring people's wellbeing, ensure they are getting the support they need and contribute to reducing isolation.
Yes, it is profoundly sad that for some people the person delivering a meal may be the only person they speak to that day, but let's ensure meals on wheels are part of a joined-up effort to keep people connected and well-nourished, alongside homecare, shared meals, malnutrition screening and befriending services.
Getting organised
Whether in the UK or the other countries I visited, it is clear that services survive and thrive where key individuals champion and develop them. There are people all over the UK who are concerned to address malnutrition among older people and the decline of meals on wheels and other food-related support. This includes politicians, council officers, health professions, third sector, social enterprises and private sector organisations, alongside older people and their families. There is a myriad of charitably-funded projects, public sector initiatives and social enterprises and others that are really effectively supporting older people to access food in different ways. There is a real and urgent need to capture learning and impact from these programmes to build the case for statutory support in perpetuity.
We are only likely to see a reverse in cuts to meals on wheels if we get really organised. So I am thinking about the ways we might work together, alongside exisiting initiatives such as Meals on Wheels Week and malnutrition Awareness Week, to celebrate, protect, enhance and restore services, using our collective, but ultimately finite, resources to attract attention from policy-makers and practitioners in the most effective and sustainable way. I hope to work with others towards a situation where services can thrive; every area should have access to a decent, reliable meals on wheels service and that this should be a cause for celebration for older people, their families and those running and championing services.
Let me know what you think!
I would really value others' thoughts - please contact me via email or twitter. If you would like to read my forthcoming report please sign up to the Food Power newsletter or follow me on social media.
Simon coordinates Food Power, a four-year programme supporting food poverty alliances to tackle food poverty in their areas. The programme focuses on highlighting and encouraging sustainable responses to food poverty, particularly where they address the root causes of food poverty.
Simon Shaw
Head of Food Poverty Programme Food Power
Support our work
Your donation will help communities identify ways to alleviate food poverty.