Food Power conference 2018: hearing from our network and beyond
People taking action to tackle food poverty from across the UK shared their experiences at the first Food Power conference. Simon Shaw, Food Power Programme Coordinator, provides a summary of discussions.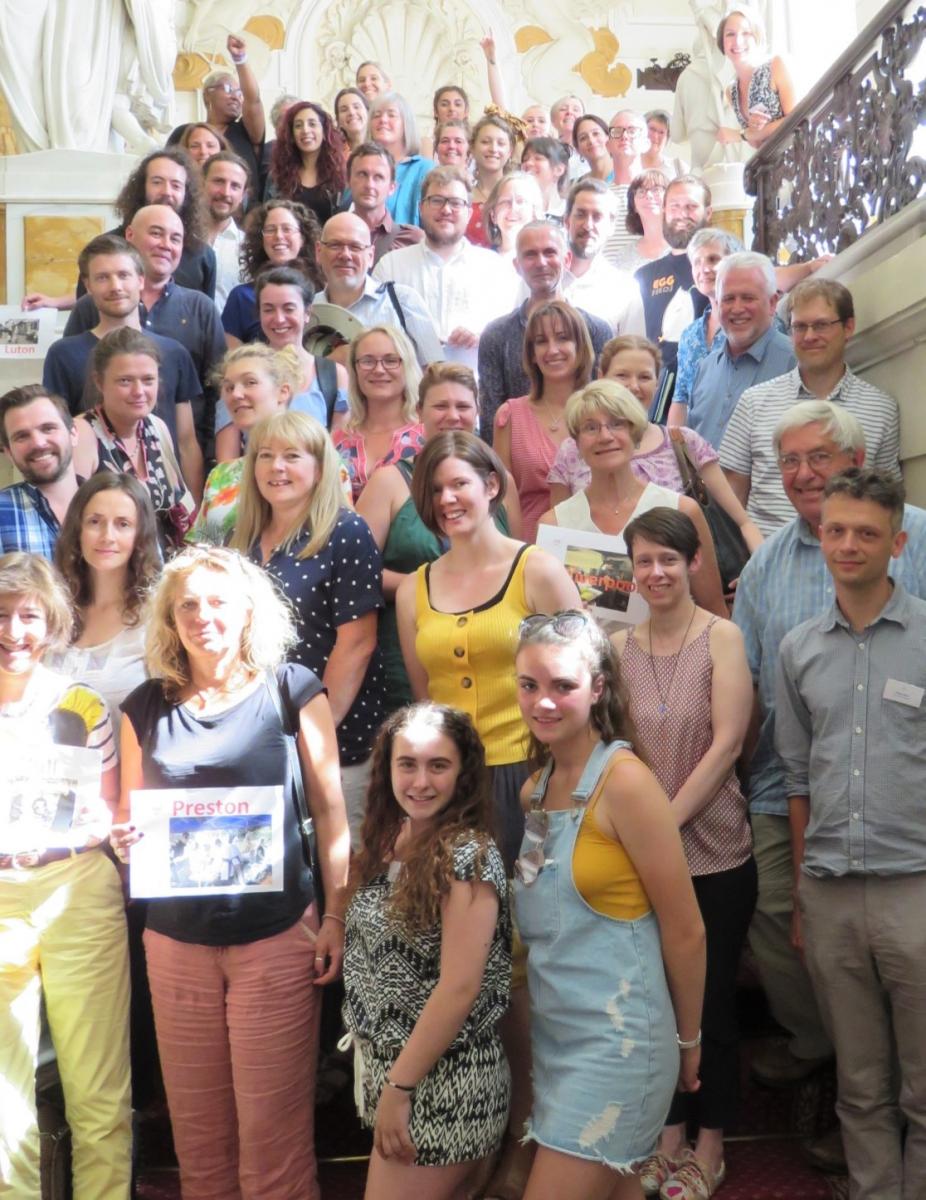 We opened the conference with a striking short film featuring young people from Blackburn with Darwen about their journey in becoming experts and how they have felt empowered by co-designing and delivering their own workshops. This was followed by food poverty alliances registered with Food Power introducing themselves, giving us a sense of the common issues and diversity within our network.
Later in the day Mark Drakeford AM, Cabinet Secretary for Finance, spoke powerfully about the Welsh Government's support for the School Holiday Enrichment Project (SHEP) which is currently expanding across Wales. Katie Palmer from Food Cardiff also set out work in Cardiff, including the Five Year Food Security Plan and wider work across Wales.
Throughout the day it was clear from attendees how important it is not to normalise food poverty within our society and safety net. Food Power remains focused on supportign local areas to address the root causes of food poverty and strengthen the stautpry safety net. We also encourage attendees to join the End Hunger UK campaign which campaigns for national level policy change.
"We should never accept food poverty in the UK."
"Food poverty is shocking and should stay shocking."
Quotes from Food Power conference attendees
There was a series of 11 workshops throughout the day covering a range of issues. Food poverty alliances and others presented their experiences followed by discussion. Perhaps inevitably, we know that attendees would have liked more time to continue discussions and we hope that many follow-on conversations can now take place. Below are brief summaries of the workshops and links to slides from the day, some of which now include some of the discussion and information shared during the day, as well as other relevant information.
Involving experts by experience
Some of the young people featured in the film shown during the opening plenary then spoke during workshops on involving experts by experience. Newcastle talked through their process of recruiting individuals with lived experience, which has its challenges given that some people see food poverty as a lesser priority to issues such as health and welfare. Preston shared how food and eating together has enabled them to get people together, acting as a catalyst to building a narrative around access to and the affordability of food. Hull and Luton also shared the beginning of their journey in empowering individuals with experience of food poverty, whilst Imagination Lancaster discussed how tools could be used to share ways in which people have become empowered.
Developing and sustaining alliances, producing food poverty action plans and working across rural or more dispersed areas
On developing and sustaining food poverty alliances, we heard from Plymouth, Glasgow and South Wales. From these presentation and the following group discussions, the importance of having immediate tangible actions and achievements, however small, was highlighted as a way to keep momentum in alliances, alongside the longer term activity. Amongst attendees feedback was that Food Power should work with alliances to develop a case on the difference that partnerships make over organisations working individually, and also produce a guide that spells out some of the key skill sets that alliances should consider having represented in their group.
On food poverty action plans we heard about the structure of Greater Manchester's alliance which includes working groups to ensure representation of diverse communities and to check on join-up across the different sub-groups. Shropshire described how they are using data, surveys and focus groups to inform their plan and Brighton & Hove reflected on the impact of their 3-year plan and their plans for the next iteration. Sustain's Right to Food project also offered inspiration on how a rights-based approach can guide alliances as they develop plans.
Flintshire (part of the North Wales Food Poverty Alliance), Lancashire and Derbyshire spoke about tackling food poverty in rural areas and how issues such as access to the internet and lack of scalability made it challenging. Linking in with community initiatives, rural community councils, churches and face to face contact had all proved successful. Language and terminology was discussed at some length, with Lancashire discussing how they are now using the term holiday nurture rather than holiday hunger. North Wales talked about how they have been working with Can Cook to set up Good Food Hubs.
Communicating and evaluating alliances' work
One workshop covered creative and effective ways to communicate about the work and successes of our organisations and alliances. For inspiration, we looked at videos from Preston Food Partnership and Lancaster University, an e-bulletin from Food Plymouth, and campaigns by Church Action on Poverty including a billboard poster, a documentary video, and a Lenten fast. Liam from Church Action on Poverty shared some general principles for effective communications, and introduced new research by the Joseph Rowntree Foundation on how to talk about UK poverty in ways that challenge the dominant negative stereotypes.
Members of the Food Power evaluation team from Cardiff University set out the findings from their review of evaluation tools and methodologies for looking at the combined impact of alliances in particular. Attendees also heard about the forthcoming Food Power financial support for local evaluation.
Developing specific initiatives including alternative retail food provision, maximising families' income and tackling food poverty and malnutrition among older people
The 'Beyond the food bank' workshop focused on alternative models of retail food provision that look at how more upstream responses to food poverty can help to prevent crisis situations. Paul Stabeler from Doncaster Council spoke about the Bentley Urban Farm veg box scheme that uses a 'pay it forward' model to help more residents get access to locally grown, organic fresh fruit and vegetables. In the Bristol area, Chris Sunderland spoke about the need for inclusive models that create societies of reciprocity like the work taking place at Sims Hill Farm. Your Local Pantry also spoke about their approach to creating shops that offer discounted food that are run by members and shared their social impact report.
As a part of Food Power's annual theme on maximising family income, we heard from two of the alliances who are funded to do this work. Good Food Oxford presented about their upcoming plans to work with the local advice service to increase awareness about food poverty and referral pathways, as well as linking with the council to promote the Oxford Living Wage. Cambridge Food Poverty Alliance also spoke about their plans to increase the uptake of Healthy Start, create a new signposting toolkit for the navigating the local welfare safety net and map available local services. Menu for Change also spoke about their programme in Scotland which aims to evolve the emergency response to food insecurity by improving how local services work together and can tackle the underlying drivers of need.
Our workshop on ensuring children's access to food covered work taking place at a variety of different scales across the UK. Food Exeter shared their work on proving holiday programmes that teach cooking and offer healthy food, and Food Cardiff spoke about the challenges and opportunities around breakfast clubs and free school meals in relation to the rollout of Universal Credit and the devolved powers Wales does (and doesn't) have. We also heard about the Alexandra Rose voucher scheme which helps low-income families access more fresh fruit and vegetables, while also helping support local markets and economies.
Our workshop on older people provided an update on some national level work addressing malnutrition and food poverty among older people. Rosie Oglesby from Feeding Britain discussed the APPG on Hunger's report Hidden hunger and malnutrition in the elderly and Feeding Britain's developing work on reducing hunger among older people. Lailah Nesbitt Ahmed from Sustain's London Food Poverty Campaign highlighted the work on transforming meals on wheels (this webpage includes some of the key stats which were mentioned during the session). We also highlighted the Soil Association's Better Care programme.
We've heard back from attendees how the conference provided a great opportunity for attendees to meet each other face to face, to learn from each others' experiences and for Food Power staff to hear about how the programme could further support their work. Food Power will pick up on many of the issues raised during the conference as we implement year 2 of the programme, including through financial support, peer mentoring, webinars and written resources.
Sign up to the Food Power newsletter to keep up to date on actions and resources which we develop following the conference.
Simon coordinates Food Power, a four-year programme supporting food poverty alliances to tackle food poverty in their areas. The programme focuses on highlighting and encouraging sustainable responses to food poverty, particularly where they address the root causes of food poverty.
Simon Shaw
Head of Food Poverty Programme
Food Power
Support our work
Your donation will help communities identify ways to alleviate food poverty.