Carluccio's support sustainable fish
Carluccio's caffè was founded with the aim to provide great quality, authentic Italian food at sensible prices. They also wanted to allow informal but excellent service to customers, creating a memorable experience in a happy bustling environment.

Carluccio's joined the Sustainable Restaurant Association in May 2010 as a founding member. By making changes to the way they behave as a business, they say "We are aiming to improve both the social and environmental impact of our operations. We know this is just the start of a long journey for us, but we're proud of the small steps we've taken so far, and we'd like to share those achievements with our customers."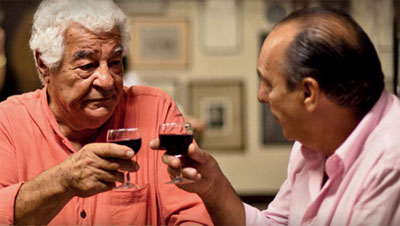 As part of their sustainability journey, Carluccio's have taken action on waste management and launched a Cycle to Work scheme for their employees. In spring 2011, they also joined the Sustainable Fish City campaign, aiming for London to become the first ever sustainable fish city.
About the practical action they have taken, Carluccio's says: "In close consultation with the Marine our Conservation Society (MCS) and our fish supplier, we have removed fish from menu which the MCS rates as 5, and concluded an agreement with our seafood supplier that focuses on fish rated 1-3 for the future. As an example this means no more swordfish, and whitebait has been replaced with Sprattus Sprattus, which has been approved by the MCS."
Signing up to the Sustainable Fish City pledge is a significant and influential step for a high-profile food outlet, with many branches. In London, Carluccio's has outlets in - for example - Kingston upon Thames; Bond Street; Brent Cross; The Brunswick Centre; Canary Wharf; Chiswick; Covent Garden; Fulham Road; Hampstead; High Street Kensington; Islington; Muswell Hill; Notting Hill; Putney; Richmond; South Kensington; Spitalfields; St John's Wood; St Pancras and Wimbledon.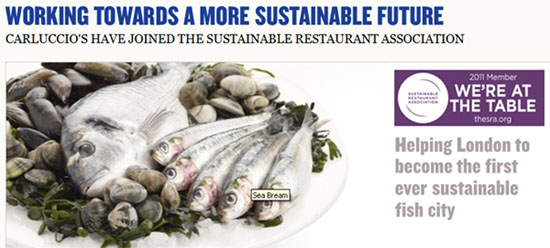 Find out more about Carluccio's at: http://www.carluccios.com and about their sustainability commitments at: http://www.carluccios.com/about-us/sustainability
Share
Get updates
Sustainable Fish: A campaign to protect precious marine environments and fishing livelihoods, and call for fish to be bought from sustainable sources. We want to show what can be done if people and organisations make a concerted effort to change their buying habits.
Menu
Support our campaign
Donate now to help us to protect marine environments and fishing livelihoods.