The problem
People are eating more fish than they used to, and a lot of it is being caught by destructive methods. The world is now seriously at risk of losing some species from our seas for ever.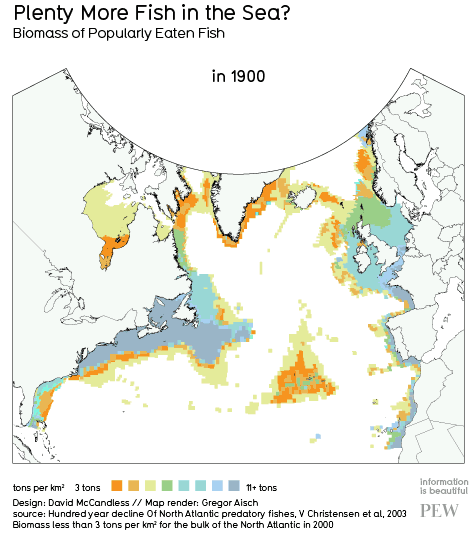 The graphic above, entitled 'Plenty more fish in the sea? Biomass of popularly eaten fish' (reproduced with kind permission from Information is Beautiful) illustrates the shocking decline in popular fish species over the past century. Some scientists estimate that, at current rates of decline, most of the world's fish stocks could collapse within our lifetimes. Over half a billion people depend on fish for food and for their livelihood, so this would have dire social and ecological consequences.
The good news is that there's still time to do something about it. Fish stocks can recover if they are managed sustainably, and if we stop buying fish from badly managed stocks or caught with damaging fishing methods. Let's see what we can achieve with some really concerted action. No matter where you work or shop, you can take action and help us create Sustainable Fish Cities
"If the biological diversity of the oceans is to be maintained or restored, large areas must be protected from the commercial fishing industry and responsible fishing must prevail."
'End of the Line' film, 2009

Read the latest worrying fish statistics from the United Nations.

Find out more about how you can help.

Find out more through further reading.