Reports / Better Hospital Food
Twenty years of hospital food failure: Why we need mandatory standards, not more ineffective voluntary initiatives
Since 1992 Government has appointed a number of celebrities and celebrity chefs to lead failed voluntary initiatives to improve hospital food, wasting more than £54 million of taxpayers' money in the process.
Low quality, unhealthy and unpopular patient meals have plagued our hospital wards for decades. In an attempt to address the problem, twenty one 'voluntary initiatives' have been launched by government since 1992. All of them have thoroughly researched the problems affecting hospital food, published recommendations and called on hospitals voluntarily to adopt them.
While there was some hope for the first of these voluntary initiatives in the early 2000s, they have failed in every case. We estimate that these initiatives have cost more than £54 million of taxpayer's money in the process , and they have been roundly criticised, even by the government's own advisors. Inexcusably, successive Health Ministers have persisted with this failed approach, and have continued where their predecessors left off, simply repackaging and relaunching weak, voluntary guidance.
This report records every failed hospital food initiative launched by government since 1992. It also records all other projects to improve hospital food which have been launched by organisations and individuals outside government since 1992, including by celebrity chefs, charities and health and medical organisations.
Despite the fact that some government voluntary initiatives, and all of the projects included in this report, have been successful in improving meals at a handful of hospitals, the majority of hospital food remains as bad as ever. This has been shown by recent surveys of patient meals revealing very poor quality standards.
This report reconfirms that the lavish public spending on government voluntary initiatives has failed. On behalf of the eighty nine members of the Campaign for Better Hospital Food we call on the government to follow the examples set by Scotland and Wales and set mandatory health and sustainability standards for hospital food in England.
Report contents
Summary
Evidence of twenty years of hospital food failure
1992 to 2000: The rise of the voluntary initiative
2010 to 2013: Relying on ineffective voluntary initiatives continues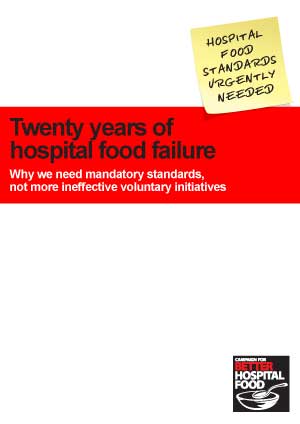 Twenty years of hospital food failure: Why we need mandatory standards, not more ineffective voluntary initiatives
2013 | 1629Kb
Published 22 Feb 2013
Better Hospital Food: The campaign represents a coalition of organisations calling on the Westminster government to introduce mandatory nutritional, environmental and ethical standards for food served to patients in NHS hospitals in England.