This five-year strategy for the Sustain alliance is launched in 2021, at a time of great change for the future of the UK's food, farming and fishing. Sustain is also 21 years old, symbolically marking our 'coming of age', with a renewed sense of agency, determination and shared purpose.
We can no longer take for granted the security, resilience and sustainability of our food supply. Globally, the human species is facing up to the realities of climate chaos, precipitous loss of nature and the twin challenges of malnutrition and diet-related disease, with the impacts experienced disproportionately by people disadvantaged by their income, age, state of health, background or location. It is the task of our movement to catalyse resilient, profound and large-scale shifts in food production, supply chains and diets to set our food system on a
healthy, fair and sustainable path.
At the same time, food supply and standards have become ever more political. On the national and regional stage, this fresh iteration of Sustain's strategy is published as the world is continuing to wrestle with the Covid-19 pandemic, which has thrown into sharp relief the profound inequalities in our food system and lack of resilience in farming, fishing and food supply chains. It also begins in the year that the UK sets out on life outside the European Union; the Westminster Government considers adopting a National Food Strategy; and Scotland explores becoming a Good Food Nation; whilst Glasgow is set to host the next round of international climate change negotiations, with a special focus on naturebased solutions.
New climate, environment, agriculture, fisheries, trade and social policy will change the priorities, rules, governance structures and finance that have shaped the UK food supply for decades.
The achievements recorded in Sustain's strategy for 2021 to 2025 show that we can take heart from the power that we have when we work together. Sustain alliance members and colleagues represent a veritable smörgåsbord of expertise and well-proven, viable solutions to so many of the challenges that face us. These need to be supported and replicated at scale. Our sights are set not just on the next five years. There is now a clear imperative to transform radically the way we produce food and what we eat, in order to safeguard our climate and natural systems within safe and liveable planetary boundaries. At the same time, we must continue to work to ensure that everyone enjoys access to healthy and sustainable diets and that our food system becomes fair, diverse and sustainable, as well as a source of joy.
Working together, the Sustain alliance is committed to doing all we can to accelerate this shared vision into reality.
The Sustain Strategy for 2021 to 2025 sets out:
Our shared vision: Good food production; Good food economy; and Good food for all
Sustain State of Play in 2021: What we have achieved over the past five years by working together
What the Sustain alliance is, Sustain-style leadership, and cultivating the movement for change
Our goals over the next five years, aligned to our key strategic themes
The serving spoon of transformation: How we will bring about change
This refreshed strategy is supported by Sustain's Council of Trustees, elected from the Sustain alliance membership. It was developed in consultation with Sustain members, sister alliances, expert working party members and associates; and informed by our work with experts by experience, active food citizens, practitioners and decision-makers.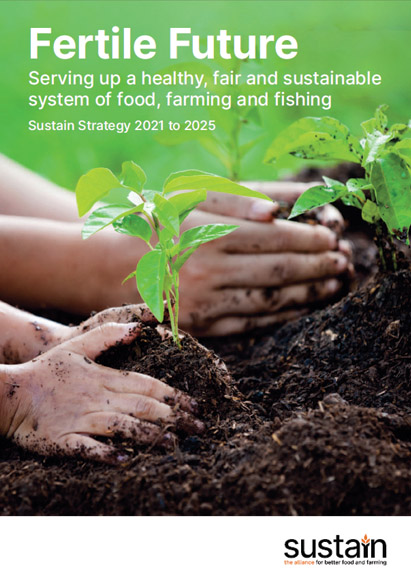 Sustain Strategy 2021 to 2025
20pp - 2021 | 6504Kb
Published 1 Jun 2021
Sustain: Sustain The alliance for better food and farming advocates food and agriculture policies and practices that enhance the health and welfare of people and animals, improve the working and living environment, enrich society and culture and promote equity.