Read the review of Sustain's activities and achievements for this financial year.
The work of the Sustain team and alliance members has been intense, influential and admirable across the whole year. We pay tribute to all that the Sustain team and alliance have done to support food aid providers, smaller food producers, businesses and local authorities to access the money, support and food they need, and to get this to the people who needed it the most during the Covid-19 pandemic.
All of this took place against a backdrop of other disruptive changes relating to Brexit, weakening food standards and plans for new trade deals. Working intensively in the new Covid-19 world of online organising, Sustain's team convened important policy and campaign work on the Agriculture Bill and Fisheries Bill, as well as responses to key developments such as the National Food Strategy and implementation of the government's Obesity Strategy. It is hugely impressive that our project and campaign coordinators have managed to pull off so much during this period, with Sustain once again demonstrating – arguably more than ever – how powerful and influential it is to work in alliance.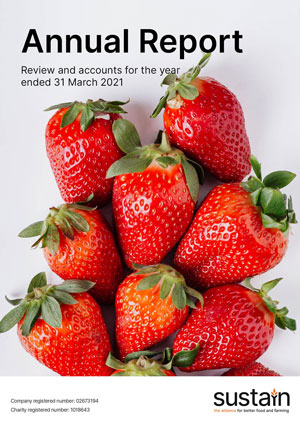 Annual report 2020/21
2021 | 3428Kb
Published 15 Dec 2021
Sustain: Sustain The alliance for better food and farming advocates food and agriculture policies and practices that enhance the health and welfare of people and animals, improve the working and living environment, enrich society and culture and promote equity.