Georgina Webber is the driving force behind a pioneering school microbakery at Greenside Primary in Shepherd's Bush, west London.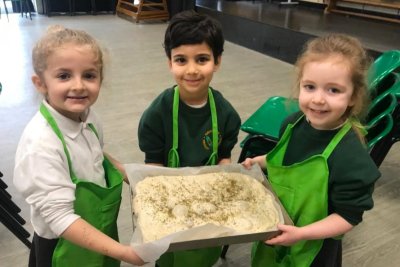 Real Bread making. Copyright: Georgina Webber
Our journey towards breaducation* and setting up our own microbakery at Greenside Primary School has been an eight year one. In 2015, we decided that we were not happy with the standard of the school lunches served by the local authority catering contractor, so decided to bring catering in-house. We are committed not only to serving better food but also to making it a valuable learning opportunity within the curriculum. When the children are involved in cooking food, they are more interested in eating and learning around it.
Starting at grassroots level
This same philosophy extends out to the school garden, where we have a vegetable growing area. When we took control of the kitchen, we began growing some vegetables but wanted to make more of this amazing resource. We turned the garden into a science project that the whole school is involved in and began embedding it in our curriculum. We thought about what we could do next, which is when the idea of a microbakery came in. We wanted to involve our whole school community in a project that would unite us through collective action. It would be one to help develop our knowledge and understanding of both food production and the food system. We wanted to show that good bread is for everyone.
Besides being a keen amateur bread maker, I had also done a lot of reading about soil health and regenerative agriculture by people including Albert Howard and Nicole Masters. This all got me thinking about how great it would be to be able to grow our own wheat using regenerative farming methods and mill it to make our own bread. We had already been using WildFarmed flour in our kitchen and they offered to give us some wheat seeds to plant. We rallied our school community to clear some ground at the front of the school, right on the street, where we planted our field of wheat. I say field, but it really is only a patch of about four square metres!
Getting kitted out
With the wheat in the ground, the next thing we needed was some basic kit and, most importantly, a bread oven. Through the support of our Parent Staff Association and generous donations from some of our suppliers, we were able to buy a Rackmaster RM2020 oven, some baskets, dough scrapers and plastic tubs. Our school kitchen already had a Hobart mixer but it didn't (and still doesn't) have a dough hook. We went with what we had and made the plan from there. The next challenge was to learn how to scale up from making one loaf to 24. We were fortunate to get a one-day masterclass from Richard Snapes, founder of The Snapery Bakery in Bermondsey, to show us how.
Time to rise and shine
We figured out a schedule to ensure that we could make sourdough bread within the timings of the school day and then got the students involved. At the beginning, I was making all the bread myself. I knew that this model was not sustainable as I'm the Deputy Head of the school, not a baker, and just don't have the time to do it all myself. It was important, however, for me to lead by example and be able to show people the value of the project in order to get buy-in from everyone.
Embedding bread in our learning
Right from the start we knew we wanted to get all of our 200+ children, from nursery to year six, making bread. We also needed to incorporate curriculum learning (what we call breaducation) in order for it to claim a part in the school day legitimately. We linked bread making to whatever learning experience we could: learning about climatic conditions needed for growing wheat in geography lessons; making Ancient Egyptian bread in history, making sourdough pizza to inspire a travel guide to San Francisco; the list goes on! I showed all the teachers how to make bread so that they could bake with their own pupils.
We harvested our wheat and whilst we will never be able to make enough flour for all of our bread, we are making an important connection with where our food comes from. The children recognise how good our bread is. One child commented: "Who knew three ingredients could taste so good!"
The bakery village
On the days when the children are not baking, staff members have a baton relay approach so that we are still able to make sourdough bread. The cleaner turns the oven on when they arrive, the teaching assistants who run breakfast club make the dough, the kitchen team shape the bread and then the breakfast club team bake it the following day. It really does take a village!
We wanted ours to become a community oven and have invited pupils' families to come and bake their bread with us. Everyone is welcome and this has proved a great way of bringing people together through bread. Beyond the school day, we bake extra each Friday to share with our community at our weekly bread sales. Rather than charging a set amount, we just ask people to donate what they can afford. The money all goes back into the bakery project. Each week the line snakes around the playground - this is a real validation of what we are doing. As one parent said: "We only buy this bread now, the other stuff just doesn't taste as good."
Access to good bread should be, and is, for everyone at Greenside!
* We recently learned that the term Breaducation was trademarked in the UK in 2015 by a Denmark-based bakery chain. [ed.]
We're crowdfunding: Please pledge today
The Real Bread Campaign needs your dough to publish Bake Your Lawn. This grow-a-loaf handbook is being written to help teachers, parents and others guide children on the Real Bread journey from seed-to-sandwich and make additive-free, 100% wholemeal bread from as few as three ingredients.
---
Originally published in True Loaf magazine issue 55, July 2023.
Published 4 Jul 2023
Real Bread Campaign: The Real Bread Campaign finds and shares ways to make bread better for us, better for our communities and better for the planet. Whether your interest is local food, community-focussed small enterprises, honest labelling, therapeutic baking, or simply tasty toast, everyone is invited to become a Campaign supporter.
Support our charity
Your donation will help support the spread of baking skills and access to real bread.