Microbaker Ildiko Toth compares the Rofco B40 and Rackmaster RM2020.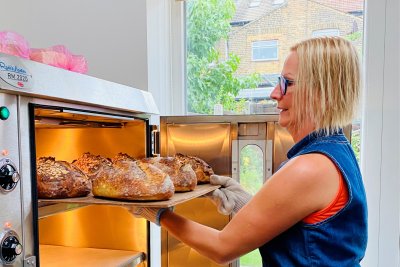 Ildiko Toth loading her oven. Copyright: Balint Samad
I set up Cultured Bread Bakery in 2018, turning my home kitchen into a sourdough microbakery once a week. Here's my experience of the two ovens I have owned over these first few years.
Rofco B40
When I started, the Belgian-owned and made Rofco ovens were the only single-phase (domestic electricity supply) microbakery ovens available on the UK market. They come in different sizes, of which the one I bought, the B40, is the largest. It is roughly the size of an undercounter fridge, with three, thick, refractory stone shelves that make it able to bake around 12 large (800g) loaves.
The oven offers the option of heating just the top deck or all three together. The stones take just short of two hours to heat up fully but then retain the heat well. I found that the bottom stone was prone to overheating. Some bakers shuffle their loaves between shelves halfway through their bake to prevent the bottom loaves burning. As an alternative to shuffling, Rackmaster produces a neat wire grid to place under a silicon mat to lift loaves off the bottom shelf part-way through baking. Placing small washers under the stones helps to create air circulation.
The oven has to be wired into the mains by an electrician. I had mine fitted with a timer switch, which gave me an extra two hours' sleep while the oven heated up, ready to bake as soon as I got up.
In my opinion, it is the B40's door that gives bakers the biggest headache. I always handled the oven door gently, making sure it aligned as I closed it. After some time, though, no matter how carefully I treated my oven, the door got distorted and wouldn't close properly. Strangely this design issue doesn't seem to have been resolved, despite many bakers voicing their annoyance on social media. The oven was first manufactured in 2014, since when a modification has been made, but this was only a slight adjustment to fix the seal around the front of the oven. Thankfully, Rackmaster again stepped in to offer a simple but brilliant solution by making a door catch that you can add on.
One other niggle was that the oven had a constant humming noise, which could sound loud in a small kitchen, but overall, I was happy with my Rofco B40.
Rackmaster RM2020
When the Covid pandemic hit in early 2020, it seemed that half the world started to learn new skills, with sourdough bread making becoming extremely popular. Within a few months, many new microbakeries emerged as people turned their hobby into businesses and chefs of locked-down eateries became bakers. The demand for small, 'semi-pro' ovens rose sharply - at one point there was an eight-month waiting list for a new Rofco.
My sales shot up but the size of the B40 stopped me from increasing production. As I only bake on Fridays and have limited space, buying an additional oven was not an option, so I looked for a replacement with larger capacity that would still fit in my kitchen.
Enter Campbell MacFarlane, the enthusiastic hobby baker who converted his garage and installed a Rofco to produce free bread and pastries for people in his village. A bakery engineer by trade, the Rackmaster owner had for many years been contemplating building a user-friendly oven, suitable for microbakers. Suddenly, he had all the time in the world to put his ideas into practise.
After giving bakers prototypes to test, in spring 2021 Campbell and his team launched the UK-built Rackmaster RM2020. As soon as I heard about it, I visited the factory and was very impressed by the demonstration of the new oven. Even on my way home, I was already thinking about buying one.
The capacity of the RM2020 is 27% larger than the Rofco B40. This provided the perfect solution to my problem, enabling me to increase production within the same time frame. The vertical, glass panel in the door is much larger than the Rofco's little round window, giving a better view of all three shelves. Each heating element has its own switch, giving greater control over baking conditions. Being bigger than the B40, it naturally takes longer to heat up, which might be considered a drawback and does make having a timer switch a must.
The interior light is situated on the side, making it safer when spraying water into the oven to create steam. Oh, and the oven itself is blissfully silent and operating the door handle is a dream!
Rackmaster customer service is second to none. Campbell invariably replies within minutes (well, sometimes a couple of hours) if you have any questions. Another unique addition is the amazing WhatsApp support group, exclusively for RM2020 owners. It's a very fast-paced group exchange, offering help and inspiring ideas. The chat between experienced bakers, teachers from reputable bakery schools, established bakery owners, microbakers (and even nanobakers, just starting their journey) is leavened with a great sense of humour. Of course, Campbell is a proactive member, guiding us through issues regarding his oven and, as often as not, making us cry with laughter.
I am a proud owner of this oven and feel privileged to be a member of such a group. I don't think there are many companies like Rackmaster that provide such ongoing support to their customers. It is very assuring to know the creator of the product you are buying and that prompt help is on hand if needed.
@culturedbreadbakery
@rofco_belgium
@campbell2664
---
What's your experience?
Other ovens are available. If you have used two or more models of bakery oven in any size of bakery business and would like to write a comparison review, please email us.
---
Originally published in True Loaf magazine issue 50, April 2022
Published 9 May 2022
Real Bread Campaign: The Real Bread Campaign finds and shares ways to make bread better for us, better for our communities and better for the planet. Whether your interest is local food, community-focussed small enterprises, honest labelling, therapeutic baking, or simply tasty toast, everyone is invited to become a Campaign supporter.
Support our charity
Your donation will help support the spread of baking skills and access to real bread.