In 2019, we teamed up with Cassie Liversidge to lead hundreds of London school children on the Real Bread journey from seed to sandwich.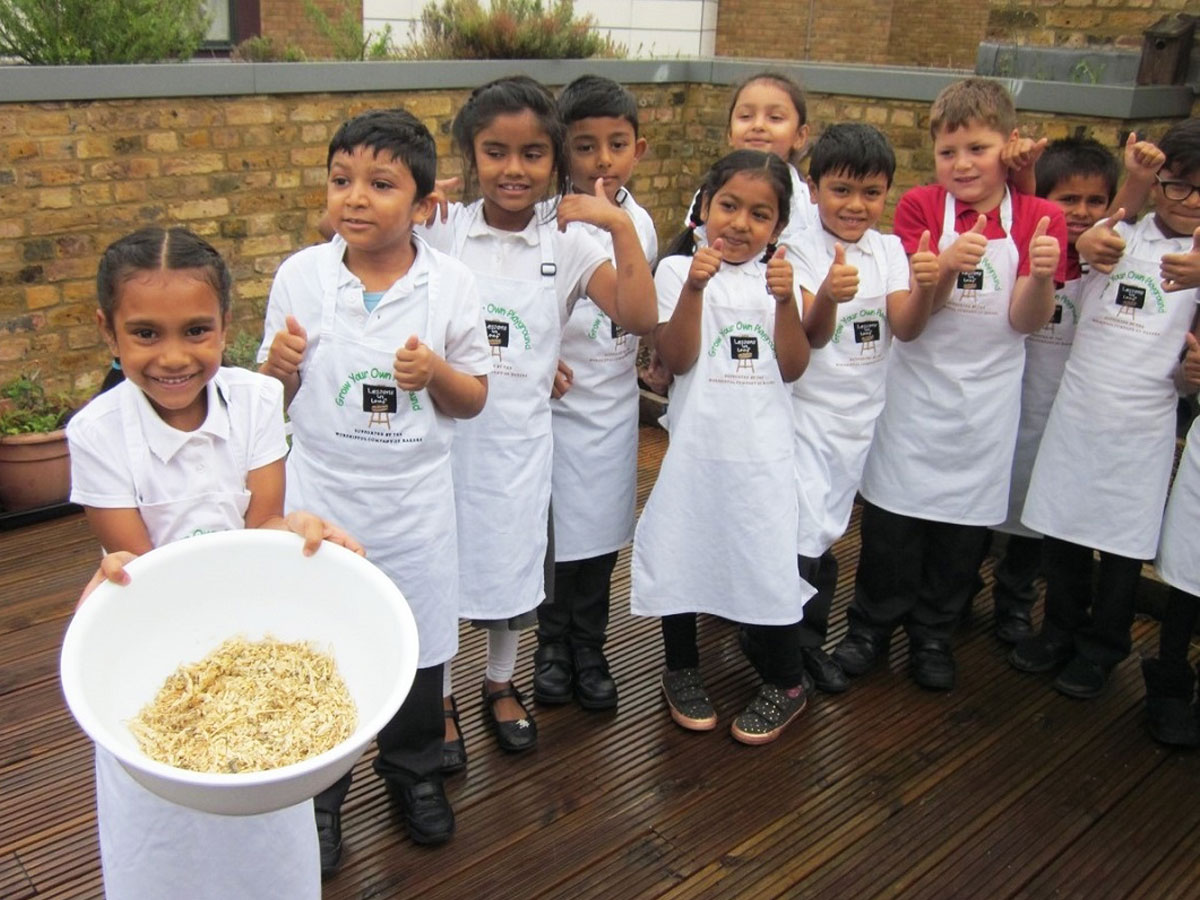 Photo © Grow Your Own Playground
"How long does it take wheat to grow?"
"Why does yeast smell so much?"
"Can we do this again tomorrow?"
These are some of the fantastic questions raised by primary school pupils who took part in Lessons in Loaf: London.
Grow, mill, bake
I run Grow Your Own Playground and, back in 2010, I was inspired by the Real Bread Campaign's Lessons in Loaf initiative to devise my own workshops to get pupils growing wheat to make into bread at the schools I work with. In 2019, the Campaign and I joined forces to help another batch of children to learn all about growing their own loaves.
Through a series of workshops I ran at each school during the year, pupils got the opportunity to be farmers, millers and bakers by planting, growing and milling their wheat seeds at school and making loaves of Real Bread to take home. As the schools do not have acres of fields, we blended their homegrown flour with some lovely organic flour, so that each pupil had a good-sized piece of dough to shape into the most inventive loaves. We had dinosaurs, Minions, hedgehogs and turtles, to name a few.
Raising dough…and the roof
In some cases, a whole year group got to take part, with up to 60 pupils baking bread together over the whole school day. A day like that is a noisy one, with the school roof practically lifted off when the children all put their hands in to mix the dough. Some have said it was their best day at school so far.
I believe that hands-on experiences are the best way to learn. Knowledge of a subject stays with you through memories of touch and feel but also smell and taste. Many children have never done any cooking at home, so schools need to provide practical ways for them to learn about and explore food. The workshops I run also help inner city pupils to connect with, and understand, the role a farmer plays in growing food and the role a baker plays in turning those ingredients into Real Bread. Thanks to the kind support of The Worshipful Company of Bakers, last year more than 800 children at thirteen east London schools enjoyed these incredibly valuable lessons.
All the pupils who took part now understand that the flour most commonly-used in the UK comes from wheat, that it takes at least seven months to grow, that yeast is a living organism and that making Real Bread takes a long time and is hard work!
Cassie hopes to run Lessons in Loaf: London again. If your school is in the capital and interested in finding out about taking part when she re-starts, please email cassie@growyourownplayground.com
Originally published in True Loaf magazine issue 43, July 2020.
Published 5 Oct 2020
Real Bread Campaign: The Real Bread Campaign finds and shares ways to make bread better for us, better for our communities and better for the planet. Whether your interest is local food, community-focussed small enterprises, honest labelling, therapeutic baking, or simply tasty toast, everyone is invited to become a Campaign supporter.
Support our charity
Your donation will help support the spread of baking skills and access to real bread.