Class act
We catch up with Adopt a School programme administrator Alys Bannister about their Real Bread making.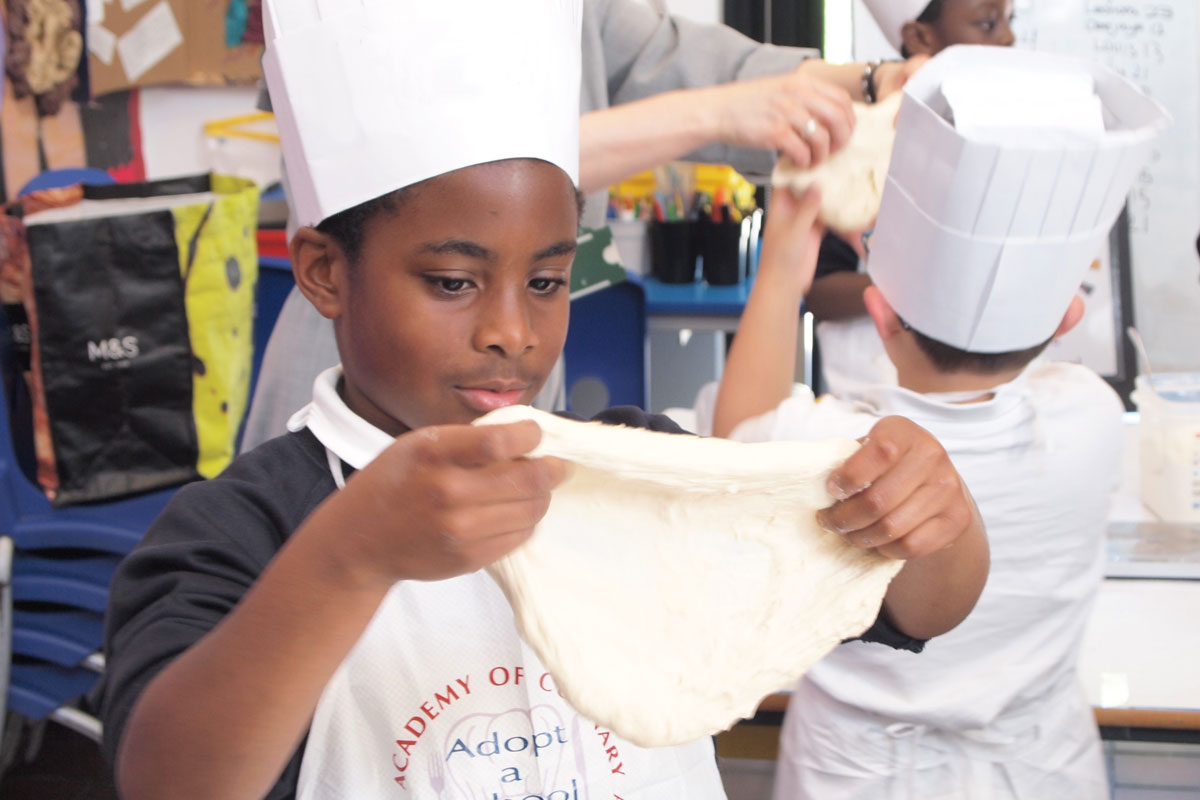 Adopt a School has been teaching children in the UK about Real Bread since 1990 and supporting the Real Bread Campaign's Lessons In Loaf initiative since its launch in 2009.
Originally named Chefs Adopt a School, we were founded 30 years ago by the Royal Academy of Culinary Arts (RACA), a membership organisation of the UK's leading head chefs and hospitality professionals. To combat the growing gap in children's food education, we operate by sending these experts to local primary schools, hospital schools, and youth clubs, largely in deprived areas. They teach children about food in a holistic sense, including practical cooking skills, as well as improving their knowledge about food provenance, nutrition and hygiene, and encouraging healthy choices. Through our team of in-house chefs and more than 300 volunteers, we deliver sessions to over 16,000 children each year, from Cornwall to the Scottish Highlands.
Cross-curricular activity
Teaching children how to make Real Bread from scratch is one of the main three sessions in our programme. Over the years we have shared these skills and knowledge with almost half a million pupils. Adopt a School chief executive Sara Jayne Stanes OBE asserts that it is fundamental to children's education because "bread is one of our most essential and ancient foods." She says that "making bread is a truly cross-curricular activity incorporating English, geography, history, maths, D&T and R.E" and that making bread brings these subjects to life.
'Bread is one of our most essential and ancient foods'
Our bread making sessions begin by showing pupils the four main ingredients used to make Real Bread, then talking about the history of bread and the variety of bread eaten worldwide. The sessions also provide an opportunity for chefs to discuss the science behind bread, such as what type of organism yeast is and how it makes dough rise. Depending on the school's resources, children then measure, weigh or estimate the ingredients, encouraging them to use numeracy skills as they each make their own dough. If the school has the facilities, children bake their bread on site. If not, they place their dough in containers and are given instructions so they can bake the bread at home to enjoy with their families.
As we work with a range of schools with students from different backgrounds, the sessions enable children to learn and experience bread in new and exciting ways. Some children have only ever known white sliced loaves, and many are not aware of bread types as common as the baguette. Our executive chef, Idris Caldora MCA, says "this is not young people's fault – it is just what they have been exposed to." As a result, Idris enjoys showing a sourdough starter to the class to discuss what sourdough is, how to make bread with it, and the potential health benefits of baking with a live starter culture.
Empowerment
Of all of the sessions we run, bread making appears to resonate with children the most. Chefs Judy Dain and Peter Vaughan from Vaughan's Kitchen have received messages from parents following their Adopt a School sessions "not only saying how much the children enjoyed the sessions, but also noting a transformation in that many now enjoy good wholemeal bread, rather than the pappy, soft white sliced that they previously favoured!"
'Many now enjoy good wholemeal bread, rather than pappy white sliced'
Food journalist, author and former governor at St. Matthew's Primary School in Cambridge, Bee Wilson, recalls feedback from a parent of one child who "came home after the bread making session and actually burst into tears when the last piece of bread was eaten up, because the process of making the dough had been so special." Former Real Bread Campaign Ambassador and RACA member Richard Bertinet has run bread making sessions for us over the past ten years. He says that he has visited several schools where he was warned by teachers that certain pupils were 'difficult' and "would not participate in the session." Instead, he found that "these children were the ones who were most excited to get involved." Such experiences demonstrate that the simple process of bread making gives children the opportunity to learn about subjects such as fractions, measuring, and estimation in a kinaesthetic way that suits some of them better.
And it's not just children who are empowered by the sessions; many teachers gain the confidence to teach bread making in the classroom. Gareth Ludlam, a senior teacher at Oakfield Primary School in Essex, says that "I learn just as much as the children."
Looking to the future, our most important aim is to reach as many children across the UK as possible. We are currently considering ways to run sessions outside term time, particularly focusing on holiday clubs that keep children engaged over the summer break. Whatever's next, Real Bread will definitely remain on the Adopt a School menu!
---
Originally published in True Loaf magazine issue 40, April 2019.
---
SHARE