Zakiya Andrews and Nzinga Foster-Brown are the sister duo behind Blackbirds' Micro Bakery.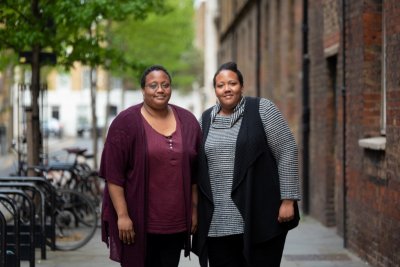 Zakiya Andrews and Nzinga Foster-Brown. Credit: © Impact Hub Kings Cross
After working in schools and offices for years, we never imagined that our love for baking would become a business. We initially made celebration cakes and went on to run a bakery café in south Birmingham. We sold Real Bread from a local baker but wanted to develop our own. We were also keen to do something that would have a positive social impact in our local area.
Getting a taste for sourdough
It was always going to be Real Bread for us. As they are unnecessary, we have never put artificial preservatives or other additives in our cakes and that was not going to change for bread. When we visited one of the few artisan bakeries in Birmingham, we always bought sourdough bread. It fascinated us how each baker's loaves tasted unique, even though they used the same three ingredients, and we wanted to create our own.
Nzinga had used commercial yeast in the past, but really hates its texture and smell, so tries to avoid it. She's also not a fan of kneading, and the combination made her resistant to bread making. Then she discovered sourdough and now says: "I love sourdough and enjoy the challenge of making things that are usually made with commercial yeast. We've had some great successes including bara brith, Chelsea buns, iced buns and doughnuts." Some bakes are still a work in progress and we are creating and improving recipes all the time. It's really rewarding when they work out.
It was a workshop in Paris in 2015 that made Zak realise that she loves working with dough, though she says "my overly-enthusiastic slapping nearly saw me lose it to the floor!" Since that initial taste, she has found courses with Loaf Bakery in Stirchley and Proof Bakery in Coventry really helpful. "A pivotal moment for me was discovering the Bread Angels community of microbakers. I took a course with Julia Farkas of Ourbread East Sheen Microbakery and have not looked back." Books have also definitely helped us along the way, especially those by Richard Bertinet, Emmanuel Hadjiandreou, Rose Prince, Andrew Whitley and Chris Young.
The microbakery
Long before we were sourdough-obsessed sisters running a bakery, we were children baking with our mum and brother every Saturday. Mum got the baking bug from her grandmother and passed it onto us. Baking with mum was something we really looked forward to and that sense of enjoyment has stayed with us. She is an ongoing pillar of support and heavily involved in our business today.
In 2019 we got accepted by Feeding the City, run by Impact Hub King's Cross in partnership with Sustain and Food Ethics Council. The programme helps people set up sustainable food-related businesses that have a positive social impact. This came at a perfect time for us. We wanted to set up a business that not only provided people in our community with high quality, handmade bread and cakes but also supported local people through training. The programme introduced us to more people who would help us along our journey, including Ma Baker (aka Liz Wilson) and the previously-mentioned Proof Bakery, where we did a sourdough course.
We originally intended to open a training bakery but our premises fell through, derailing our plans. This was the catalyst to start a microbakery from home. We started doing local markets and planned to start a weekly subscription offering sourdough bread and cakes in March 2020. Then the pandemic hit. The resulting ingredient shortages, and need for our family to shield, meant that our launch was pushed back to autumn 2020. After speaking with people who felt uncomfortable leaving their homes, we added a local delivery service. Being able to bring Real Bread to our local community during this time has been wonderful and introduced us to people we might never have met otherwise.
Blackbirds' Micro Bakery is still in its early days. We are slowly getting back to markets and have started delivering workshops for other social enterprises. We aim to increase our capacity and continue to bring Real Bread and cakes to our local community using ethical and local suppliers, ingredients from sustainable and transparent supply chains and eco-friendly packaging.
Real Bread for everyone
We feel that it is really important that Real Bread is accessible to all. We have always lived in north Birmingham and our experience is that lack of accessibility and awareness is a serious issue in local Black and Asian communities. Small bakeries in our area tend to use a range of additives, while many people cannot afford to buy from the artisan Real Bread bakeries that don't. If people have heard of sourdough they tend to believe it's not something for them. It is often seen as 'White' and 'bourgeois'. Many East Africans still enjoy daily bread made to family recipes that use starter cultures and techniques handed down from their ancestors, yet it's not always thought of as sourdough. This is dismaying for us as bakers using a process that can traced back to ancient Egypt.

All of this is a big part of why have chosen to set up Four and Twenty Blackbirds CIC and open a baking school in Handsworth, Birmingham. We want to create a space where people can learn to bake at home for themselves and their families, to have the sort of experiences that we were lucky to have in our youth. We plan to run workshops and training programmes to pass on skills, help to build confidence and encourage people to pursue careers in the food industry.
Want to become a microbaker like Zak and Nzinga?
Knead to Know...more, the 10th anniversary edition of the Real Bread Campaign's unique microbakery business handbook, is out now.
Originally published in True Loaf magazine issue 49, January 2022
Not all Real Bread is White
Nzinga is on the panel of Black owners of Real Bread businesses for a FREE, open-to-all webinar on 7 November 2022, talking and answering questions about setting up, running or working in a Real Bread bakery / microbakery.

Read full details and book now
See also
Published 5 Jan 2022
Real Bread Campaign: The Real Bread Campaign finds and shares ways to make bread better for us, better for our communities and better for the planet. Whether your interest is local food, community-focussed small enterprises, honest labelling, therapeutic baking, or simply tasty toast, everyone is invited to become a Campaign supporter.
Support our charity
Your donation will help support the spread of baking skills and access to real bread.