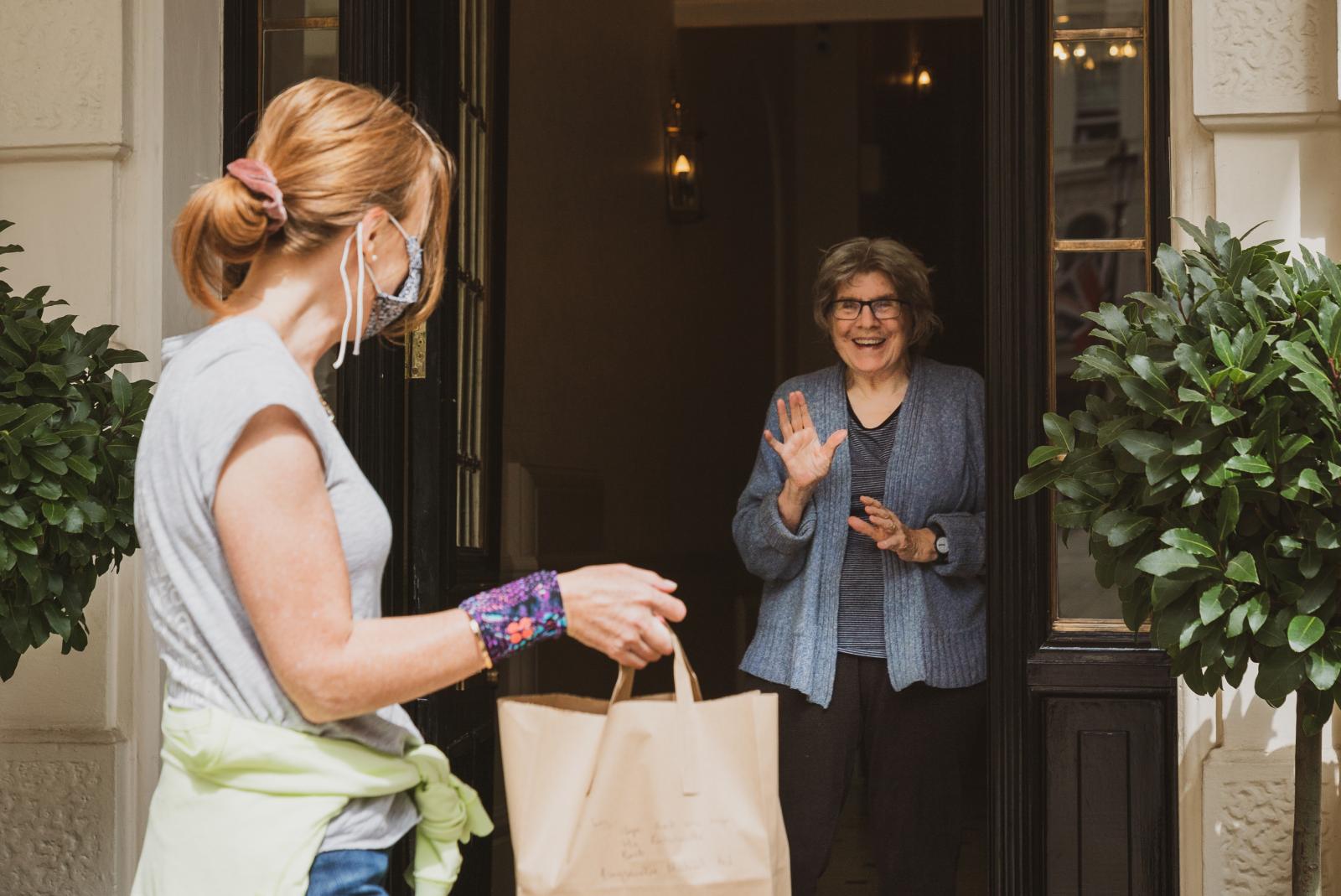 A meal is delivered to a Westminster resident during lockdown. Photo credit: Chris Skarratt.
Prior to the Covid-19 pandemic a significant number of older people were at risk of malnutrition and social isolation. These twinned problems have been revealed and exacerbated by the Covid-19 pandemic. Malnutrition and social isolation place immense strain on our public services – through increased usage of emergency services, GP surgeries and more – and diminishes the quality of life for millions of older adults across the London. But this problem can be addressed. A robust meals on wheels service across London would act as a preventative measure to safeguard against malnutrition and to ensure that older, more vulnerable and isolated adults are linked up with social services and their wider community and have secure access to health and social contact.
During the Covid-19 crisis demand for existing meals on wheels services spiked drastically, and many were able to rapidly scale up their capacity. Elsewhere, friends, neighbours and mutual aid networks reacted quickly with offers to shop and cook, but, welcome as this is, it is often open to safeguarding issues and food safety issues, and in its current forms is largely unsustainable.
If we had nutritious, economically viable and robustly embedded meals on wheels services across London, such elaborate and local efforts might not be needed, and the emergency response could be more efficiently directed to those most in need. We must use this period wisely to highlight why, with notable exceptions, we do not have meals on wheels services that are fit for purpose. Where these do exist, most have been able to scale up to meet need; if they did exist across the City, we might be able to scale them up quickly, effectively and efficiently in the event of a national crisis such as Covid-19 or extreme weather. As we gradually exit lockdown, it is vital to support a transition to a long-term models that are sustainable in the long-term and financially viable. Fantastic examples of local responses exist – these must be supported to become lasting models that offer meals and support year round. These would then be able to scale up in future related crises including a potential second spike.
Evidence
In July 2020 Sustain published its' report Meals on wheels for 21st Century London which pulls together research with older people, service commissioners and service delivery staff to show that now more than ever a robust plan to ensure that older Londoners across London can access good food every day is needed. During Covid-19 new services and efforts have emerged, which are leading the way on modern, effective and compassionate meal services. These show us what a better future could hold for older people and that it is feasible and possible.
What next for London
We are calling for the launch a London-wide inquiry into food access for older adults and disabled adults, for all London Borough Councils to commit to ensuring that all older residents can access at least one good meal every day, and for joined up working to commence on this issue across London, lead by the Mayor or London.
What can councils and their partners do?
We believe there is a clear case for local funding and other support for meals on wheels services. Crucially, funding is not the only way for councils to play an active role; there are multiple ways to support services' development and sustainability.
Save, reintroduce and enhance services by exploring examples of effective models for meals on wheels services which address a wide range of needs and health and wellbeing objectives.
Maximise referrals to local services by ensuring all relevant public sector staff are aware of local provision and how people can register.
Provide strategic leadership by ensuring local services link in with meals on wheels services to bring multiple benefits, such as nutritional advice, falls prevention and fire safety.
Provide other non-financial support including providing parking permits, helping services to find or share premises and training.
Share
Get updates
Older People's Food Campaign: Meals on wheels services support thousands of older people every day to stay independent in their own homes and enrich their lives.
Menu
Support our charity
Donate to enhance the health and welfare of people, animals and the planet.