Transforming meals on wheels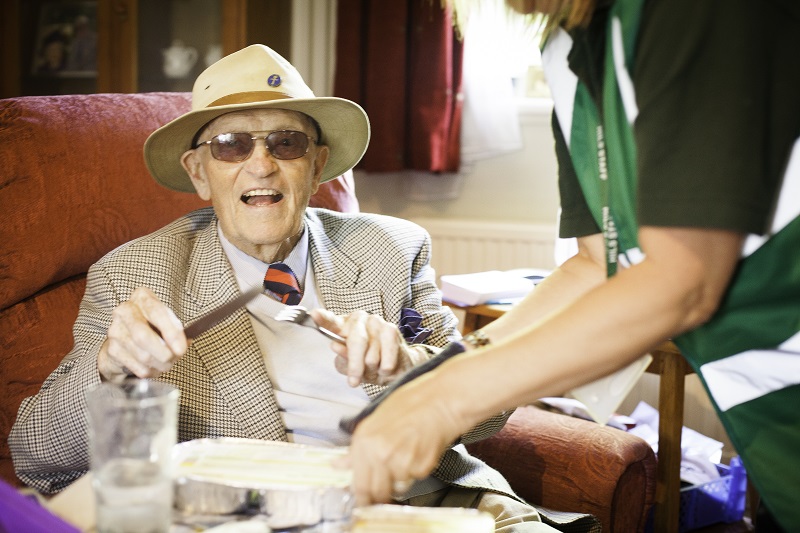 Why are meals on wheels important?
Meals on wheels services support thousands of older people every day to stay independent in their own homes and enrich their lives.
Nationally more than 1.3 million people over the age of 65 are malnourished. Malnutrition makes people more susceptible to physical and mental ill-health, extends hospital stays and makes re-admission more likely; indeed malnutrition accounts for nearly £20bn of health and social care spending in England (BAPEN, 2015).Yet the average cost of a two-course meals on wheels lunch is £3.60 (APSE/NACC, 2018).
There is no single solution to reducing malnutrition among older people. Valuable activities include lunch clubs or other forms of shared meals, improving care and hospital provision, influencing people's eating habits. Meals on wheels should be a key element of a multi-faceted approach, providing a lifeline to people struggling to feed themselves in their own homes.
Importantly, a meals on wheels service can be about more than just the meal itself. Delivery staff provide regular contact and make sure the most isolated and vulnerable people receive safety and wellbeing checks, as well as link people to other kinds of support. There is real potential for councils and their partners to use meals on wheels as a way to help people retain their health and independence and there are working examples of services doing this from both the UK and overseas.
Sustain is taking action to protect and enhance meals on wheels services by sharing information and advocating for action through our London Food Poverty Campaign, Food Power and Sustainable Food Cities programmes. In London, our annual London Food Poverty Profile assesses what action councils are taking to support and enhance meals on wheels provision in their boroughs, alongside working with London politicians, council officers and others to raise awareness of good practice examples.
What is the current situation?
In recent years meals on wheels services have been neglected or terminated in many parts of the UK. In 2014 services were provided by two thirds or top tier authorities, but by 2018 this had declined to less than half (42%) of councils.
Yet some councils continue to champion meals on wheels services, as well as working with local partners to save and enhance their local service. Our case studies provide a range of examples of how it's possible to continue services and invest in their development, bringing about a range of benefits to individuals, their families and the wider community and local economy. Importantly this isn't about turning the clock back or saving services at any cost, these services are thriving because they have adapted to the new context, listened to their clients and maximised the value beyond the meal itself. Contact us if you would like to tell us about your service.
What can councils and their partners do?
We believe there is a clear case for local funding and other support for meals on wheels services, given how they help people to maintain their independence and prevent escalation of needs. Crucially, funding is not the only way for councils to play an active role; there are multiple ways to support services' development and sustainability.
Save, reintroduce and enhance services by exploring examples of effective models for meals on wheels services which address a wide range of needs and health and wellbeing objectives.
Maximise referrals to local services by ensuring all relevant public sector staff are aware of local provision and how people can register.
Provide strategic leadership by ensuring local services link in with meals on wheels services to bring multiple benefits, such as nutritional advice, falls prevention and fire safety.
Provide other non-financial support including providing parking permits, helping services to find or share premises and training.
See our actions page for case studies, research reports and other resources.
Connect with other people who care about meals on wheels!
We have an email forum for anyone involved in meals on wheels service delivery, campaigning, or communiity work. Join this forum to ask questions, share resources and get support from others who are running, developing or expanding meals on wheels services across the UK. Email meals-on-wheels-subscribe@lists.riseup.net to join. Once subscribed you can then send a message to everyone in the group by emailing meals-on-wheels@lists.riseup.net.