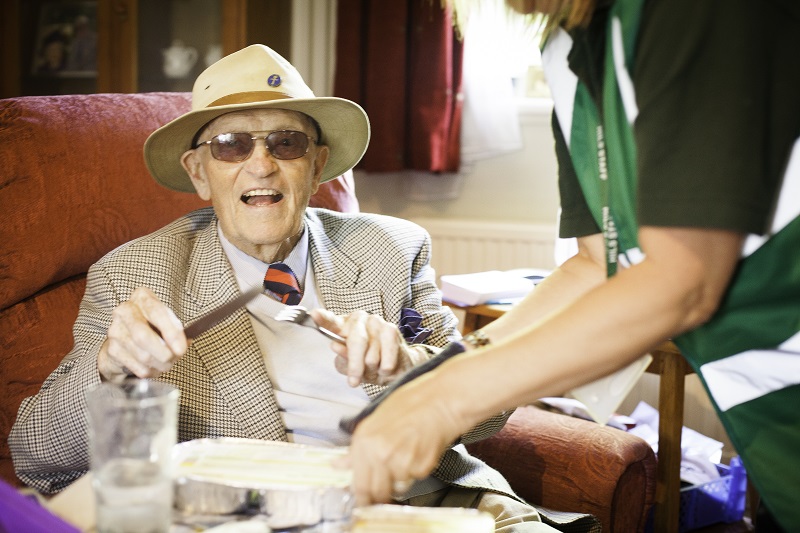 Hertfordshire Independent Living Service (HILS) client. Photo credit: HILS
All people, at all stages of life, need and deserve good food. Food provides health and strength and is a way to keep people connected to their neighbours and community. But nationally, more than 1.3 million people over the age of 65 are malnourished. Malnutrition makes people more susceptible to physical and mental ill-health, extends hospital stays and makes re-admission more likely; indeed malnutrition accounts for nearly £20bn of health and social care spending in England (BAPEN, 2015).
There is no single solution to address this problem. Lunch clubs, good care-home and hospital food, improved pensions and disability benefits are all important strategies. But meals on wheels must be a key element of a multi-faceted approach, providing a lifeline to people struggling to feed themselves in their own homes.
That's why the Older People's Food Campaign is working to protect and enhance meals on wheels services. We're calling for funding, support and legislation that protects and enhances meals on wheels services, so that every older adult across the UK who needs one can access one.
But we can't do this alone. We need your support to shift thinking on wheels on wheels and gain concrete action from government.
Working with partners we've compliled success stories, research, advice and information about meals on wheels services.
Share
Get updates
Older People's Food Campaign: Meals on wheels services support thousands of older people every day to stay independent in their own homes and enrich their lives.
Menu
Support our charity
Donate to enhance the health and welfare of people, animals and the planet.