The campaign to expand access to free school meals for more children and during school holidays has been named Big Impact Award winner at the 2021 Third Sector Excellence Awards.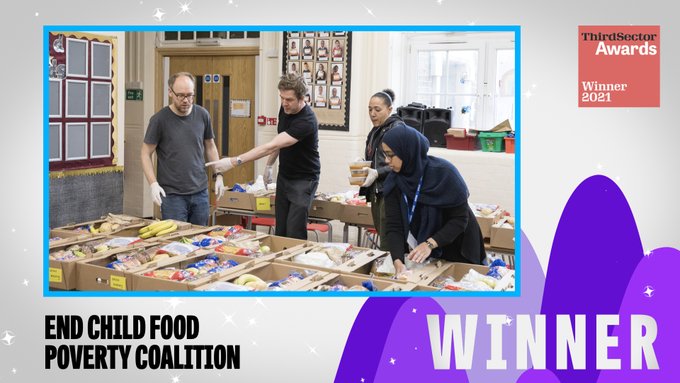 Image courtesty of Third Sector Magazine
The incredible efforts to mobilise increased food support during the Covid-19 pandemic were strongly in the spotlight at 2021's Third Sector Excellence Awards, as the End Child Food Poverty Coalition scooped the top prize in the Big Impact category. Sustain has played a leading role in the coalition, which is now spearheaded by the Food Foundation and supported by many members of our alliance including School Food Matters, Bite Back 2030 and Chefs in Schools.
The coalition of over 30 organisations mobilised across the UK to call firstly for effective free school meal provision to families at home during lockdown, then for continued support during holiday periods, as well as expansion of eligibility to more children experiencing food insecurity - a call taken up and championed by Marcus Rashford's End Child Food Poverty campaign. You can read more about the award entry here.
Judges awarding the prize described the End Child Food Poverty Coalition as "a far-reaching, data-driven, successful campaign, which not only addressed the immediate crisis but also brought about long-term change."
Accepting the award on behalf of the coalition, in a ceremony hosted by comedian Zoe Lyons, Sustain's Children's Food Campaign Co-ordinator Barbara Crowther said:
"We're thrilled that the coalition has been recognised with this Third Sector Big Impact Award. The End Child Food Poverty campaign was an enormous collaborative effort by many organisations. Whilst Marcus Rashford was in the media spotlight, behind the scenes from the very first days of lockdown there was incredible and courageous leadership from many Sustain partners including the Food Foundation, School Food Matters, Bite Back 2030, Chefs and Schools and over 25 other organisations mobilised their expertise and networks - not to mention thousands of local communities and over a million individual supporters."
The good news at the Third Sector Awards continued as 17 year old campaigner and Bite Back 2030 Youth Board co-chair Christina Adane was awarded Third Sector's Rising Star Award, for her personal leadership on school food and curbing junk food marketing. Sustain member School Food Matters along with Chefs in Schools and Impact on Urban Health also won Third Sector's Charity Partnership Award for their Breakfast Boxes outreach in the London Boroughs of Lambeth and Southwark.
The End Child Food Poverty Campaign is continuing to lobby Government to fix the school food system on a more permanent basis, and conduct a full review of eligibility, quality of food delivered and integrated funding. More immediately, it is backing the calls of the National Food Strategy to address dietary inequalities, that more children living in poverty healthy food.
The long term campaign is still at a critical stage. Just this month, thousands of children from low income families lost access to free school meals as a result of moving from primary to secondary school under the Government's current criteria, and the Government is planning to cut another lifeline to families by ending the £20 uplift on Universal Credit. With food and energy prices on the rise, the pressures on low-income families are acute. Sustain and many organisations are now urgently calling on the Government to #KeeptheLifeline. The End Child Food Poverty Campaign is currently mobilising members of the public to #WRITENOW to their MP to ask them to support expanded eligibility for Free School Meals, Healthy Start vouchers and long-term funding for holiday activity and food programmes across the 4 nations, as part of the current spending review and future budget.
Action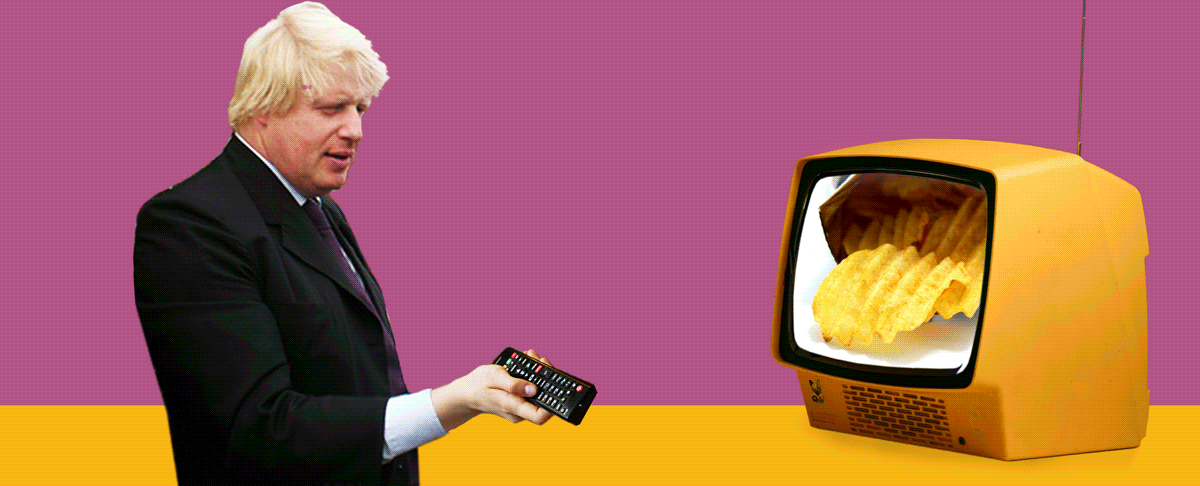 Tell Boris no #ChildHealthUTurn
Support our campaign
Your donation will help us champion children's rights, parent power and government action to improve the food environment children grow up in.