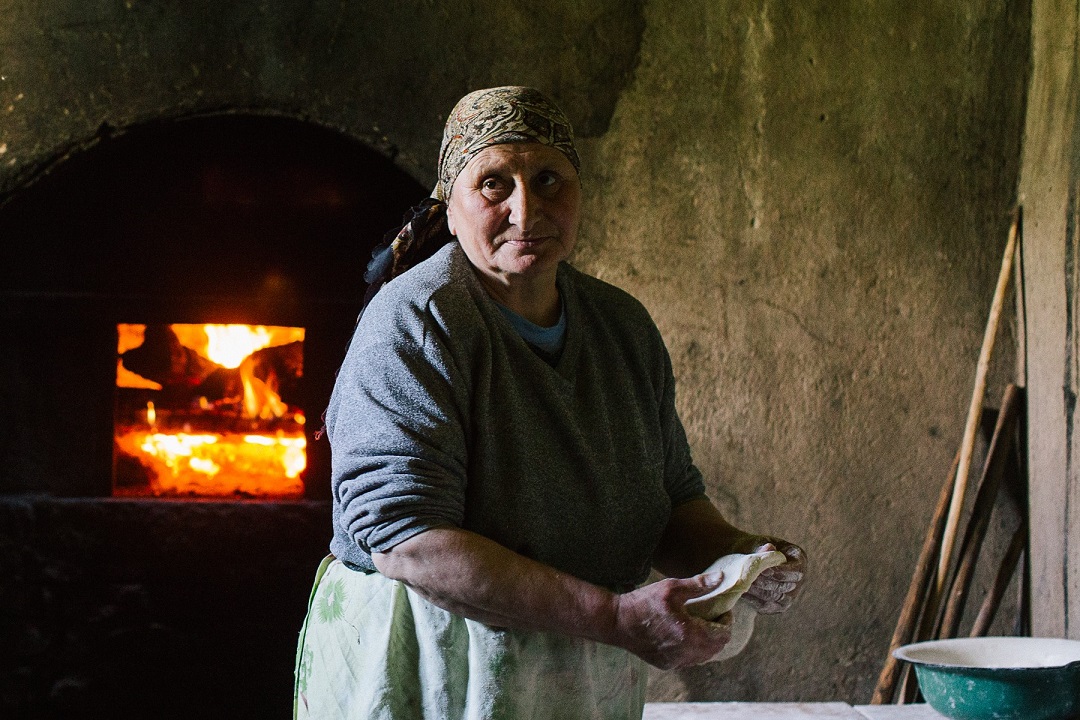 Photo: Galina baking © Elena Heatherwick
In this issue, chef, food writer and author of the award-winning cookery book, Mamushka, Olia Hercules shares a childhood Real Bread story that helped inspire her to write the new book, Kaukasis. Travelling through the Caucasus Mountains, she meets the women behind wood-fired microbakeries in Armenia and Georgia. The feature is illustrated by photos by Elena Heatherwick from the trip that do not appear in the book – a copy of which one reader can win.
Also up for grabs is Modernist Bread, the 2,000 page, million-word, 1,200 recipe result of over four years of independent scientific research and collaborations with leading industry professionals by Nathan Myhrvold, Franciso Migoya and the Modernist Cuisine team.
Other features include former army medic Giles Farrington talking to us about how baking bread helps him work through the ongoing challenges to his mental wellbeing he has lived with since leaving.
Readers will also have thoughts on how being shortlisted for or winning an award can be a boost to a baker, a recipe for the Pentonville Trub Thumper using spent brewer's yeast, and a young baker who – at the age of fourteen – has a bunch of awards under his belt already.
The magazine will be posted to existing paid-up Campaign UK supporters in early October and to new supporters who join before the end of the year. The PDF version will be available for download by Campaign supporters around the world.
Sounds tasty, right? For a slice of the action, join the Real Bread Campaign today.
The small print…
Modernist Bread
Published by The Cooking Lab, £425 / $625 USD / $625 CAD, modernistbread.com

Entries close on 11 December 2017

You can enter from wherever in the world you are but the prize will only be posted to an address in the UK, USA or Canada – sorry if you're unable to provide one.

All Campaign supporters who have completed the survey (details in magazine) already will be eligible for the draw, so no need to do it again.

The draw is run and promoted by the Real Bread Campaign, with a prize donated by the publisher

The prize cannot be exchanged for cash or an alternative prize

The decision about the winner is final and no correspondence will be entered into

We will pass all entrants' contact details on to the prize donor but entrants can opt out of this
Kaukasis
Published by Mitchell Beazley, £25, octopusbooks.co.uk

Entries close on 11 December 2017

The draw is run and promoted by the Real Bread Campaign, with a prize donated by the publisher. The prize cannot be exchanged for cash or alternative prize

The prize will only be posted to an address in the UK – sorry if you're unable to provide one

We will pass the winner's contact details on to the prize donor

The decision about the winner is final and no correspondence will be entered into

There is only one prize but the Campaign may publish any entry, either in its original or an edited form