Research by The Real Bread Campaign has discovered packet mixes marketed as sourdough that contain up to 22 ingredients and artificial additives.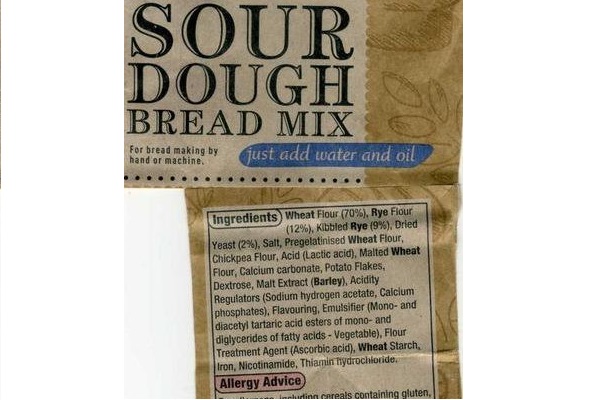 A supermarket sourfaux packet mix
As Britain's apparent love of sourdough is growing, the Real Bread Campaign believes that some manufacturers and retailers may be taking advantage of our desire.
The only ingredients necessary to make genuine sourdough are flour, water and salt. One supermarket's 'Sour Dough [sic.] Bread Mix' lists more than twenty ingredients and artificial additives, including an unspecified added flavouring. Meanwhile, the sixteen listed on another company's so-called 'simple sourdough' mix include mono- and diacetyl tartaric acid esters of mono- and diglycerides of fatty acids. A third packet mix contains added yeast.
Real Bread Campaign coordinator Chris Young said "Britain's shoppers deserve better than to be sold the promise of a shortcut that turns out to be an expensive way of making an additive-laden loaf without the benefits genuine sourdough offers. Surely it says something when a manufacturer feels the need to add flavouring."
What is genuine sourdough?
By definition, the only ingredients necessary to make genuine sourdough are flour and water. From this a baker will nurture the yeasts and lactic acid bacteria that occur naturally on cereals, and therefore in the flour, to make a live starter culture. A pinch of salt is a useful addition and some bakers might include other natural ingredients for variety.
Over the longer fermentation time needed by 'wild' yeasts to work their magic, the bacteria bring about changes in the dough that improve the texture and flavour of the finished Real Bread. A growing number of studies suggest the natural processes could have nutritional and other health benefits to boot. These cannot happen in loaves made without a live starter culture or accelerated by commercial yeast.
To protect shoppers looking to buy (and local, independent Real Bread bakeries that make) the genuine article, the Campaign calls for a legal definition of the word sourdough as part of an Honest Crust Act.
Sourfaux
In the meantime, the Campaign calls on people to say no to #sourfaux, which is what the Campaign calls any product marketed as sourdough that is in fact made using any of the following:
commercial yeast
inert, dried sourdough powder
sourdough concentrate
yoghurt, vinegar, or other non-sourdough acidifier
flavourings, preservatives, processing aids and other artificial additives
This month is #SourdoughSeptember. Rather than giving any #sourfaux manufacturers free publicity by naming and shaming, the Campaign is choosing to encourage people to learn to make their own sourdough from flour, water and salt, or seek out small, local, independent Real Bread bakeries that can guarantee the genuine article.
The Campaign wrote to the customer services departments of the three companies marketing the packet mixes as 'sourdough', urging them to rename or withdraw the products. All three declined to do so.
realbreadcampaign.org
**ENDS**
For media enquiries please contact:

Chris Young
chris@sustainweb.org
twitter.com/realbread
#realbread
Notes
Launched in November 2008, the Real Bread Campaign is part of the food and farming charity Sustain: the alliance for better food and farming. Starting from a simple, universally accessible definition of Real Bread as made without any artificial additives, its mission is to find and share ways to make bread better for us, better for our communities and better for the planet. To date, the Campaign has welcomed over 3000 paying supporters from more than 20 countries.
The findings
Brand X 'Sour Dough Bread Mix' ingredients: Wheat Flour, Rye Flour, Kibbled Rye, Dried Yeast, Salt, Pregelatinised Wheat Flour, Chickpea Flour, Acid (Lactic acid), Malted Wheat Flour, Calcium carbonate, Potato Flakes, Dextrose, Malt Extract, Acidity Regulators (Sodium hydrogen acetate, Calcium phosphates, Flavouring, Emulsifier (Mono- and diacetyl tartaric acid esters of mono- and diglycerides of fatty acids), Flour Treatment Agent (Ascorbic acid), Wheat Starch, Iron, Nicotinamide, Thiamin hydrochloride.
Brand Y 'Simple Sourdough Bread Mix' ingredients: Wheat flour, rye flour, kibbled rye, dried yeast, dried wheat sourdough powder, salt, chickpea flour, dried potato flakes, lactic acid, malted wheat flour, emulsifier: E472e, dextrose, flour treatment agent: ascorbic acid, malt extract, acidity regulators: E262, E341.
Brand Z 'Sourdough Bread Mix' ingredients: Wheat Flour (Wheat Flour, Calcium Carbonate, Iron, Niacin, Thiamin), Sourdough Culture (Rye), Sugar, Salt, Dried Yeast
Real Bread Campaign initiatives also include:
Support our charity
Your donation will help support the spread of baking skills and access to real bread.