Sir Robert Goodwill, Chair of the EFRA Select Committee, has written to the Secretaries of State for Environment, Food and Rural Affairs and International Trade calling again for core standards to be set for food imports.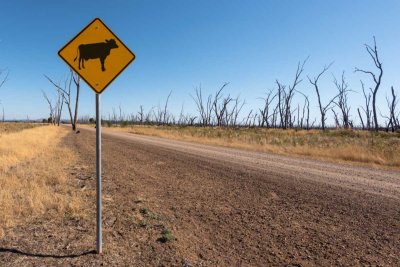 Australian cow sign. Credit: Richard Pantling | Pexels
The Chair of the EFRA Committee, Sir Robert Goodwill MP, said the Government had not addressed the central recommendation in the EFRA Committee's report into the Australia trade deal - that the government commit to core standards on issues such as food safety and animal welfare for produce entering the UK.
Sir Robert expressed concerns that the UK Government were failing to respond to advice or change tack with their negotiations and that this might prove disadvantageous when negotiating with even larger agricultural nations such as Brazil or the USA.
He called on the Government to update their response to the committee and provide reassurance to UK farmers and food producers.
He asked the Government to:
expand the the membership of the agri-food Trade Advisory Group to provide it with additional expertise on animal welfare, health and environmental considerations; and
set out what additional resource it will provide to the Trade and Agriculture Commission (TAC); and
commit to increasing food and drink exports by at least £278m in the Agriculture, Food and Drink Exports Council trade strategy
He also called on the Departments to work more closely together, calling on DEFRA to provide analysis on countries with which DIT are negotiating and where regulation and farming practices "differ in a way that might place UK farmers at a competitive disadvantage".
You can read the letter in full here
Support our charity
Donate to enhance the health and welfare of people, animals and the planet.