Sourdough September boosts bakers worldwide
Bread makers around the globe benefit from the Real Bread Campaign initiative.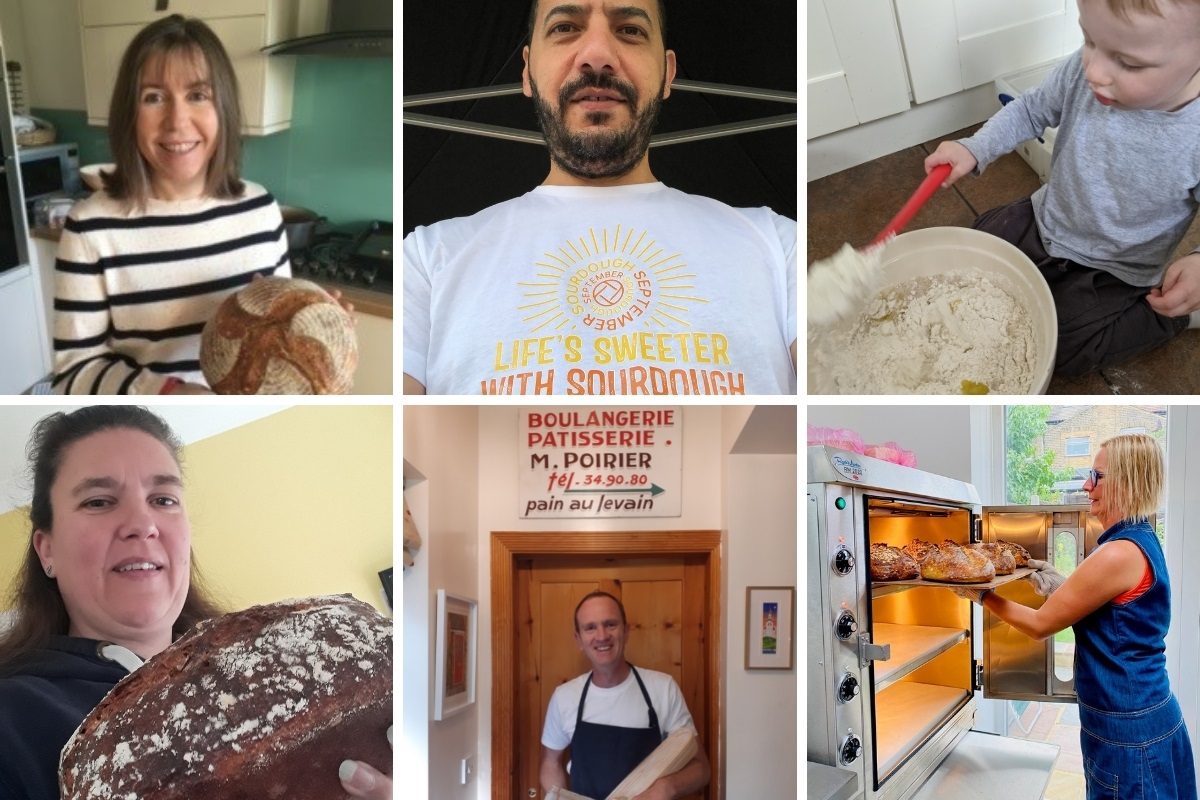 Sourdough smiles - credits below article
The ninth annual, international celebration of genuine sourdough bread and people who make it saw thousands of people in more than 60 countries join the fun – see below.
Getting involved
Of 189 people who responded to our survey:
56% made sourdough bread (some for the first time) for themselves, family or friends.
44% did so for sale.
22% learned more about sourdough and/or sourfaux.
20% bought a loaf of genuine sourdough bread.
7% started nurturing a sourdough starter.
We will review the feedback and suggestions ahead of next year's Real Bread Week and Sourdough September.
Bread business booster
Of 80 Real Bread business owners who responded:
35% said they used the opportunity to get publicity
34% reported an increase of sourdough bread, pizza or baking class sales increased during the month.
26% saw an increase in social media followers.
Stacie Kearney of Lucky Lady Bread Company in Spokane Washington, USA said: "I am so happy you are bringing awareness to the difference between sourdough and sourfaux. I am constantly explaining that sourdough is a process not a flavor. I am grateful for your campaign!"
Canterbury Baking School owner Victoria Feldman told us: "My business has become so busy and sourdough is my most popular workshop. I love what you guys are doing so happy to support you!"
Other than selling sourdough bread, one of the most popular ways in which bakeries engaged with their customers was by giving away pots of sourdough starter culture, along with care guides and recipes. Better Health Bakery reported an increase in giveaways, suggesting that lockdown might have contributed to the popularity.
Cultural networks
The month was one of creating and building connections though making and breaking sourdough bread:
21% with people in their local community.
20% with friends / family.
19% with the global community of sourdough bakers and enthusiasts.
Mad Hatter Bakery owner Mark Long called Sourdough September "a fantastic initiative, which links well with our very own Real Bread Aotearoa here on New Zealand."
Michael Gopfert passed a no-knead recipe to around 45 members of the Wirral Bread Circle, who then came together for a bread-centric feast.
Legal definition of sourdough
Co-incidentally, the month also saw the first meeting of Defra's Bread and Flour Technical Working Group (BFTWG). Though the first rule of BFTWG is that you must not talk about BFTWG (seriously), we have a seat at the table and put our Honest Crust Act proposals on it. These include establishing a legal definition of sourdough bread in the UK.
Where in the world
On Instagram alone, we spotted more than 4300 #SourdoughSeptember tagged posts from Aruba, Australia, Austria, Bolivia, Brazil, Brazil, Canada, Chile, China, Colombia, Croatia, Curacao, Czech Republic, Denmark, Egypt, England, Fiji, Finland, France, Germany, Greece, Hong Kong, Hungary, Iceland, India, Indonesia, Iran, Ireland, Isle of Man, Israel, Italy, Kuwait, Lebanon, Malaysia, Malta, Mexico, Morocco, Netherlands, New Zealand, Northern Ireland, Norway, Peru, Philippines, Poland, Portugal, Qatar, Russia, Scotland, Singapore, Slovakia, Slovenia, South Africa, Spain, Sweden, Switzerland, Thailand, Trinidad and Tobago, Turkey, UAE, USA, Vietnam and Wales.
We're confident that many thousands more people who didn't use the hashtag (or social media at all) participated in more countries.
More comments
"It is a great promotion for people to discover Real Bread and also a chance for them to understand that they can make it, quite easily. It helps that first awakening of what people are eating in their supermarket loaves and encourages them to read the label. Once they see what's in it, they want to know more about sourdough and Real Bread in general." Cath Lloyd-Williams, The Doorstep Baker, Bewdley, Worcestershire
"I think you do a great job in keeping this momentum going." Paul Barker, Cinnamon Square, Rickmansworth
"Keep going, it's great to focus messaging on sourdough Real Bread versus fakes." Caroline Stephens, Rex Bakery, Little Chalfont
"Sourdough September gave me the opportunity to explain to people the difference between sourdough and sourfaux, the Chorleywood Process and the benefits of eating Real Bread." Sam Cornish, Bread of Haven, Ridlington
"We do think it's important. It gives us a reason to talk to our customers and encourage new interest." Sue Bailey, The Forest Bakehouse, Longhope
"You guys are doing an amazing job by creating awareness about sourdough!" Sylvester Spinelli, Elisbakery, Newcastle upon Tyne

---
Photos © Kate Jenkins, Eddy Sleiman (Ed Baker), Steven Croft, Lisa Harris, Justin McAteer and Ildiko Toth (Cultured Bread).
Published 12 Oct 2021
Real Bread Campaign: The Real Bread Campaign finds and shares ways to make bread better for us, better for our communities and better for the planet. Whether your interest is local food, community-focussed small enterprises, honest labelling, therapeutic baking, or simply tasty toast, everyone is invited to become a Campaign supporter.
Support our charity
Your donation will help support the spread of baking skills and access to real bread.