Last week's panel discussion at the Conservative Party Conference shows government interest in food and farming is at an all-time high with welcomed recognition for the need to improve ELMs and a focus on better market-driven support and regulation.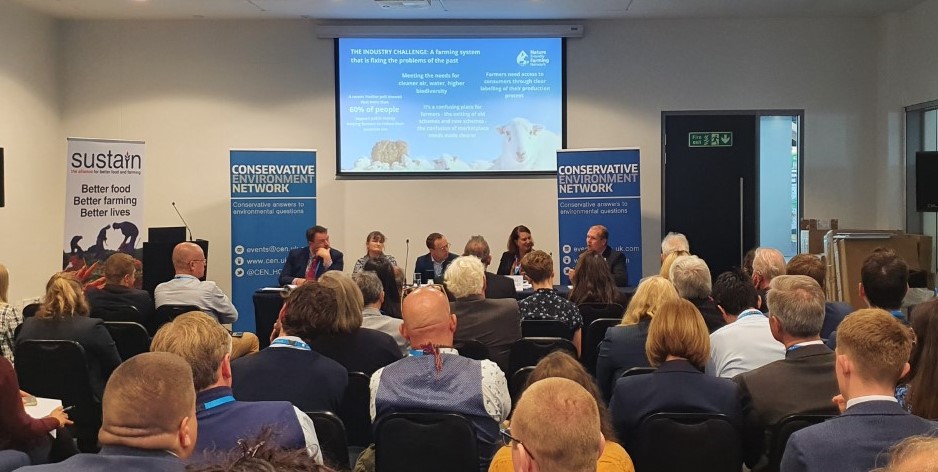 Minister Visctoria Prentis, Chris Loder MP, Vicki Hird (Sustain), Sam Hall CEN, Defra Minister Victoria Prentis, Martin LInes NFFN Credit: robert Lingard
At the Conservative Party Conference last week (3 October), the Sustain Alliance, RSPB, and the CLEAR labelling consortium sponsored an event with Nature Friendly Farmers Network with the Conservative Environment Network hosting.
Martin Lines, UK Chair of the Nature Friendly Farming Network (NFFN) and Vicki Hird, Head of Sustainable Farming Campaign at Sustain, sat on a panel discussion around the future of English farming.
Joined by Victoria Prentis MP, Chris Loder MP and Sam Hall (CEN), key topics included trade deals, investment in farmer-focused supply chains and the urgent need for clarity on future farming frameworks, but to keep the policy direction on track. The Minister spoke of how England is being bold with ELM and already garnering praise from international partners.
There was recognition for the need to improve ELM and give it the budget it needs, but coming at a time when trade deals remain undefined by core standards, emphasis was placed on the urgency for greater market-driven support.
"Farmers want to confidently transition to more nature-friendly methods knowing that the right infrastructure is in place to see their ambition in environmental output be matched by fair access to the market. We need all that farming delivers to be recognisable and traceable" said Mr Lines.
The case was made that mandatory labelling of production would 'even the playing field' and give fair reward to farmers by making methods of production transparent to consumers who are eager to support farming that delivers environmental and animal welfare benefits.
With climate change impacting farms already, nature-based approaches can provide long-term resilience against the challenges ahead. Mr Lines spoke of how working with nature can reduce reliance on costly inputs like pestcides, improve the 'bottom line' of business and create a healthier landscape fit for purpose.
But for more farmers to adopt methods of agroecology, such as agroforestry, IPM and pesticide reduction, Ms Hird argued that clear frameworks are needed, alongside an improvement to ELMs that sees schemes made ambitious, accessible and supportive, and trade policy that shows clear leadership on high standards. Concerns were raised about energy crops and their impact on land and food production. Ms Hird stressed the need for a land use framework to tackle this. There was strong support in the room also for public procurement to support UK farmers, putting sustainable, healthy food on school, hospital and armed forces' plates.
"There has never been a more critical time to support farmers in the transition to climate and nature-friendly farming. Joining up policies that support the food system will be critical, from farm support mechanisms, to supply chains and infrastructure, to a trade policy that drives high standards everywhere. All of this can be done with the right incentives, strong advisory support and help in the transition," said Ms Hird.
Mr Lines added: "With the current climate and nature emergencies, business as usual isn't an option. If the government gets this right, then we have a farming system that produces goods and services that the market needs while recovering biodiversity and tackling climate change."
"We can't miss this opportunity to secure future government schemes that fix the flaws of BPS, alongside options for blended private finance. It's a chance to deliver the best of what farming can for nutritional security, public benefit and environmental health."
The event was sponsored by Pasture-Fed Livestock Association, CLEAR, RSPB and Sustain.
Jimmy Woodrow, Executive Director, Pasture-Fed Livestock Association said: "There are so many positive things happening on the ground at the moment, both within our network and those of our partner organisations. What is needed from the government is a vision and supportive framework to encourage this to happen at scale. We can't expect farmers in the UK to follow without the right set of incentives in place. Pasture for Life, Organic and Biodynamic are excellent examples of systems where the government's desired outcomes are already being delivered and they should be overtly supported in future farm planning. If not now, when?"
Fidelity Weston, Chair of CLEAR – The Consortium for Labelling for the Environment, Animal welfare and Regenerative agriculture says: "We have a once in a generation opportunity, as the Government has announced its intention to call for evidence on better labelling, for the consumer to understand more about how their food is produced. This will directly link consumers with farmers and help to mitigate the substantial confusion that currently exists over the proliferation of voluntary schemes. So long as it is possible not to label food, even the voluntary schemes will remain confusing. Mandatory labelling is cost-effective, technically possible and can lead on helping the Government to secure its commitment to the 25-year environment plan. It provides the interface so the consumer-driven market can support and drive change in farming systems. It will restore much-needed trust in labelling."
Stephanie Morren, senior policy officer at RSPB said: "The UK's new environmental land management schemes have the potential to play a huge role in reversing wildlife loss and reaching climate change targets. The aims of the scheme need to be clear so that farmers know they will be rewarded for the contribution they make and supported to adapt their businesses. Ensuring the schemes deliver the win-wins, such as reduced reliance on pesticides and improving soil health will benefit farmers, as well as tackling the nature and climate crisis we face."
Support our campaign
Your donation will help us work with farmers to push for policies to support farming fit for our future.