September sees global sourdough shenanigans
The Real Bread Campaign's sixth annual Sourdough September saw mother lovin' bakers and baking teachers in Britain and beyond share secrets and starters for the oldest way of loaf leavening.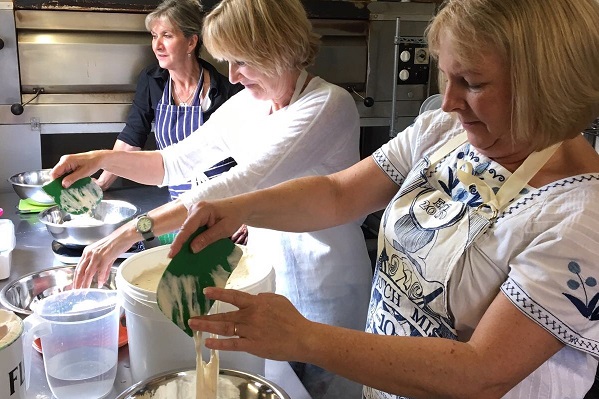 Photo courtesy of Birch Cottage Bread
Throwing themselves into the fray particularly passionately were seventeen bakery members of Real Bread Ireland, which gave away pots of sourdough culture, with recipes and classes on baking with it.
During the month, the Campaign also launched an action encouraging people to write to the Secretary of State for Environment, Food and Rural Affairs, Michael Gove, urging Defra to introduce more robust protection for shoppers and small bakery owners from incomplete and misleading loaf labelling and marketing. More than 1000 people had sent email messages by the end of September, with the number continuing to rise.
Comments from Campaign supporters who benefitted from Sourdough September included:
"It encouraged us to diversify our product range whilst making customers aware of sourdough and the Real Bread Campaign. We hope that you had just as much fun as we did!" Andrew Auld, The Loaf
"The profile of sourdough has never been higher, and I am already taking bookings to learn, into the new year." Liz Wilson, Ma Baker
"My Facebook videos have reached almost 2000 people so far and engagement on my page rose by more than 100%. I gained over 100 Instagram followers during the month and there was an increase in my bread class bookings during the month." Rhiannon Abbott, The Epsom Bakehouse
The initiative gained coverage by many media outlets, including The Observer, Irish Times, delicious and British Baker.
Out in the social media sphere, the Campaign gained around 590 new followers on Twitter during the month, thanks in part to competitions run in conjunction with AGA, Doves Farm and Dualit. #SourdoughSeptember tweets were tracked as far afield as Britain, Ireland, Canada, France, Egypt, Spain, Venezuela, Greece, Germany, Morocco, USA and Japan. Depending on which counter you believe, the hashtag may have been tweeted 4000 times.
The Campaign's next major awareness-raising event will be the 10th annual Real Bread Week, which runs from 24 February to 4 March 2018.
See Sourdough September photos
---
09/10/2017
Real Bread Campaign
SHARE
---
Real Bread Campaign: The Real Bread Campaign finds and shares ways to make bread better for us, better for our communities and better for the planet. Whether your interest is local food, community-focussed small enterprises, honest labelling, therapeutic baking, or simply tasty toast, everyone is invited to become a Campaign supporter.