UK public wants protection for high food standards and the environment in future trade deals
New research published today (11 Nov 2020) from consumer organisation Which? shows the UK public wants to protect high food standards and the environment in future trade deals.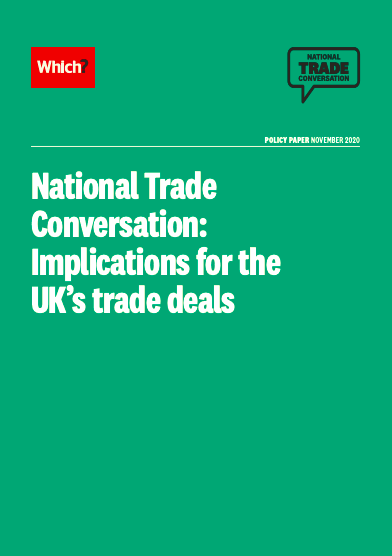 Picture credit: Which?
The main priorities that emerged were: maintaining health and safety standards for food and products; protecting consumers' data and digital rights; addressing regional inequalities; and protecting the environment.
On food, participants said they were concerned that the UK could come under pressure to lower standards and that they did not want the responsibility of guessing the safety of the health impact of their everyday purchases. They also rejected the idea that having access to more, lower standard products necessarily increases meaningful choice, saying instead that it could increase existing inequality. They backed the precautionary principle and wanted evidence of benefit before changing our standards.
On the environment the participants said that it is essential to minimise the environmental impacts of what we buy; that green trade deals benefit the whole world; and that trade deals should align with our climate change and sustainability targets such as net zero by 2050. They also backed encouraging more local food production to shorten the supply chain and reduce carbon emissions.
The rigorous research is the result of 'dialogue' sessions held over two weeks with almost 100 people in five different locations across the UK. The participants were given information on how trade works, the negotiating objectives of future trading partners and the various trade-offs that might emerge in trade negotiations.
Orla Delargy, Head of Public Affairs at the food and farming alliance Sustain said:
"UK consumers consistently say they want to see food standards and the environment protected in future trade deals. Unfortunately, the Government has repeatedly missed opportunities to protect these in UK law, leaving our standards on the trade table. With trade discussions happening behind closed doors and parliament left with few powers of scrutiny or a guarantee of a vote, it remains to be seen how the Government intends to fulfil its own promise to voters to protect food, animal welfare and environmental standards."
You can read the full report from Which? here.
Support our charity
Donate to enhance the health and welfare of people, animals and the planet.