'Withdraw sourfaux code support' urge 1000+ bakers and buyers
Real Bread Campaign sends letter to Defra.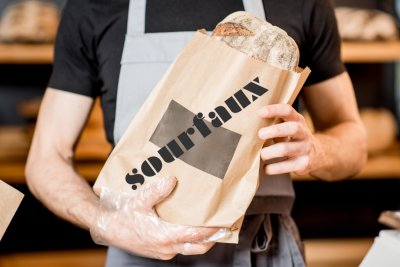 Not our bag, baby. Credit: Canva
On 17 May 2023, the Real Bread Campaign sent a letter to the Secretary of State and Minister of State at Defra. It urged the UK government to withdraw its endorsement of a so-called 'industry code of practice', which seeks to legitimise the use of baker's yeast and additives in products named and advertised using the word sourdough.
The letter was signed by more than 1000 people from across the UK, including bakery owners and workers; people from related businesses and organisations; and many who added their names as supporters of small businesses and of better consumer protection.
It was written as a response to a reply to a written question from Daniel Zeichner MP. On 20 February 2023, Mark Spencer the Minister of State for Environment, Food and Rural Affairs wrote: "The Government welcomes the development of a code of practice by the UK baking industry to help with consistency and best practice in relation to the labelling of sourdough bread and rolls."
Want to help us continue the fight?
See also
The letter
Dear Thérèse and Mark,
For the reasons given by the Real Bread Campaign co-ordinator in his letter of 6 February 2023, we the undersigned totally reject the so-called 'UK Baking Industry Code of Practice for the Labelling of Sourdough Bread and Rolls'.
We are appalled that a Government minister should 'welcome' this sham document. It feels like a betrayal of the small bakery business owners who, collectively, have been nurturing the UK's genuine sourdough bread making tradition, and the market for sourdough bread, for at least 50 years.
By rendering the word sourdough as confusing as the now-banned term wheatmeal, and meaningless as the unregulated term farmhouse, it also feels like a dereliction of duty towards protecting shoppers from being misled.
Instead, we support the case for a legal definition of sourdough, as presented by the Campaign to Defra on 21 January 2022. Will you please review and withdraw your endorsement of the proposed code, as well as your dismissal of regulating use of the word sourdough?
Why this matters
In his 2 March 2023 reply to the Real Bread Campaign (ref PO2023/02465/SH), Mr. Spencer stated: "Industry codes of practice can provide a useful resource to support a level playing field for businesses." That might be so in some cases but not in this one.
The majority of bakeries making genuine sourdough bread in the UK are small, independent businesses. They help to support more jobs per loaf, helping to keep money circulating in local economies and to keep our high streets alive. They are now being undercut not only by larger bakeries making genuine sourdough bread more cheaply by fair means due to economies of scale, but also by companies of all sizes using the word sourdough to market fundamentally different products.
If adopted, the proposed code might conceivably contribute towards equality of businesses of every type and size being able to use the word sourdough to name or market products manufactured using baker's yeast and additives. It would not, however, create equity between a small, independent bakery that makes genuine sourdough bread, against the combined marketing might of multi-billion-pound industrial loaf manufacturers and multiple retailers promoting what the Campaign calls sourfaux.
Not in our name!
As the Campaign coordinator has pointed out, the document was not written or approved by the baking industry as a whole. Calling it an 'industry code of practice' belies the fact that it was drafted in secrecy by and for a small group of organisations whose members have vested interests in profiting from making, selling and using additives and baker's yeast.
This absurd situation is comparable to the Government endorsing a honey composition, labelling and marketing 'industry code of practice' written by sugar refiners, or one for butter being compiled by margarine manufacturers.
Clarity and consumer protection
Repeated ministerial assertions of existing regulations being 'robust' enough to prevent people from being misled, with consumer protection bodies ready and able to enforce them, just don't ring true. According to the Chartered Trading Standards Institute's response to a 2021 BEIS consultation, trading standards service budgets have been slashed by an average of 46% since 2009, while staff numbers have been cut by around 52%. Meanwhile, in December 2019, the Advertising Standards Authority said that it was unable to uphold two complaints on the grounds that "we don't consider that there is a fixed definition of a sourdough loaf."
Both of these clearly demonstrate the need for legal definition and clear-cut regulation to prevent cases arising and to enable simple and swift resolution of any that do. These are things that muddled, disputed, non-binding guidance will not do.
Not just sourfaux
In his reply of 2 March Mr. Spencer yet again failed to answer the question that Defra keeps on sidestepping, so we ask again: through what means and exactly when will we and all other stakeholders get to have our say on the review of regulations relating to the rest of the Campaign's Honest Crust Act proposals? When will the public consultation(s) be on each of its elements?
Yours sincerely,
Bakery business owners and workers: Loaay Ahmed, Loaf Affair; Alexander Aitchison, ACRE Bakery and Farm; Louise Allen, Nourish & Knead; Rami Ammouri, Coworth Park; Zakiya Andrews, Blackbirds Micro Bakery; Sydney Aston, Astons Bakehouse; Tricia Barker, Cinnamon Square; Paul Barker, Cinnamon Square ; Steve Bath, Myloaf Ltd; Gary Beard, The Crusty Loaf ; Alexandre Bettler, TODAY BREAD; Maxine Bodman, The Hand Makery; Johanna Bottrill, Jo's Loaves; Phoebe Boulanger, Boulanger Artisan Bakery; Sandy Boulanger, Sandra Boulanger; Amanda Bowden , Indigo Bakes; Adam Bown, St JOHN Bakery; James Bowtell, Holloway Model Bakery ; Alan Brand, Bread Making New Forest; Maureen Breeze, Its a Breeze Baking; David Brewer, Orchard Hills Bakery; Alice Brown, Raised in Rampton; Martin Bryers, TTI; Nicola Burdekin , Strathpeffer Artisan Bread; Graham CAPPER, Bread in the Borders; Philip Cardwell, Uppercrust Bakery Lytham; James Cartwright, Longstraw Bakery; Felicity Chadwick , Juniper Arundel; Ian Chambers, Penymynydd Bakery; Alyson Chaney , Songbird Bakery; Julia Charlton , Ingreedilous Foods ; Adrian Clarke , Clarkes Northumbrian Baking; Annmarie Clay, Leeds Bread Coop; Charlotte Clif, Charlotte's Sourdough ; Simon Clifford, Bodicote Baker; Juliet Collis, Juliet's Bread; Peter Cook, Peter Cooks Bread; Doug Cookson , Crannach Bakery ; Sam Cornish, Bread of Haven; Paulina Cove, Sandgate Cove Bakehouse ; Julia Cross, Cold Cottage Craft Bakery ; Andrew Crothall , The Sourdough Kitchen ; Chris Cundill, Rosa's Bakery; Sally Cunningham , Forge Bakehouse; Raeoni Daly, Little Sister Bakes; Brenda Daly , Daly Bread ; Gary Davies, The Bakehouse SE16; Alan Davis, The Authentic Bread Company; David de la Riviere, YourDaveyBread; Sean Demaine, Demaine Artisan ; Karen Drury-Peppercorn, Kbroffee; Felicity Duirwyn , Filbert's Bakery ; Andrew Elder, WRINGTON Bakery; Mark Eltringham , Barefoot Community Bakery ; Tonatiuh Erreguin , Imma the Bakery ; Gill Evans, Savour the Flavour Microbakery; Eszter Faulkner, The Little Sourdough Bakery; Clare Fennell , Bruntlands Bread; Anne FLEISSIG , ; Yve Forrest, Cegin Yve ; Sarah Fraser Steele, Better Health Bakery; Karen Gardiner, Sourdoughing It With love; Rachel Gardiner , The Potting Shed Bakery; Mark Garry, The Welbeck Bakehouse; Gulsum Genc Koc, Mill Hill Artisan Bakery; Catherine Gilbert, Little Clowder Bakehouse; Anthony Golledge, Souldough Bakery; Tim Goodwin , The Street Bakeshop; Sharon Graham-Law, Sunset Bakehouse; Hannah Gray, Little Sugar; Natalie Gray, ; Megan Grocott, Koselig; Paul Grover, Brook Farm Bakery; Kath Halls, Emley Sourdough; Sophia Handschuh , Sourdough Sophia; Peter Hathaway, Pete's Bread; Tina Hawkes, Eat Your Crusts Microbakery ; Tara Heron, Dainty Monkey Baking; Philip Hiscott, The Cornish Sourdough Bakery; Suzannne Hiscott, The Cornish Sourdough Bakery ; Neil Holland, Loaf Bakery & Cookery School; Sue Holliday , Angel Guesthouse ; Sarah Hooper, Doorstep Bakery; Mark Horner, South Downs Sourdough ; Sonya Hundal , Greenfield Bakers; Jackie Jenkins, Willaston Country Market; Maria Jenkins, Little Grove Farm; Luke Jenneson, Luke's Bakery ; Matthew Jewell , Ashburnham Bakehouse; Charlie Johnson, Station House Bakery; Raphaelle Johnson, Station House Bakery; Lucy Johnson , Lucy's Loaves ; Paul Jones, Paul's Organics; Andrea Joyce, The Little Loaf; Ali Keech, Born & Bread Bakery; Anne Keenan, The Culinary Kiwi Bird; Sean Kelly , Culture Bakeries; Bill King, Bill King Artisan Baker; Keith Kirby, Lekito; Laszlo Kovacs, St JOHN Bakery; Klaus Kuhnke , Artisan Foods; Jo Lancaster , JoJangles Pizza and Bread; Carol Lang , Cadzow Bakehouse ; Thomas Latham, C.H.Latham The Baker; Tracey Law, Heritage Bakehouse; Philippe Le Toquin, Longslow Bakery; Lawrence Leason, Hackney Bread Kitchen; Piotr Lesnianski , The Gatsby ; Marie Lester, The English Pantry ; Ben Lines, Gwyn's Bakery; Catherine Lloyd-Williams , The Doorstep Baker ; Ben Mackinnon, e5 Bakehouse; Pierre Maitre, Chez Maitre; Nelson Mansfield , Butter Street Bakery ; Jay Matic, Manila Artisan Breads; Kira Mckee, freelance; Motoko McNulty, Happy Sky Bakery; Alison McTaggart, Breadonabike; Amy Meacock, St. JOHN Bakery; Mel Menzies , The Baker ; Elena Mihaiescu, The Crusty Slice; Katherine Millar , E5 bakehouse ; Toby Mitchell, Celtic Bakers; Cait Mitchell , Loch Arthur Farm Shop & Loch Arthur Community; Charlotte Morrison, ; Douglas Muir, London Road Craft Bakery; Gauri Nafrey, Bridge Baker; Annika Naish , Fika Exeter; Tim Nash, Tensheds Bakehouse; Ross Newsome, The Handmade Bakery; Les Nicholson , The Artisan Bakehouse; David Nizi, NIZI Bakery ; Neal O'Donnell, O'Donnell Boulangerie ; Monika Olszewska, Nourish Bakery; Yvette Ong, Wonky Ear Bakehouse; Bethan o'reilly, Wild Hearth Bakery; Kate O'Shea, Tough Mary's Bakehouse; Oliver Palin, Leavened; Sofia Paoletti, St JOHN Bakery; Alison Park, Low Sizergh Barn; Emma Parkin, Emma's Bakery; Rob Paton , The Fat Batard Bakery ; Daniel Patterson, Mokoko bakery; Catherine Paxton, Paindemain Bakehouse; Alison Pearson, Beacon View Bakehouse; Samuel Perez Ramirez , freelance; Hilary Persent, Dedhambread ; Claire Pinnock, Charnwood Bakehouse; Jessica Pollard, Pattacakes Bakery; Philippa Porritt, EVIEDALE Bakehouse & Bistro; Robert Ramsaha-Southall, Y Bechgyn; Karen Relf, Thrift View Bakery; Maggie Rich, Off the Rails, Glaisdale; Steve Rickaby, Baker Steve; Matthew Rideout, Knead & Desire Bakehouse; Gareth Roberts, Amazing-Grains; Aaron Roberts, Triangle Bakehouse; Melanie Rodber , Little Bakery Langport ; Shona Rogers, Elsing Bakehouse ; Deborah Rota, Buzzing Bee Baked Things; Sol Russell-Donn, E5 bakehouse ; Paul Ruttledge, ; Dominic Salter, Salt Bakehouse; David Sargent , Sourdough Dave the Artisan Bread Man ; Peter Sewell, Beck Cottage Bakery ; Sue Shaw, Barkby Bakehouse; Zara Shiels, Blixt Bakery; Eddy Sleiman, Ed Baker; David Smart, Greehalgh's Craft Bakery; Karen Smith, Arcade Coffee; Andrew Smith, Bread and Roses [Northumberland]; Robin Smith, Horsham Bakery; Deborah Soal , Soals Artisan ; Emilie Soheila, Ambigu Bakery; Luciano Soto Rodriguez, Lucho Bakes; Simon Spence, Worton Organics; Glenn Stephens, Rex Artisan Bakery; Mark Stevens, Riverside Sourdough; David Stewart, Dr Dough; Jonathan Storey, Slaley Bakery ; Chris Straiton , Pizza and Prosecco; Izabela Stuchlik, Leavened; Sheralyn Stuckey, Teapots Vegan Catering ; David Sturgess, Dough ; Utako Tanner, Petit Bonheurs; Katharina Thomas, 44 Bake Room ; Keith Thompson, Montgomery Real Bread; Flavia Torrisi, Semola Bakery; Ildiko Toth, Cultured Bread Bakery; Dan Towler, Doze of Faversham ; John Townshend, LocoLoaf Bakery; Alexandra Vaughan , The Crow's Rest Bakehouse ; David Vaughan , Fika ; Carlos Villanueva , St JOHN Bakery; Andrew Walker, Gingerbread Bakery; Susan Wallace, Loaf; Sara Ward, Hen Corner; Amy Warman, freelance; Ian Waterland, Knead Good Bread; Rachael Watson, Abergavenny Baker; Paula Watson, PureKnead Bakery; Andrew Weston, Banjos Bread; Tony Wetherall, Roots Bakehouse; Matt Wilding, Winfrith Bakery; Malcolm Williams, Little Eye Bakery; Liz Wilson, Ma Baker; Andrew Wright, Andy's Bread; Bob Wright, Bob's Bread Bakery; David Wright, Pump Street Bakery; Christopher Wyer, Baked in Tettenhall ; Tanya Young, The Bakery by Knife & Fork; Hikmet Yurtturk, Teo's Bread
Related businesses and organisations: Toby Anstruther, Balcaskie Estate; Joe Bartlett, ; Ilgin Beaton, Just Sourdough by Ilgin; Wayne Caddy, Sourdough Slingers; Nicola Cain , The Backyard Café; David Carter, The School of Artisan Food; Sally Craven, Claybrook Watermill; Sarah Eliot, Murlough Kitchen; Danielle Ellis, Severn Bites Breadmaking Classes; Lionel Green, Crakehall Watermill; Oscar Harding , Duchess Farms ; Shane Holland, Slow Food in the UK; Lindsey Horton, Sourdoughwey ; Claire Humphreys, Pink Aubergine; Verity Hurding, Eolach; Maria Johansson-Greenwood, So Sussex; Caty Jones, K Teas Cakes ; Julia Kirby-Smith, Better Food Traders; Rebecca Lysaght, Shambles Bistro; S. Joy McCarthy, Cronkshawfold Farm; Thomasina Miers, Wahaca; Martin Passey, Becketts; Denny Plowman, Green's Windmill Trust; Paul Raddan, Rugby Real Bread ; Rosalind Rathouse, Cookery School at Little Portland Street; Peter Samsom, Hexham Farmers Market; Gyopàr Schwarzkopf , Sweet Passion Cakes ; Adam Simon, Tamarisk Farm; Michael Stoate, Cann Mills; Sophie Turigel, dietician; Steve Villette, Drapers Windmill Trust; Sybille Wilkinson, Gilchesters Organics.
Bread buyers, supporters of small businesses and of better consumer protection: Duncan Abel, John Addison, Erika Adler, Vanessa Akenga, Nick Aldridge , Letizia Alianelli, Nick Allen, Mark Allen, Batul Alsaraji, Nev Ancliff, Lynette Anderson, Allison Anderson, Colin Anderson, Graham Andrew, Kevin Andrews, Helen Andrews, Nick & Nadine Angell, Marcus Appleton, Richard Ardagh, Judith Armitage, Jenny Aston, Mark Atkins, Julie Atkinson, Esther Austin, Elisabeth Bailey, Susan Bailey, Wil Bailey, Sarah Bailey, Jim Baird, Terry Baker, David Baker, Joan Ballantyne, Alan Barclay-Devine, Roy Barker, Betsy Barker, Chris Barker, Stephen Barkley, Martin Barnard , Julia Barrow, Tony Bartholomew, Timothy Barthram, David Barton, David Bates, Krysta Batryn, Renee Baylis , Csilla Bedy , Liz Behnke, Jessica Bell, Emma Bell, Wendy Belsey, Charlotte Benentt, Pauline Benn, Shaun Bennett, Caroline Bennett, Ruth Benson, Jon Berry, Nigel Berry , Nazim Bharmal, Christian Bibow , Noah Birksted-Breen, Helen Blackburn, Philip Blackman, Tracy Blair , John Blake, Nick Blakeway, Dawn Bliss, Rachel Bodle, Colin Bom, Richard Boocock, Lucy Booth, Edward Boott, Richard Bowker, Jo Bowlzer, Emma Bowman, Steven Boxall, Sandy Boyd, Lynda Bradford, Emma Braga , Kevin Brandwood, Sibil Bratulic, Vincent Bridger, Caroline Brien, Paul Bright, Susan Bromiley, Giuseppina Brooks, Phil Brown, Rowan Brown, Stephen Brown, Chris Brown , Caroline Brunton, Ian Buckingham, Keisha Burch, Bruce Burchell, Anne Burley, Pauline Burney , Debbie Byard , Haffeera Cader Saul, Neil Callaghan, Kate Calvert, K Campbell, Laura Campbell, Lindsay Campbell, Teresa Canm, Lin Cantlay, Anne Carey, Gary Carr, Jill Carter, Anoushka Carter , Shaun Carvill, Thomas Cary, Karen Casey , Persilia Caton, Danielle Chambeyron , Jane Champion , John Chapman, Joanne Charlesworth , Tim Charlton, Stephen Cheetham, Adam Childs, Fran Childs, Lynda Chipperfield, Claire Chipperfield , Susan Christian, Mia Churcher, Jakub Chwieduk, Lauren Clark, Chris Clark, Max Clark, Christopher Clarke, Ellen Clarke, Gemma Clarke , Jeff Claxton, Silvia Cocco, Lyndsay Cochrane, Alasdair Coles, Ian Collacott, M Collett, Olivia Collins, Jason Collins-Webb, Richard Connall, Kate Cooper, Ella Cooper, James Copeland, Caroline Copleston, Ann Coppinger , Miles Corbett, Mark Cornwell, Nicky Coss, Amanda Couch, Matthew Cove, Sky Cracknell, Hayley Craddock , Rohan Cragg, Jill Crook, Melanie Crosbie , Samantha Cross, Barbara Crowther, Anton Curmi, Chloe Da silva, Gerry Danby, Antonina D'Anna, Nik Darlington, Emil Dascal, Ian Davenport , Claudia Daventry, Julie Davidson, Heather Davies, Maureen Davies, Kim Davies , Julie Davies , Lynne Davies , Rob Davis, Martine Dawber, Dave Dawe, Neil D'Costa, Natasha de Chroustchoff, Emmanuel de Lange, Caroline De Souza, Gary Dennis, Joanna Dennison , Lisa der Weduwe, John Dewison, Samantha Dickinson , Oliver Dinsey, Amy Dittrich, Nigel Dixon, Paul Dobson, Britt Dockerill, Lee Dodge, Nigel Dodman, Alan Dodson , Kim Doherty, Liz Dolman, Tessa Dorrian , Liz Douglas, Simon Douglass, Mathew Drago, Michelle Draycott, Catherine Drennan, Anna Drozdova , Derek Dryden , Lionel Dubois, Peter Duerr, Ruhie Duffin, Rae Duncan, Dagmara Duncan, Patrick Dunne, Adeline Durand, Alec Duthie, Amy Eastham, Stephen Eddleston-McGrath , Jessica Edmonds, Elisabeth Edwards, Ian Edwards, C Eggins, Claudia Ehmke, Deryn Elford , Maggie Elgar, Christopher Elletson, Julia Elliott, Sara Ellis, Chris Ellis, Lucy Empson , Jane Erin, Mark Evans, Anna Farquharson, Matthew Farrand, Diane Farrell , Derek Ferguson, Elisabete Ferguson, Nicky Ferguson , Sarah Finch, Olga Finnigan, Jennie Fisher, Anita Fisher, Jonathan Fisher, Jane Fisher, Lisa Fiske, Jenny Flaxman, Claire Fleet, Beth Fleetwin, Ruth Fletcher , Antony Flower, Sally Fordyce, Kirsten Foster , Steve Foulger, Jo Foxall, Graham Foxley, Neil Francis , Julie Franklin , Amanda Freeman , Ian French, Melanie Fryer, Joan Fyfe, Daniel Gallagher , Barry Gardner, Andrea Garduno , Peter Garner, Pete Gathercole, Wilma Geddes , Alexandra Geils, Jane Gibbon, Richard Gilbert, Mike Gilderdale, Alan Giles, Christopher Gill, Michael Gillespie, Martin Gillespie , Prisca Giordani, Chris Golding, Valerie Gonet, Chris Gould, Matt Gourvish, Michael Gowen, Tony Gowland , Carol Granger, Jackie Grant, Kingsley Gratrick, Davina Gray, Shannon Green, Stephan Green, Judith Green, Nicki Gregory, Heather Greig, Caroline Groom, Jacqueline Gruhn, Eddie Grummett, Andrew Guest, Emma Hale, Claire Hall, Sophia Hallan, Danielle Hall-Gold, Anna Hamer, Cordelia Hammond, James Hampton, G hamway, Sara Hannant, Jacqueline Harkin, Chris Harrap, Terence Harrington, John Harris, Bridget Harris, Amanda Harris, Laura Harvey, John Hatt, Angela Hawkins, Philip Hawley, Russell Hayton, Nicole Healing, Karen Hearn , Catriona Heeraman, Claudie Henault , Matthew Henderson, Frances Hennell, Thomas HENRY, Amy Herlihy, Vikki Herrod, George Hibberd, Matthew Higgins, Louise Higgs, Steven Hildick, Brian Hitchcock, Holly Hodgart, Jennifer Hodgkinson, Chris Holdstock, Janyce Holmes, Harry Homan, Andrew Hooper, Paul Hooper , Simon Hopkins, Ian Hopley, C V Horie, Sally Horrigan, James Howard , Royston Howden, Helen Hoy, Liz Hudson, Jonathan Hulson, Chris humphries, Aly Hunt, Ariane Hunter-Wade, David Hurn, Adrian Hutchings, Frederica Huxley, Michael Innes, Margarita Itemirova , Kathleen Jack, Claire Jackson, Keri Jackson, Colin jackson, Marilyn Jackson, Sheena Jamieson, Heather Jarman, Tilly Jarvis, John Jefferys, Eirlys Jenkins, Andrew Jervis, Clare Johnson, David Johnson, Deborah Jones, Mark Jones, Jeff Jones, Sara Jones , Vera Jordan , Toby Keep, Georgina Kelly, Pam Kelly, Paul Kelly, Simon Kemp, Sue Kendrick , Phil Kennedy, David Kennedy , Carolyn Kennedy , Kate Kenzie, Steve Kethero, Robert Kilpatrick, David King, Peter King, Jason King, Kata King, Gill King, John king, Graham Kinnear, Andrea Kirkpatrick, Georgie Knight, Ann Knight, Ludek Knittl, John Knott, Kate Knowles, Sandie Knudsen, Fiona Kolontari , Desiree Kongerod McDougall, Kari Koonin, Jerzy Kowalski, Miriam Kuenkler, Victoria Kurrein, Andrew Kyle, Mia L, Ann Lacaze, Daisymae Lacey, Joanne Lam, Helen Lambie, Peter Lamswood , Nick Langley, Richard Larkin, Barbara Lawson, Kate Layish, Mary Laz, Maggie Le May , Justine Lees, Linda Leggat, James Leggott, Elaine Lemm, Ivanka Lennon, Andy Lewis, David Lewis, Tara Ley, Rob Lightbody, Charles Line, Alex Lines, Eleanor Lines, Jenny Linford, William Lingwood, Richard Lloyd-Jones, Maria Lockwood , Jeanette Longfield, Peter Lord, Jamie Lord, Claudia Lowe, Moraig Lowman , Jan Lucas, Felicity Lynch, Andrew Lynch, Susan Macdiarmid, Susan Macdonald, Alan MacDonald , Graeme Mackay, Serenna Mackenzie, Duncan Mackinnon, Emma Macleod , Lorna Mahoney, Andrew Maillard, Brian Mallinder, Patrick Malone , Gareth Maloney , Kevin Malt, Peter Mapals, Susan Marchetto, Rebecca Marcone, Alex Marking, Sarah Marland, Steve Marquis , Flora Marriott, Denise Marsdon, Simon Marshall , Sonja Martin, Jane Martin , Mark Martines, Lesley Mason, Onyinye Mason, James Mather, Nick Mawby, Katia McAvoy, Carolyn McCall, John McCormick, Jimmy McCrickard , B McDonach, Roderick McDonald , Sue McDonald , Vicki McEwan, Tim McEwen, Alison McGrath, Ian McGregor, Lindy McGuinness, Laura McIntosh , Julia Mckernan , William Mclachlan , Robert McLatchie, Jane McLaughlin, Ben McLeod , Paul Mead, Patricia Meadows, John Mellerio, Andrew Melville, Rebecca Micklewright , Helen Millar, Terry Miller, Deborah Millett, Erik Millstone, Robert Milne, David Milner, Richard Mindel, Philip Missen, Jan Mitchell, David Mitchell, Elizabeth Mitchell, B Mohr, Paul Monaghan, Archie Montgomery, Michael Moore, Sarah Moore, Susan Moore , Will Moran, Patricia Moran, Bernard Moran, Janet Morbey, Ali Morecroft, Andrew Morhgan, Andrew Morison, Kevin Morley, Patrick Morris, Joanna Morris, John Morris, Steven Moschidis, Rachel Moses, Gillian Moss, P Mulhern, Paul Munnery, Gary Murray, Helen Myers, Martin Mynott , Augene Nanning, Hillary Ann Nevyjel, Averil Newsam, Louise Newsome , Hannah Newton, Eileen Nicholas, Harry Nicolle, Kristina Nitsolova , Ken Noakes, Niamh Noone, Sandy Norman, Barnaby Norman, Christopher North, Adrian North, David Nottingham, Daniela Nova, Dee Nunan, Gerry Oao, Seamus O'Connell, Matt o'dell, Simon Olstead, Mathew O'Marah, Judy Ong, Chantel Ormerod, Gillian Osborne, Surya Osborne, Nadim Othman, Jean P, Felicity P, Richard Page, Christos Papaioannou, Mark Pappenheim, James Parathian-Thorn, Jill Pardy-Jones, Anthony Parker, Nicola Parsons, Simon Partridge, Elizabeth Patt, Alan Patterson , Barbara Paul, Janet Pearson, David Pedrette, Steve Peer, Nicola Pegg , Judy Phillips, Shannon Pilibossian, Martin Pocock, Polly Pollock, Genevieve Porter, Stephanie Potter , Eve Poulter, Martin Powell, Steven Powell, Rodger Pressland , Sally Prosser, Andras Radnóthy, Hussina Raja, Satveer Randhawa, Michael Ransom, Lewis Ratcliffe, Crista Rayner, Sara Readman-Smyth, John Reed, John Reed, James Reiff, Michel Rennej, Katie Revell, Ben Reynolds, Isabel Rice, Marilyn Richards , Kim Richardson, Jackie Richmond, Tracey Rihll, Susanna Riviere, Geraint Roberts, Rachael Roberts, Mike Roberts, Geraint Roberts, Laura Robertson, Alfie Robinson, Keith Robinson, Sophie Robinson, Penny Roling, Sandie Rose, Pamela Rovardi , Alistair Rush, Dr Robert Ruston, Sean Ryan, Michael Sackett, Jane Sadd, Urszula Saganowska, Wendy Salmon, Marcus Sandford, Alan Sargeant, Stephen Sargeant, Mark Savva, Catherine Scammell, Catherine Schlieben, Fi Schofield, Katharine Schopflin, Heather Scicluna, Manda Scott, Mark Seal, Collin Seale, Joanna Sellam, Silvia Serpino, Jonathan Sessions, Yousef Shahdoun, Nicholas Shakallis, Andrew Sharp , Patricia Shea, Kevin Sheffield, Robert Shepherd, Janet Shepperson, Paul Shillito, David Shipman, Peter Short, Leanda Shrimpton , Emma Sinclair, Mary Slade, Chandri Smith, Robert Smith, S A Smith, Deborah Smith, Paul Smith , Rebecca Smithers , Henry Smithers , Derek Snoxall, Gillian Snoxall, Anna Soumeka, Jonathan Speed-Andrews , Sam Speight , Neil Spence, Martyn Spencer, David Spencer , Leanne Spencer , Simon Spink, Nick Stamp, Mandy Staniforth , John Stansell, Lazar Staykov, Markus Steiner, Alison Stewart, Karen Stewart , Laura Stratford, Claire Summerfield, Ken Surplice, Russell Sutcliffe, Beatrix Swanson, Caroline Sweetman , John Swift, Anita Sykes , Sandy Symonds , Sue Tang, Rowan Taylor, Robert Taylor, David Taylor, Vincent Taylor , Sharon Taylor , Gill Tebbutt, Reiner Tegtmeyer, Martin Terjesen, Michael Thackray, David Thalenberg, Dale Thatcher, Garry Thomas, Brian Thomas, Pam Thomas, Maggie Thomas, Ian Thomas-Vaughan, Jacqui Thomson, Neil Thomson , Janet Thornton, Roger Thorp, Phil Thorpe, Anna Tietze, Deborah Tighe, Laura Tilbury , Linda Tillbrook, Mark Titchener, John Tory, Nicola Trott, Diana Tucker , Stewart Turner, Andrew Turner, Barbara Turvey, David Tyler, Betsy van der Lee, Sheila Van lieshout , Anne Vasey, Jill Vaughan , Loukas Vevelos, Alexandra Vincent, Eleanor Virk, Daniele Vitale, Caroline Vodden, Rosemarie Wakelin , Emma Wakeling, Nicholas Walbridge, Mark Walker, Frances Walklate, June Wallace, Matthew Walshaw, Margery Ward, Janet Ward, Neil Ward, Terry Ward, William Warren, Helga Warzecha , Geoff Wass , Andrew Wastling, Ruth Watson, Peter Watson, Carla Watt, Janice Watts, Andrew Watts, Nicola Webb , Paul Webber, Stephen Webster, Jessica Wecker, Catherine Weetman, Mark Welch, Colin Welch, Carole Wells, Jonathan West, Owen West, Sharmayne Weston, Jonathan Weston, Jo Wheatley, Harry White, Nigel Whitehead, Emily Whittredge, Carol Wickstead , Jane Widdowson, Graham Wignall, Mike Wilcock, Steve Wilcox, Claire Wilde, Alison Wilder, Robbie Wilderspin , Michael Wilkes, John Wilkinson, Jonathan Williams, Kate Williams, Margot Williams , Lee Williams , Victoria Wilson, Lisa Wilson, Michael Wilson, Margery Wilson, Adrian Wilson , Naomi Winnifrith , John Wise, Sarah Wisson, Paul Withers, Adam Wood, Martyn Wood, Amanda Woodall, Joyce Woodcock, Rob Woodfield, Ruth Woodhall, Rosanne Woods, Jeanne Worthington , Henry Wride, Nick Wright, Nelson Wright, Susan Wright , Ian Wright , Suzanne Wynn, Adam Yates, Garry Yendell, Richard York, Hazel Young, Dawn Young , Umi Yusuf, Vera Zakharov, Lana Zylich.
Updates
The target response time for ministers, MPs and government departments is generally a maximum of 20 working days.
19 July 2023: More than two months since we sent the letter, we followed up yet again for a reply.
11 July 2023: Another week gone, still no reply. We wrote again, asking the ministers to extend the courtesy of replying in full, or at least advising an ETA for doing so.
4 July 2023: Still no response, so we sent another follow up email.
19 June 2023: As more than 20 working days had passed since we sent the letter by email on 17 May 2023, we sent a follow up emil.
Support our charity
Your donation will help support the spread of baking skills and access to real bread.