Real Bread Campaign coordinator Chris Young reacts to the publication of a document that seeks to undermine the fundamental difference behind sourdough bread.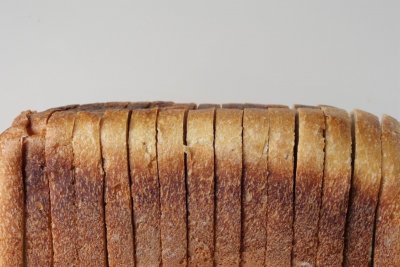 Sourdough is a process, not a look, style, or trend. Credit: Chris Young / www.realbreadcampaign.org CC-BY-SA-4.0
Genuine sourdough bread is made without the use of additives and is leavened only using a live sourdough starter culture. Today (31 January 2023) a document titled 'UK Baking Industry Code of Practice for the Labelling of Sourdough Bread and Rolls' was published that throws out these fundamental principles.
The codes' authors came late to the sourdough game but, rather than playing according to practices established over more than four decades by the UK custodians of the craft, they decided to write their own rules.
This is an insult to those Real Bread bakers who make genuine sourdough and to people who will hand over their hard-earned cash in the belief that they will get something 'better' than, or otherwise meaningfully different to, other products
It's all about the dough
Bakery trade press is awash with articles about how some people choose, and even pay a premium for, a product because they see the word sourdough. Running alongside these are adverts and advertorials for products that promise manufacturers quicker, easier and cheaper ways to profit from this.
The code was written by a cabal of organisations with vested interests in legitimising shortcuts to being able to profit from (to horrid marketing terms) the 'goodwill' and 'brand value' embodied in sourdough bread. Led by the The Association of Bakery Ingredient Manufacturers (ie companies that manufacture and sell additives), organisations in the group include The United Kingdom Association of Producers of Yeast, the Federation of Bakers (the industry body for Chorleywood Process loaf manufacturers) and the Craft Bakers Association (CBA).
Crafty bakers?
Now, the CBA might seem natural allies of the Real Bread Campaign on this issue but, sadly, no. We have been reaching out to the CBA (formerly the National Association of Master Bakers) since the earliest conversations about starting the Campaign. Just before the first meeting of the Campaign's working party in 2009, the then chief executive of the NAMB withdrew on the grounds that she estimated around 90% of their members used additives. She feared that involvement with the Campaign would be seen as a direct criticism of those bakers and practices by the NAMB.
In 2019, I challenged the CBA President on his involvement in an event called 'Ideas on Artisan and Sour Dough [sic.] Breads' run in conjunction with additives supplier Bakels. I noted that the only part of the day that was dedicated to sourdough was what appeared to be a 1.5 hour demonstration of Bakels' concentrates. I received a reply from the CBA Chairman, who wrote: "We are not in the privileged position that we can pander to the purists. Not all commercial operations lend themselves to be able to produce sours in the manner that you refer." He added: "Far be it for the CBA to turn down an offer from one of its Industry Supporters to facilitate an event…"
Genuine sourdough bakers shut out
How do the authors have the nerve to say that this 'code' was produced by the UK baking industry? Did they write it in consultation the Real Bread bakers in small, local, independent bakeries dotted around the land, who had nurtured the UK sourdough renaissance since the early 1970s? Not as far as we can see.
Despite many (perhaps most of) the bakeries that make genuine sourdough bread in the UK being in the Real Bread Campaign network, you'll notice the absence of our logo from the code document. We only found out the project by accident in June 2019 and immediately contacted the authors so that we and bakers in our network could be involved. It took a number of emails and more than a month to get a reply. Rather than sharing what had been developed already in order that we could participate in its development, we were told: "I promise to let you have it as soon as I am authorised to do so."
It was not until more than three months later we heard again from the authors, when in September 2019 they sent us a completed draft. We made our comments, which included our fundamental objection the code permitting the use of the word sourdough for products made using baker's yeast, and again proposed working together on writing the code.
Two weeks passed and we followed up, only to be told the document had been sent to Defra. At this point, we said we believed it to be a cheats' charter and urged Defra to ignore it.
Fast forward three years to October 2022, when the Food and Drink Federation asked if the Real Bread Campaign would be interested in attending a meeting with ABIM about their code of practice. Campaign co-founder Andrew Whitley and I attended the virtual meeting but it quickly became clear that 'where space and skills are lacking' to make genuine sourdough bread, the authors want manufacturers to be able to use baker's yeast and/or additives.
That brings us to today, when I received an email from FDF that ABIM had published the document - again, the organisation that works most closely with the majority of the UK's genuine sourdough bakers finding out after the fact.
What now?
The Real Bread Campaign urges Defra, bakers, shoppers and consumer protection bodies to reject this proposed code.
We continue lobbying the government for an Honest Crust Act of updated and improved composition, marketing and labelling legislation. This includes a meaningful legal definition of the word sourdough and regulation of its use.
In the meantime:
Oh, and please support our charity's work.
Updates
8 March 2023: Sign the sourfaux code rejection letter
6 February 2023: Real Bread Campaign urges government to reject 'sourfaux code'
Chris Young has coordinated the Real Bread Campaign since March 2009. In addition to lobbying for an Honest Crust Act of better loaf composition, labelling and marketing laws; he created and runs Sourdough September; Real Bread Week; Real Bread For All; Together We Rise promoting therapeutic/social benefits and bread making; the No Loaf Lost surplus reduction initiative; as well as Lessons in Loaf and Bake Your Lawn for schools. He's the author of the Knead to Know…more microbakery handbook and Slow Dough: Real Bread recipe book; and edits True Loaf magazine.
Chris Young
Campaign Coordinator Real Bread Campaign
Support our charity
Your donation will help support the spread of baking skills and access to real bread.