Latest on UK trade negotiations
There has been a lot of trade news recently, so we've brought it together in once place for you.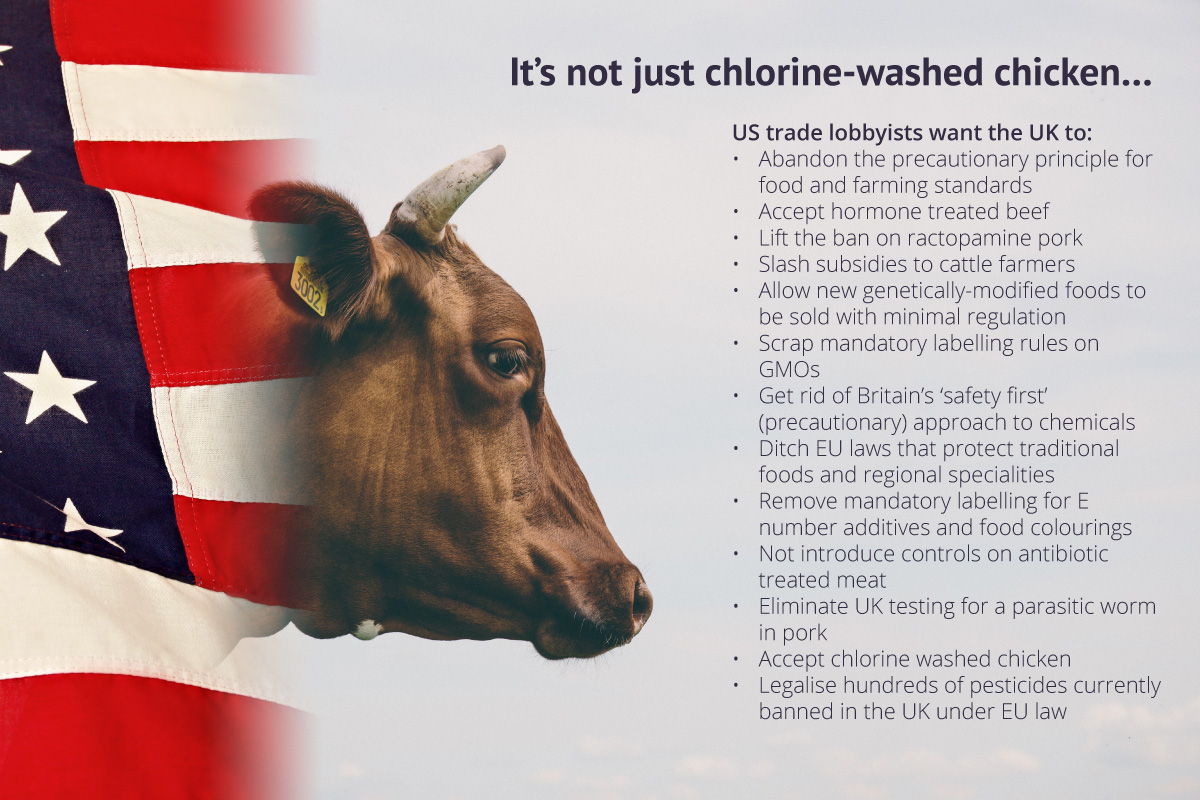 The Trade Bill returned to the House of Commons
Ahead of the vote on 13 May on the agriculture bill, MPs were reassured by ministers (according to the this piece on the BBC) that they didn't need to vote for any amendments to protect food standards as they would be picked up in the Trade Bill on 20 May. Sustain joined the NFU and others in calling for an amendment to the Agriculture Bill to protect UK farmers from low standard imports. You can read the letter here. However, the Agriculture Bill passed unamended, despite 22 Tory MPs rebelling and voting in favour of protecting UK farmers.
Ahead of the Trade Bill being introduced on the 20th, NFU Chair, Minette Batters wrote again to MPs. We did listen in to Secretary of State Liz Truss's speech and she did mention food. She thanked free trade for putting food on our tables in time of the pandemic and lauded Sir Robert Peel for repealing the Corn Laws in 1846 ushering in a free trade era that "saw ordinary people in Britain benefit from more varied and cheaper food".
She went on to say that UK "farmers and food producers stand to gain from a trade deal with the US" which they may agree with in terms of export opportunities, but would add that UK farmers must have a level playing field with their US counterparts, who should meet the same environmental and welfare standards that our produce does.
Sustain will continue to lobby for low standard, low welfare produce to be kept off our tables in future trade deals.
UK publishes draft trade agreement with EU
On 19 May the UK published the draft text of its proposed free trade agreement with the European Union. This was widely seen as an attempt to push negotiations on, after the previous round of talks stalled.
In an accompanying letter, which was widely viewed as being drafted for a domestic audience, the UK's chief negotiator David Frost said "what is on offer is not a fair free trade relationship between close economic partners, but a relatively low-quality trade agreement coming with unprecedented EU oversight of our laws and institutions."
Rejecting the suggestion that the UK should stay bound to EU law or standards, Mr Frost wrote, "We have been clear that the UK will have high standards and, in many cases, higher standards than those in the EU. However, we cannot accept any alignment with EU rules, the appearance of EU law concepts, or commitments around internal monitoring and enforcement that are inappropriate for an FTA (free trade agreement)."
The week before, as the talks stalled, the Irish Tanaiste Simon Coveney commented that a no-deal Brexit is now a real risk because the UK is looking for something different to what was committed in the Political Declaration. Sustain remains opposed to a No Deal Brexit. You can read why here
On Wednesday 20 May the Government also finally admitted that there would be checks after Brexit on animals and food products entering Northern Ireland from the rest of the UK. Previously, Boris Johnson had pledged there would be no checks and that businesses in Northern Ireland asked to fill in paper, "throw it in the bin". There will also be customs declrations for goods entering NI from Britain and importers will have to pay tariffs on goods if there is a risk that they products could be moved on into the EU single market via the Republic of Ireland.
Tariff schedule
Also on 19 May, the UK published its new global tariff schedule and published its response to its consultation. To the relief of the farming community it maintained tariffs on agricultural products such as beef, lamb and poultry but, dropped 'thousands' of tariffs on products like "biscuits, waffles, pizzas, quiches, confectionery, and spreads". There is no mention of public health in the consultation response.
US mini deal is a realistic prospect before November 2020
Ed Balls, former shadow Chancellor and now Research Fellow at the Harvard Kennedy school printed a new paper on a prospective UK/US trade deal. He argues that there is no realistic change of a deal being struck ahead of the US election in November. However, he says "both sides could instead opt for a pre-election, political "mini-deal" — a high-level declaration executed without congressional approval" and he says this could be done despite the pandemic. He argues that it "would not take the form of a traditional free trade agreement and could include a range of general declarations, commitments, or tariff cuts". However, he continues, the US maintains long term ambitions including greater access to UK agricultural markets "based on lower tariffs and US-style regulation", deregulation of NHS drug pricing and opening up public procurement to US companies.
Japan negotiations
The UK government published its negotiating objectives for a trade deal with Japan. It's worth mentioning that the UK, as a member of the EU, signed a trade deal with Japan last year, so this deal is not, strictly speaking, new. Given beef is one of their biggest food exports, it's also worth noting that Japan has strict laws on GMOs and bans hormones in beef.
---
21/05/2020
Brexit
SHARE
---
Brexit: We stand at a cross-roads. When the UK leaves the European Union, will our leaders uphold good standards for our food, farming, fishing and trade deals? And will they agree a sensible deal with the EU? We need to make sure that they do!