Defining sourdough: Defra replies
A response to the case presented by the Real Bread Campaign.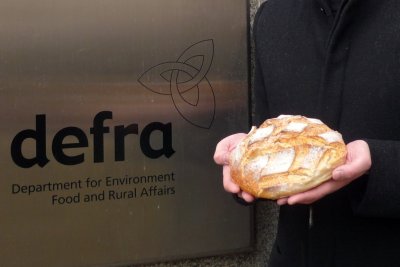 Lobbying Defra in 2012. Credit: Chris Young / www.realbreadcampaign.org CC-BY-SA-4.0
On 21 January 2022, the Real Bread Campaign again presented the case for (including expanded evidence of need and benefit of) a legal definition of sourdough bread in the UK.
On 1 March 2022, Defra replied:
"I have been through the document you have sent across, the arguments put forward are being considered by policy officials. We are still working to confirm what will be included in the public consultation on potential amendments to the Bread and Flour Regulations. There is currently no confirmed date for this consultation as things stand. We are working on this with our colleagues in DHSC and across the four nations so there a number of considerations that need to be factored in for timings. We are currently looking to launch the consultation this summer, when we have a better idea of a date we will be sure to inform you and all other members of the technical working group to give you fair notice."
The Real Bread Campaign continues to participate in the Bread and Flour Technical Working Group set up by Defra, and lobby the government for an Honest Crust Act of improved loaf labelling and marketing legislation. This includes a call for legal definitions of freshly baked / fresh (and similar terms), wholegrain, ancient and heritage wheat/grain, as well as mandatory declaration of all additives for all products
In the meantime, the Campaign calls for all bakers and retailers to make voluntary improvements to their marketing and labelling.
See also
Just a selection of more recent updates on this 12 year + mission:
What we're fighting for 2023
Support our charity
Your donation will help support the spread of baking skills and access to real bread.