The week the world rose together
Real Bread Week raises smiles and awareness worldwide.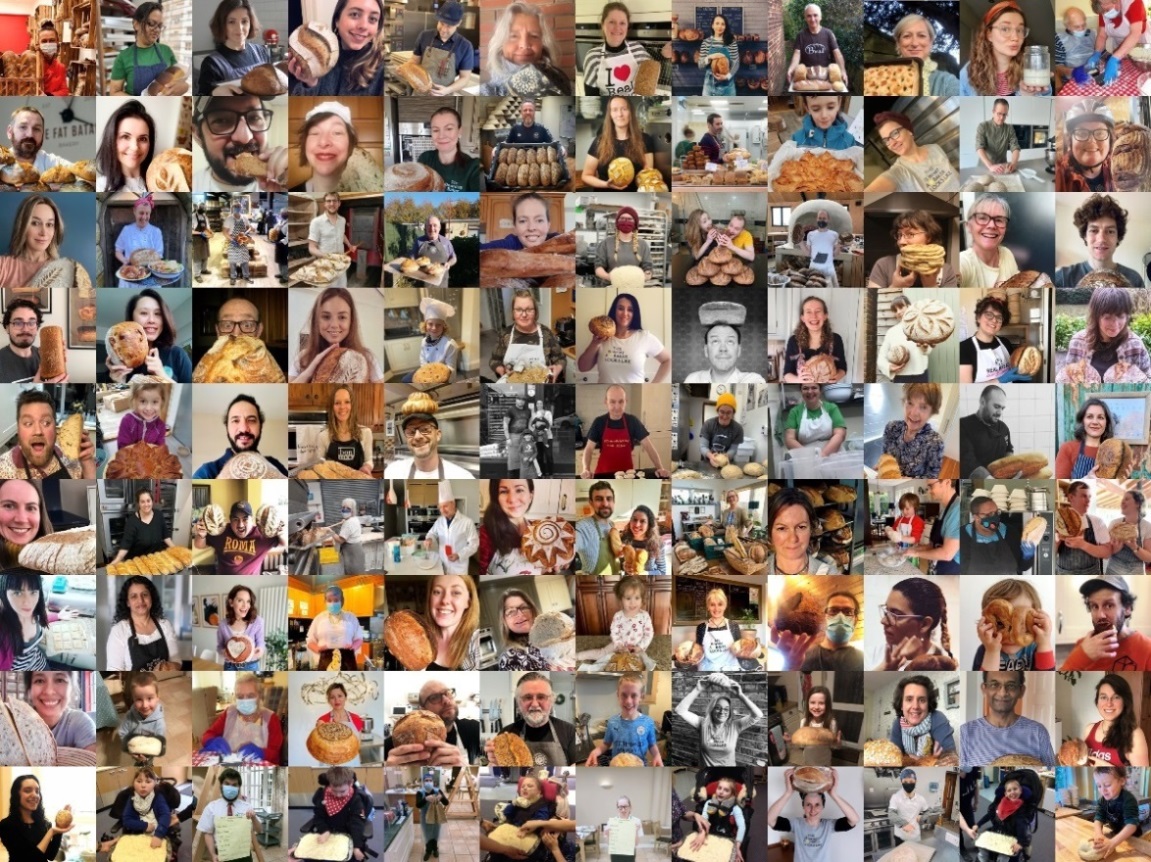 A selection from more than 120 photos we received. Credits below article
The world's bread makers and buyers made the Real Bread Campaign's 12th annual dough down the most widely celebrated yet.
Thank you to everyone who got involved, collected and made doughnations towards our charity's work, and helped us to spread the word!
While the Real Bread Campaign is a year-round celebration of additive-free loaves and people behind their rise, Real Bread Week will return from 19-27 February 2022, ahead of which we'll be running #SourdoughSeptember.
Find full details about all of our work at: www.realbreadcampaign.org
Physical distance, social togetherness
Social media activity around the international celebration of Real Bread and people behind its rise surged, with more than 3600 #RealBreadWeek posts from at least 44 countries on Instagram alone: Argentina, Aruba, Australia, Brazil, Bulgaria, Canada , Colombia, Costa Rica, Curacao, Czech Republic, El Salvador, England, Fiji, Finland, Germany, Greece, Hungary, India, Indonesia, Iran, Ireland, Italy, Japan, Malaysia, Netherlands, New Zealand, Northern Ireland, Norway, Pakistan, Philippines, Qatar, Scotland, Singapore, Slovakia, South Africa, Spain, Sweden, Switzerland, Thailand, Turkey, UAE, Ukraine, USA, Wales…
This increase of about 80% in posts and 22% in countries compared to Real Bread Week 2020 doesn't include incorrectly tagged posts, people who didn't say where they are, or other social media platforms! One particularly notable increase was in India, perhaps due in part to frequent posts by chef and MasterChef India host Ranveer Brar to his 1.3m followers.
The initiative also generated media coverage across the UK and countries including Canada, India, Ireland, Italy, New Zealand, Slovakia, South Africa and the USA.
Business boost
Nearly 60% of Real Bread business owners who responded to our survey said that their social media following increased during Real Bread Week, and more than a quarter experience a boost in sales.
A number of our supporters seized the opportunity our Real Bread Week is - in part - designed to create by getting media exposure for their businesses and the Campaign. They included Campaign ambassador 'Bake With' Jack Sturgess, Bean & Grain Founder David Baines, Bluebird Bakery owners Nicky and Al Kippax, and Bob's Bakery's Bob Wright.
What went on
Despite various restrictions around the world, bakeries, baking schools, schools, nurseries, care homes, and other organisations created face-to-face and virtual ways of joining in and helping people in their communities to celebrate.
Students at Derwen College, a specialist centre in Shropshire for young adults with special educational needs and disabilities, joined in as part of their on-going dedication to bread making. Teacher Paula Hampson said: "The bread-making process is adapted for a range of students with different learning difficulties and disabilities. All can benefit from the process in some way, whether for their independence skills or for future employment."
Children at Vranch House, an independent school in Exeter for children with significant physical difficulties, rolled up their sleeves and got stuck into the dough.
Campaign ambassador Jo Bottrill in Luton ran a video session for people in a local care home. Residents at Brentwood Care Centre and Barchester Queen's Court were also amongst many people towards the other end of the age spectrum getting involved.
In this time of ongoing crisis, Bake It Forward is an increasingly popular idea. Hen Corner in Hounslow, Ma Baker in Fulham and Scotland The Bread were amongst many working with their customers to make Real Bread available to people most in need of delicious, nutritious food.
The Bakers and Allied Food Workers Union invited the Campaign co-ordinator to a meeting of MPs, one of whom submitted a motion to have our Honest Crust Act proposals debated in Parliament. Please urge your local MP to sign it!
Though Real Bread Week isn't limited to celebrating sourdough, many bakeries like Stoneham Bakehouse in Hove chose to give away starter culture, with recipes and tips, to customers.
Toast Ale and Hobbs House Bakery came together to launch Baker's Witbeer. Brewed using surplus organic slices, the first beer to carry The Real Bread Loaf Mark is part of Toast's Rise Up campaign, which highlights the negative environmental impact of our food system.
The people behind the rise of Real Bread
From farmers to millers to bakers to buyers and beyond, people of every age, nationality, colour, sex, gender identity, sexual orientation, ethnic heritage, (dis)ability, neurological status, religion and economic background worldwide enjoy Real Bread and are behind its rise. Our #WeAreRealBread initiative is designed as a simple way for people to be included in an ongoing celebration of this diversity and more than 120 took up this open invitation during Real Bread Week.
What people said
"The Real Bread Campaign is an inspiration internationally."
Patrick Kelly, USA
"Real Bread Week puts bread, bakers and the industry as a whole centre stage."
Jennifer Burgos, Dough & Daughters, Wales
"So good to feel a part of something so positive for so many!"
Adrian Clarke, Clarke's Northumbrian Catering / Northumberland County Council, England
"Thank you for giving us the chance to promote our Real Bread to a worldwide audience."
Nicola Willis, The Bakers' Table, Wales
"The whole Real Bread Campaign is amazing and the way the bread community can come together is fantastic. Sourdough will never cease to amaze me with just three simple ingredients."
Jeanine Hodge, One Punch Dough, USA
"It's great to know that there is an organisation out there championing your cause and we are looking forward to running our events again next year. We have many more ideas in the pipeline."
Nicky Kippax, Bluebird Bakery, England
"This concept just is amazing to raise awareness of how good Read Bread is."
Neha Chauhan, England
"It gave a focus for our community co-operative members to share their stories and content, and feel like a real community, which has been hard in lockdown."
Angela Morris, True Food Community Co-operative, England

"#RealBreadWeek was invaluable for connecting us with local microbakeries that we didn't know about. It was great to see the Real Bread community coming together for a common cause."
Angela Villada, Fermenti Kitchen, England
"We had our local shop place an extra order during the week when we explained the promotion."
Sam Cornish, Bread of Haven, England
"It was a lovely way to spend time with, and do something creative with, my children. Nothing beats the look on their faces when they see the end result of all of the time and work they have put into it."
Mike Rogers, England
"It's always an ideal, focussed opportunity to educate people about Real Bread."
Ruth Redgate, Hunnypot Cottage Bakery, England
"It was really fun to bake and share my fresh baked loaves every day - in real life as well as virtually on social media. I also enjoyed checking out all the other participants. At times like these it is so important to stay grounded and what grounds more than Real Bread!"
Susanne Weissenberger, White Mountain Sourdough, Canada
---
Photo thanks and © Angela Morris, Artisan Loaf, Ayo Been Baking, Bakerlou, Baking Bread NL, Banjo's Bread, Barchester Queen's Court, Below Decks, Best End Baker, Blackbirds Micro Bakery, Blackhill Bakery, Bob's Bread Bakery, Bread & Roses, Bread of Haven, Brentwood Care Centre, Buzzing Bee Baked Things , Café & Bistro V Pekárně, Cake and Positivitea, Claire's Kitchen, Cliff Lane Primary, Ipswich, Cook Bakes, Cultured Bread Bakery, Curly Creek Ranch, Derwen College, Ed Baker, @eduardmichelphotography, Elissa O'Donohue, Elizabeth Stevens, Eloisa Jose-Baquet, Emma Bowles, Emma Friend, Erføcaccia , Essington Farm, FarmED, Feeding Fish MicroBakery, Fermenti Kitchen, Fernhorn Bakery, Gayathri Chaudhari, Greg Ardoin, Hearth and Soul Bakehouse, Heyl Bakery, Hobz Bakery, Holly Bon Bagel, Ian Reeves, Isobel Hands, Iza Stuchlik, Jagdish Patel, Jennifer Phillip, Joan Kirschner, Juliet Ferrar, Just Sourdough, Kari Martens, Kenny Theysen, @kirstie_young_photography, @ljferguson2306, Lace Bakes, Leanne Chorlton, Liam Clarke, Lucy's Loaves, Ma Baker, Malthouse Photography, Marianne Azar, Mike Rogers, Mill Hill Artisan Bakery, Mrs. Mash, Natural Bread, One Mile Bakery Exeter, Orkney Sourdough, Paige Daley, Panaderia Rustica, Patrick Kelly, Pauline Beaumont, Peter Weston, Philippa Fairburn , Pure Knead, Real Clever Food, Rob Allen, Ruth McGhie, Sapori & Saperi Adventures, Slice of Leaven, Sourdough Slingers, Stoneham Bakehouse, Strettea Bakery , Sue Brown, Swiss Bread Bakery, T2Pan Sourdough Boutique, Terri Atkin, The Bakehouse Nottingham, The Bakers' Table, The Cornish Sourdough Bakery, The Doorstep Baker, The Hampshire Real Bread Co, The Riverside Bakehouse , The Street Bakeshop, Torth Y Tir, Ulla Ojanen , Vinish Vivek, Vranch House, Whisk and Rye, White Mountain Sourdough, Will Whittington, Winfrith Bakery, Yasmin Ashi, Zuzana Malikova
Published 8 Mar 2021
Real Bread Campaign: The Real Bread Campaign finds and shares ways to make bread better for us, better for our communities and better for the planet. Whether your interest is local food, community-focussed small enterprises, honest labelling, therapeutic baking, or simply tasty toast, everyone is invited to become a Campaign supporter.
Support our charity
Your donation will help support the spread of baking skills and access to real bread.