Trade and Agriculture Commission report published - Future British Standards Coalition response
In July 2020 following intense pressure from the public on the government to write the UK's food standards into law, the Trade and Agriculture Commission was established.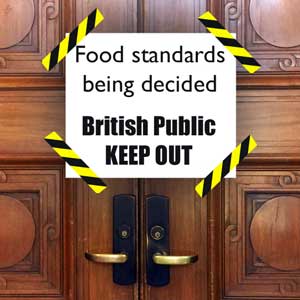 Sustain
Its role was to advise the Secretary of State for International trade on: how to secure opportunities UK farmers, while not undermining standards and taking account of the interests of consumers.
After seven months of discussion, the Trade and Agriculture Commission published its findings.
It set out six main principles including the need to balance trade liberalisation against ensuring imports meet UK food standards on 'food safety and biosecurity', matching tariff-free access to 'relevant' climate, environment, animal welfare and ethical standards, the prioritisation of a 'thriving domestic agri-food sector', taking a lead internationally and supporting developing countires .
Its recommendations include developing a agri-food friendly trade policy (with a dedicated minister), prioritising climate and nature, taking a strong stance on antimicrobial resistance, conducting trade impact assessments that include human health and improved consultation and trade transparency. There are also a series of recommendations to improve export opportunities for British farming and calls for better country of origin labelling in the out of home sector and a review of government procurement.
Responding on behalf of the Future British Standards Coalition, chair Kath Dalmeny said:
"There is a lot to welcome in this report. Crucially, the TAC recognises that import bans on low standard produce can work under WTO rules. It also recommends that the government adopts a transparent approach to trade, plays a leadership role on the climate and nature emergency, and balances any trade liberalisation with the need for imports to meet UK food standards.

"However, we are concerned by the suggestion that food imports supposedly 'equivalent' to the UK's, and aligned with 'core global standards', could be given lower or zero tariff access to the UK market. In many cases global standards are lower than the UK's. Big questions remain over who would decide what was equivalent, and how. We have been clear that tariffs are no substitute for clear blanket bans and that tariffs could be easily reduced or phased out over time, thus breaking the government's promise of 'no compromise' on food standards.

"With huge public support for maintaining high standards, this report shows that a strong and more representative commission should play an important role in the coming years. We hope the government will consider the report and how it is received carefully, and guarantee robust protection for the environment, British farm livelihoods, animal welfare and public health."
You can read the Future British Standards Coalition's final report here
Support our charity
Donate to enhance the health and welfare of people, animals and the planet.