Looking to score some of the white stuff, or a bit of brown? You're not alone.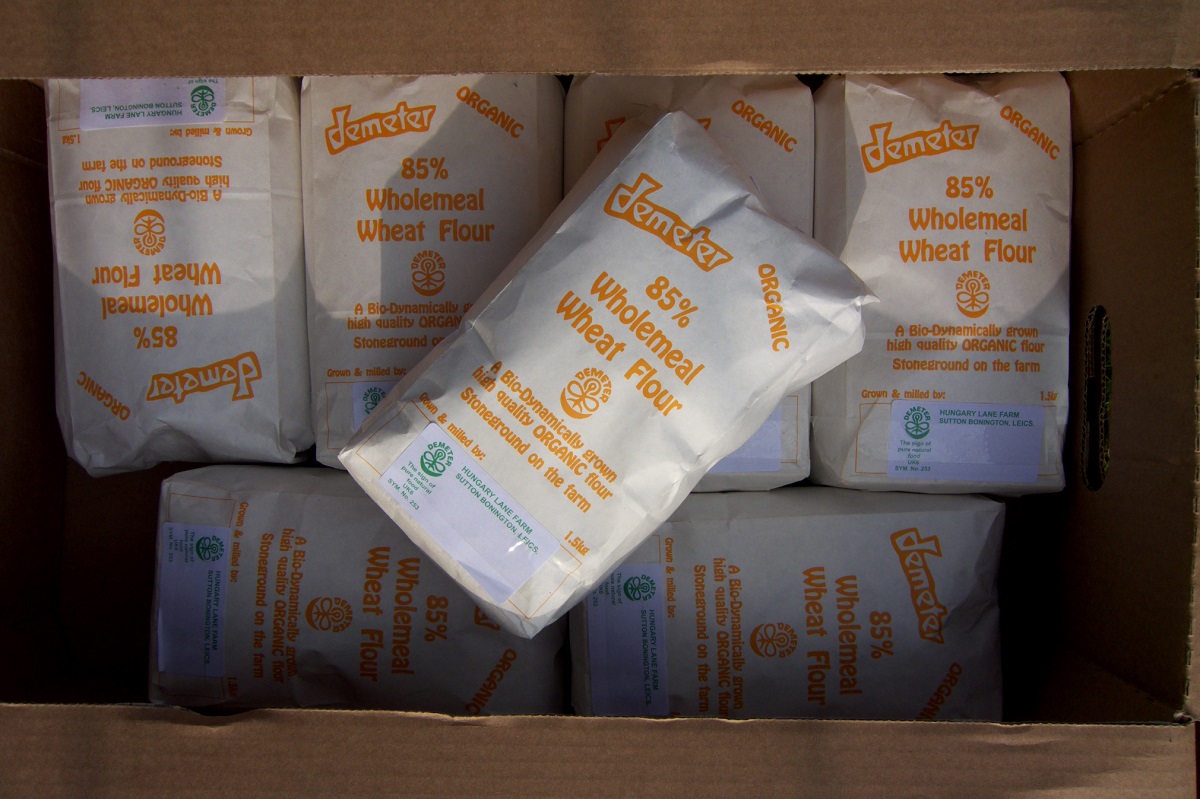 Photo: Chris Young / realbreadcampaign.org CC-BY-SA 4.0
This is one of the most common queries we've received from microbakers and hobby/domestic bakers recently, so In March, we began this list.
Please keep checking back as we update it each time we get new details.
Mills
Run a flour mill anywhere on the planet? Please email your update to us!
The date in brackets is the most recent update for the mill. If you are considering visiting to pick up flour, please check their website and/or contact them before you set out for their current situation and availability.
NB While most of the mills below don't put additives (except the mandatory so-called fortificants) in their flour mixes, some might. Please check with the mill to be sure. Loaves made using flour with any non-mandatory additive is NOT what we call Real Bread.
See also: A longer list of independent mills to investigate.
On 20 April, a chap called Adam emailed us the following tips:
Daniels Mill, Bridgenorth: Limited but some flour available direct from mill house
Clencher's Mill, Nr Ledbury: Limited production, water permitting 07500892324
Whissendine Windmill, Rutland: Flour available 01664 474172
Wicken Windmill, Cambridgeshire: Producing flour when windy.
Charlecote Mill. Flour available. Contact mill before travelling.
Roots Family Farm Shop, Bransford: Flour ground on electric stone mill available.
On 4 May, Business Insider published a list of mills in the USA selling flour online
Other suggestions
Oh, and if you ask a bakery if you can buy some off them and they say no, please take it graciously. They are under huge pressure right now and need their flour to help feed hundreds, or even thousands, of people.
Yeast tenders
Yeast suppliers are facing similar issues - ie demand (particularly domestic/retail) outstripping the ability to supply.
If you have flour you can nurture your own sourdough starter.
What the hell's going on?
As lockdown started, millers in the UK, USA and elsewhere began experiencing unprecedented demand from bakeries and other regular wholesale customers as people begang buying more bread and industrial loaves.
At the same time, seemingly everyone has become a home baker and there's a lot of panic buying going on. In May, a representative of one of the biggest milling companies in the UK told The Grocer: "In the four weeks ahead of lockdown, nearly a third of households bought flour. That's 50% higher than flour's usual Christmas peak" He said his brand had seen 265% year-on-year growth.
Industrial millers are mainly geared up to bag flour in large (16kg+) sacks for bakeries and other professional users, and just don't have the capacity to keep up with the new demand for 1-1.5kg bags.
Mills are working flat out to fulfil and deliver their orders but there are also some bottlenecks when deliveries are being done by third parties. Everyone is ordering everything for delivery at the moment, and there just aren't enough vans/couriers/delivery slots to meet demand.
When panic buyers realise that they are stacked to the gunnels with flour and loaves, we hope that demand and supply will balance out and everyone will be able to find flour again.
The big millers
The National Association of British and Irish Millers, a trade body that represents a number of larger flour milling companies.
17 April: Stated that there is plenty of flour and that millers are now producing 'twice as much retail flour as before – up from 2 million bags a week to 4 million.' Launched this map/directory of places selling commercial-sized bags of flour (4kg - 32kg) direct to shoppers.
1 April: Issued a statement that only about 4% of flour is usually sold direct to shoppers and so capacity to bag in smaller (eg 1.5kg) packs was limited. It went on to note that it could only fill enough small bags for about 15% of households per week.
Support our charity
Your donation will help support the spread of baking skills and access to real bread.