From nurseries to nursing homes, the world celebrates Real Bread Week
The annual international Real Bread Week once again saw people of all ages rising to the challenge of baking the own additive-free loaves or buying them from local, independent bakeries.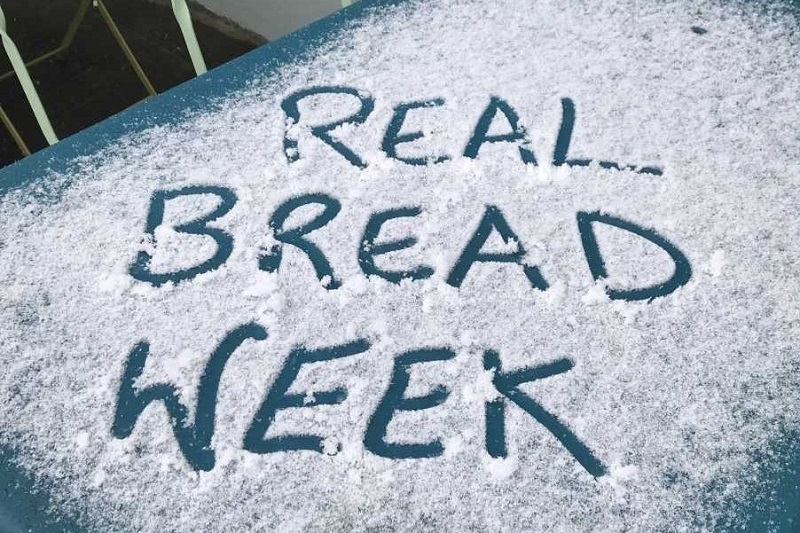 Proving that basic Real Bread making can be child's play, children from 3 months to 5 years at more than a dozen Busy Bees nurseries from Ipswich to Wakefield got their dinky digits doughy. Those in Chiswick baked bread animals, in Sandbach they tried their little hands at making flat breads, while Pinewood's toddler room hosted a pop-up bakery.
"Throughout the week the children have had the opportunity to make their own bread as parts of Real Bread Week. This has been reinforced by the provision of a pop up bakery in the Toddler Room. Baking is a fundamental part of any child's learning as it helps to develop their physical skills through mixing, mathematics skills as they weigh out ingredients and their communication and language skills as they follow instructions." Busy Bees, Wakefield.
Derwen College, a specialist residential college for young adults with learning difficulties and disabilities, combined Real Bread Week with World Book Day and St. David's Day, to create loaves inspired by fictional characters, as well as Welsh leeks and daffodils. A group of young people with profound autism made bread at Prior's Court in Berkshire, where they are planning to set up a bakery.
In Hove, Sugardough bakery gave away jars of sourdough starter to encourage shoppers to try their hand. Owner, Kane McDowell, said: "it's brilliant that 54 people are now making their own bread, experiencing the satisfaction of kneading and proving their dough with no additives, just flour, water, salt and some of my starter. You can't beat customers that want to try making their own."
Anna Herbert of Hobbs House Bakery said: "I just wanted to let you know how great Real Bread Week was for us. We definitely experienced an increase with online sales especially of bread making equipment. We gained extra subscribers to Sourdough Nation and sold a phenomenal amount of courses."
Local loaves
The Beast From The East and Storm Emma highlighted the vulnerability of industrial loaf supply chains, with supermarket shelves stripped of industrial loaves by panic buyers. Meanwhile, Real Bread bakeries, with enough flour stored to continue baking on site for days or weeks, generally remained open.
In Edgware, 25 residents from Sydmar Lodge care home enjoyed a range of loaves from local bakeries have to offer. Resident Rita Besser said: "I prefer a loaf of bread made by a baker rather than a manufactured loaf. They taste like cotton wool, spongy. The Real Bread is much more flavoursome. You can taste real ingredients."
Raising awareness
The initiative generated more than 2000 #RealBreadWeek tweets, kicked off by two from Jamie Oliver, with messages coming from Tenerife, Canada, Ireland, Australia, New Zealand, USA, Venezuela and a baker en route to Pakistan, and more than 2500 posts on Instagram. It was also secured coverage by media including The Sun, Daily Express, The Guardian, Saturday Kitchen, Waitrose Food, Asda Good Living, British Baker, TimeOut and many local publications.
Raising dough
Without grant funding or sponsorship, the Real Bread Campaign currently relies entirely on annual supporter payments and generous doughnations to run Real Bread Week and all the rest of its work. During the week, these included:
Woodlea Stables in Fife kept on baking through the storms, raising £100 to the Campaign in the process.
The Wee Boulangerie in Edinburgh also raised more than £100 from sales of a limited-edition, wholemeal sourdough local loaf, baked with flour from Scotland The Bread.
Real Bread CIC and Yellow Door in Portadown each raised over £70 through events.
Balcony Shirts sold 86 Team Real Bread fundraising aprons and t-shirts
Gilchesters gave 10% from flour sales during the week.
#RealBreadWeek will return 23 February to 3 March 2019, while #SourdoughSeptember rises again in the autumn.
In the meantime, you can find details of local Real Bread bakeries, classes, events, discounts and how to support the Real Bread Campaign's work at: www.realbreadcampaign.org
See Real Bread Week photos on Flickr, Instagram and Twitter.
Support our charity
Your donation will help support the spread of baking skills and access to real bread.