Endangered fish removed from hospital food in Wales
NHS Wales Shared Services Partnership (NWSSP) have signed the Sustainable Fish Cities pledge, meaning only verifiably sustainable fish will be served in an estimated 850,000 meals per year. Sustainable fish standards will be mandatory in England from April 1st, yet worryingly few hospitals and caterers outside Wales have made the same commitment.
Landmark commitment means endangered species removed from menus across NHS Wales

An estimated 850,000 meals per year will switch to verifiably sustainable fish

NHS Wales lay down gauntlet to other UK hospitals and caterers who are left floundering

The NHS Wales Shared Services Partnership (NWSSP)(1) is being recognised by campaign group Sustainable Fish Cities (2) for its decision to serve only sustainable fish such as hoki, cod, mackerel and wild caught salmon (3), and to remove fish which is considered 'Fish to Avoid' by the Marine Conservation Society (4).
It is the first time that an NHS supplier organisation has made such a commitment, and it will affect almost all the freshly cooked food served to patients in NHS hospitals in Wales. Sustainable Fish Cities is pushing for caterers and NHS trusts elsewhere in the UK to adopt the same standards.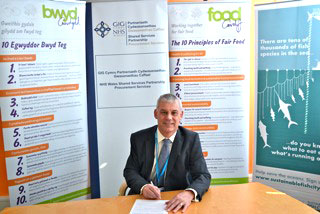 Mark Roscrow, Director of Procurement Services at NWSSP said:
"We are proud to be signatories of the Sustainable Fish City pledge, a public commitment to demonstrate that we value our environment and are keen to ensure our supply chain does not have a negative impact on future generations. This national pledge is just one example of the ethical and sustainable sourcing practice that NHS Wales Shared Services Partnership follows; not just with food but all the commodities we purchase."
Peter Davies - Sustainable Futures Commissioner, said:
"Congratulations to NWSSP – it is fantastic to hear that hospitals in Wales will only be serving fish from sustainable sources. With the Future Generations Bill currently being debated within Welsh Government this couldn't come at a better time.
Ruth Westcott, Coordinator of Sustainable Fish Cities said:
"NHS Wales are showing fantastic responsibility and leadership with this commitment and I hope it will encourage other suppliers and contract caterers to follow suit. So far the majority of NHS caterers in the UK have not taken the pledge, which means that there is a danger that in many parts of the UK, taxpayer's money is being spent on products that are damaging our fisheries and oceans."
Only two private hospital food providers and four hospitals or health trusts in England have pledged to remove endangered species and serve sustainable fish (5). This is despite new requirements which will make demonstrably sustainable fish compulsory in England, which come into force on 1st April 2015 (6). No trusts in Scotland or Northern Ireland have made the Sustainable Fish Cities pledge yet. However, the pledge has already been adopted by caterers serving nearly four million meals per year in Wales, as part of a campaign led by Food Cardiff (7) and the Sustainable Food Cities network (8), including nearly all Cardiff's primary and secondary schools, Cardiff University and the University of South Wales.
ENDS
For Further Information, please contact:

Ruth Westcott
Tel: 0203 5596 777
Email: ruth@sustainweb.org
Sustain: The alliance for better food and farming
Development House, 56 - 64 Leonard Street, London EC2A 4LT
Notes
(1) The NHS Wales Shared Services Partnership (NHSSP) was established on 1st April 2011, and works to provide cost and administrative savings to Health Boards and Trusts in Wales, by providing shared procurement, employment, legal and payment services.
(2) The Sustainable Fish Cities campaign is run by marine conservation and food organisations working on sustainable seafood issues see: www.sustainweb.org/sustainablefishcity/about/. The group includes: the Marine Conservation Society; Marine Stewardship Council; Pisces Responsible Fish Restaurants; The Sustainable Restaurant Association; Fish2Fork; and Sustain: The alliance for better food and farming (which coordinates the campaign): www.fishcities.net
(3) NHSSP's commitment also stipulates that cod and haddock will come from well managed Icelandic stocks and mackerel from sustainable fisheries in the Atlantic. They will sell wild-caught Pacific salmon.
(4) The Marine Conservation Society is the UK Charity for marine wildlife protection, sustainable fisheries and clean seas and beaches. Their sustainability ratings help consumers choose which fish to eat, and which to avoid. Fish rated 'fish to avoid' is considered vulnerable, threatened, from the most overfished and/or poorly managed stocks, or caught using methods that cause significant damage to the marine ecosystem.
(5) Hospitals and trusts which are committed to serving demonstrably sustainable fish:
Bournemouth Hospital
Cardiff and Vale University Health Board
Nuffield Health Plymouth
Poole Hospital
Somerset Partnership NHS Foundation trust
Hospital Caterers which are committed to serving demonstrably sustainable fish:
Sodexo healthcare
Baxter Storey healthcare
(6) The Department of Health's Food Standards were released in August 2014 and come into Force on 1st April 2015
(7) Food Cardiff is a network of organisations that by promoting healthy, sustainable and ethical food as part of a thriving local economy, is striving to improve health and wellbeing and to create a more vibrant, connected and prosperous city. For further information please contact Katie Palmer Sustainable Food Cities Coordinator Tel: 02920 336214, 07814 191381 katie.palmer2@wales.nhs.ukwww.foodcardiff.com @fairfoodcardiff
(8) The Sustainable Food Cities network is an alliance of public, private and third sector organisations using food as a vehicle for positive change. It is coordinated by Food Matters, Soil Association and Sustain, and is funded by the Esmee Fairbairn Foundation.www.sustainablefoodcities.org
Support our campaign
Donate now to help us to protect marine environments and fishing livelihoods.