The Government is poised to allow chlorine chicken imports from the US
There are reports today that the UK Government is prepared to permit imports of chlorinated chicken from the US but will impose tariffs on the most low standard produce to protect UK farmers. The move should make it uneconomical for US producers to export hormone beef, chemical-washed chicken and ractopamine pork to the UK.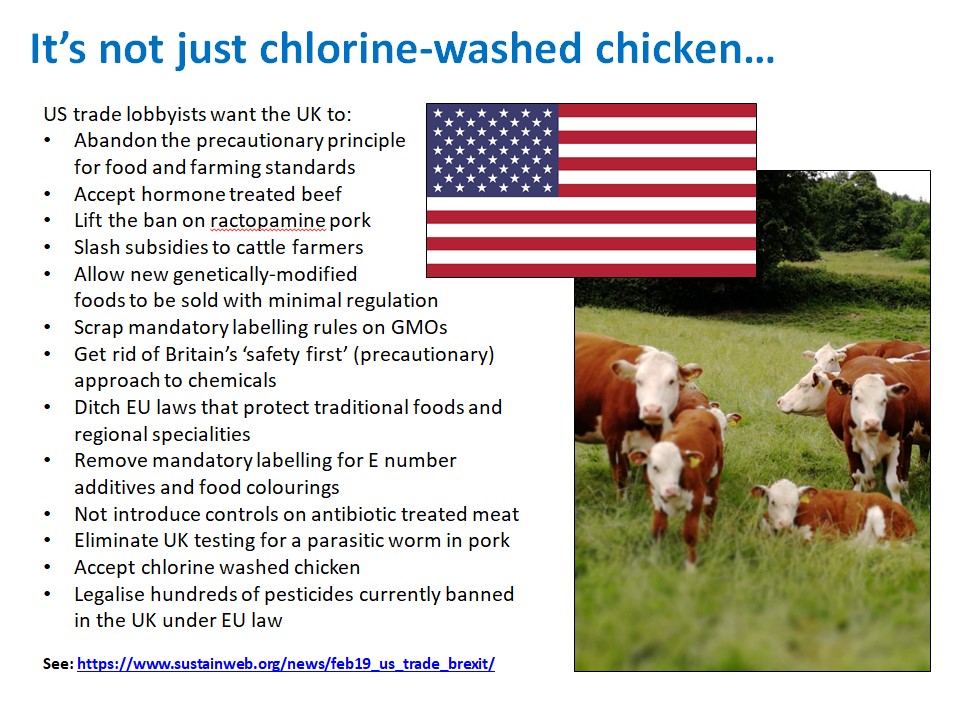 Apparently, high-quality foods, such as organically-reared free range meat, would be subject to lower tariffs in order to encourage foreign producers to lift their animal welfare to British levels.
Chair of the NFU, Minette Batters has described it as a "a significant step forwards" because it would prevent the US from flooding the UK market with cheap food produced using techniques banned in Britain. (For Sustain's case against 'cheap food' please click here)
Sustain's food and farming lead Vicki Hird said: "The UK government needs to tell the US trade negotiators that we simply refuse to accept low standard, low animal welfare produce. UK consumers have made their opposition clear. The US uses five times the amount of antibiotics in farming as we do and they use many times more pesticides than we do.

"While we support moves to protect UK farmers, this tariff proposal does not take wider concerns into account such as the impact of low standard US farming on the climate, on nature and on the people who work in the food chain."
The tariff proposal was apparently adopted at a ministerial meeting on Monday and will be put forward as part of the ongoing negotiations with the US over a post-Brexit trade deal.
The report quotes a Government source who said: "The idea of a dual tariff regime is that the upper band would remove any economic advantage that foreign producers would gain through lower animal welfare standards. British farmers would also have a competitive advantage even with goods that are produced to high standards, because of the lower tariff regime applied to imports."
Meanwhile, there has been a huge surge in sign ups to petition calling for ban on low standard imports in future trade deals. More than 250,000 people have signed a National Farming Union-led petition calling for a ban on cheaply produced low-quality food imports in post-Brexit trade deals. The petition has been backed by Jamie Oliver. You can read more in the Guardian here
UPDATE
Vicki Hird was interviewed by the BBC's Farming today programme on Saturday 6 June. She told them this about dual tariffs:
"They [government] seem to be suggesting that for some products, and possibly only in terms of animal welfare standards, they will apply a differential tariff so that the products that are produced to standards that we don't agree with would be more expensive. There would be a higher tariff [and] the other products that benefit animal welfare standards would be cheaper because they would be coming in on a lower tariff, lower import tax, if you like.
And how long would that last for?
"Well, that's a big question. It really depends. There could be review clauses in the agreement, there could be all sorts of things where these differential tariffs aren't maintained. Our position is that we have standards on welfare, environment and food safety that we should be applying to our food and to food imported. What is Government if it's not applying those standards? Tariffs might help but they shouldn't be done in place of standards and regulations."
You can listen to the interview in full here
---
04/06/2020
Brexit
SHARE
---
Brexit: We stand at a cross-roads. When the UK leaves the European Union, will our leaders uphold good standards for our food, farming, fishing and trade deals? And will they agree a sensible deal with the EU? We need to make sure that they do!