New Prime Minister must prioritise child obesity
On the anniversary of the Government's Childhood Obesity Plan Chapter Two, 86% of the British public say child obesity is a 'serious problem', whilst the Obesity Health Alliance's new scorecard shows progress is still far too slow.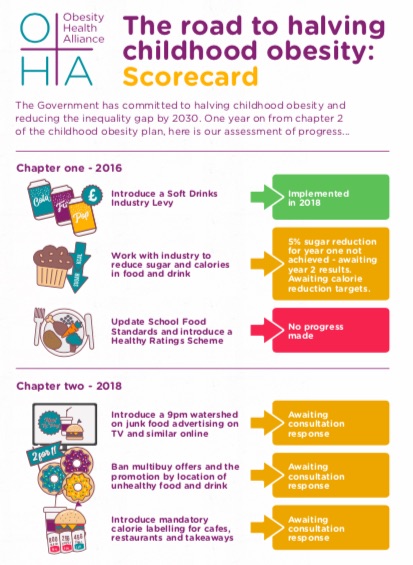 Seven in ten adults agree that Theresa May's successor as Prime Minister must continue to prioritise tackling childhood obesity, according to new ComRes polling of over 2,000 people in June, commissioned by the Obesity Health Alliance, of which Sustain's Children's Food Campaign is a part.
On 25 June, it is exactly a year since the Government launched Chapter Two of its Childhood Obesity Plan, with an ambitious target to halve levels by 2030. However, by the eve of the anniversary, despite a series of public consultations, not a single new policy had been implemented. Measures on which the government have been consulting since the autumn of 2018 include a ban on the sale of energy drinks to children, to introduce mandatory calorie labelling in restaurants and bars, to restrict in-store price and location promotions, and to introduce a 9pm watershed on advertising of foods high in fat, salt and sugar (HFSS). Meanwhile, there is still no news from the Department for Education on promises to improve School Food Standards and introduce a national Healthy Schools Ratings Scheme, both of which were made in the first chapter of the Childhood Obesity Plan in 2016.
New Prime Minister must act swiftly
The Children's Food Campaign, along with partners in the Obesity Health Alliance, is urging the Government to speed up progress in implementing the promised new policies.
Caroline Cerny, Alliance Lead at the Obesity Health Alliance said:
"A year ago the Government showed bold ambition, announcing a raft of evidence-based measures with the potential to dramatically improve child health. But twelve months on, progress seems to have stalled.
"There is a danger that a new Prime Minister might take us in a different direction, but the public have spoken loud and clear – and a leader who can get us to the destination quicker is going to win favour with voters. The Government now needs to get on and make sure child-friendly policies such as a 9pm watershed on junk food adverts on TV and online are brought in as quickly and effectively as possible.
"The clock is ticking to the Government's deadline to halve childhood obesity. The 11 year olds we will measure in 2030 are being born this year. We owe them the best chance of growing up healthy, and delays in bringing in effective policies mean more children are at risk of suffering ill-health linked to excess weight."
Public support for more action on childhood obesity
Polling in mid-June conducted by ComRes for the Obesity Health Alliance shows a groundswell of public concern about serious levels of childhood obesity, and overwhelming support for action.
69% agree the new Prime Minister should continue to prioritise reducing childhood obesity
86% agree childhood obesity is a serious problem
76% say they are supportive of government action to reduce levels of childhood obesity
80% say they are worried about the impact of obesity on NHS resources
For information:
ComRes interviewed 2,058 adults in Great Britain aged 18+ online between 19th and 20th June 2019. Data were weighted to be demographically representative of all adults in Great Britain by key demographics, including age, gender, region and social grade. The ComRes poll was commissioned by the Obesity Health Alliance, of which Sustain's Children's Food Campaign is a member.
---
25/06/2019
Children's Food Campaign
SHARE
---
Children's Food Campaign: Better food and food teaching for children in schools, and protection of children from junk food marketing are the aims of Sustain's high-profile Children's Food Campaign. We also want clear food labelling that can be understood by everyone, including children.