Food charities and children's organisations call for school food to be put on Ofsted menu
Over 30 organisations including Children's Food Campaign, Soil Association Food for Life, and School Food Matters along with Jamie Oliver are calling on the Department for Education to act on its promise to prioritise children's health and well-being and ensure schools deliver healthy meals and food education.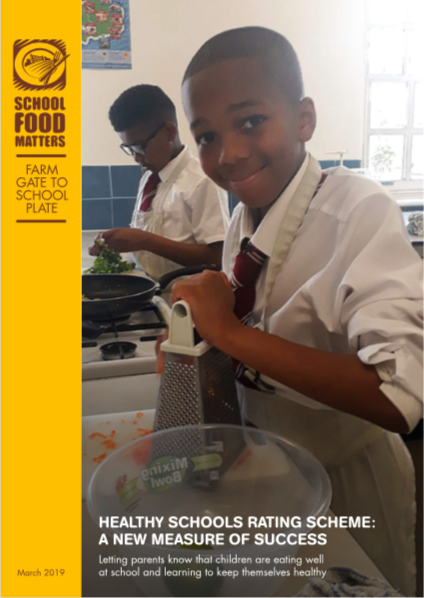 Schools are required to deliver high quality school meals and food education, and despite a promise to introduce a Healthy Schools Rating Scheme in 2016's Childhood Obesity Plan, repeated again in Chapter Two in June 2018, the scheme remains on DfE's 'to do' list.
Sustain (and Children's Food Campaign) member School Food Matters is leading a coalition of organisations to push government to deliver on its promise to support schools in monitoring and managing healthy, quality school meals in line with mandatory School Food Standards, and food education, which is part of the curriculum.
In a survey of almost 1000 parents, governors and teachers as part of the campaign, 97% were in favour of the introduction of a Healthy School Ratings Scheme, and 85% thought it should be mandatory so that all parents with children in state-funded schools. When asked whether healthy school ratings should formally be monitored by Ofsted, 72% all respondents agreed, and 76% of those who are parents.
Stephanie Wood, founder of School Food Matters says:
"Quite simply, we conducted this survey to tell us what we, as school food campaigners, already know; that the Healthy Schools Rating Scheme is needed to help schools keep good food on the menu."
A primary and secondary school parent who responded to the survey said:
"It needs to be mandatory across all schools in order to have a valuable impact. Children deserve a level playing field when it comes to health, and the only way to help to ensure that is through a robust mandatory scheme that applies to all schools. Also, the Prime Minister has committed to reducing childhood obesity and ill health, so the scheme needs to be mandatory."
Barbara Crowther, co-ordinator of the Children's Food Campaign says:
"We currently have School Food Standards for healthy school meals, and food education as part of the curriculum, but parents have no way of knowing how well their own schools are performing in delivering these, because no-one is monitoring. This survey gives Government a powerful mandate to introduce a proper Healthy Schools Ratings Scheme for all state-funded schools, and to give Ofsted responsibility for monitoring and reporting how schools are doing."
Stephanie Wood of School Food Matters adds:
"With children spending 190 days at school we have a unique opportunity to model good eating habits and teach them how to keep themselves healthy. Department for Education must act now and use the Healthy Schools Rating Scheme, together with the new Ofsted framework, to make sure we're making the most of this opportunity."
For more information:
Read the report: Healthy Schools Ratings Scheme: A New Measure of Success
Organisations supporting the call are: Action on Salt, Action on Sugar, Alexandra Rose Charity Business Services Association, Cavill Associates, Charlton Manor Primary School, Children's Food Campaign, Clifton Green Primary School, Edible Playgrounds, Enfield Council, Federation of Wholesale Distributors, First Steps Nutrition, Food Active, Food for Life, Food Foundation, Garden Organic, Greenfields Community School, HENRY, Jamie Oliver, LACA, London Borough of Tower Hamlets, Magic Breakfast, Mayor of London, Newland St John's CE Academy, Public Health Nutrition Research, Phunky Foods, Royal Academy of Culinary Arts Adopt a School Trust, School Food Plan Alliance Sugar Smart, Sustain, The Actives Team, The Hyperactive Children's Support Group UCL, University of Sheffield, Washingborough Academy, Youth Sport Trust.
---
20/03/2019
Children's Food Campaign
SHARE
---
Children's Food Campaign: Better food and food teaching for children in schools, and protection of children from junk food marketing are the aims of Sustain's high-profile Children's Food Campaign. We also want clear food labelling that can be understood by everyone, including children.