The Government has now published details of Chapter Two of the Childhood Obesity Plan. Children's Food Campaign welcomes bold pledges to curb junk food marketing and strengthen School Food standards, but an overall B Grade suggests much more work is needed to turn commitments into action.
The Government has today (Monday 25 June) published full details of its Childhood Obesity Plan Chapter Two.
Sustain and the Chldren's Food Campaign have both welcomed the plan's vision to halve child obesity in the next twelve years by 2030, and especially the inclusion of several measures to tackle the way junk food marketing continues to fuel an obesogenic environment for parents and children, many of which were missing from Chapter One.
Prior to publication, we laid out a scorecard with 20 issues we were hoping to see included in the Plan. Now we can see the detail in the Plan, it's time for the verdict!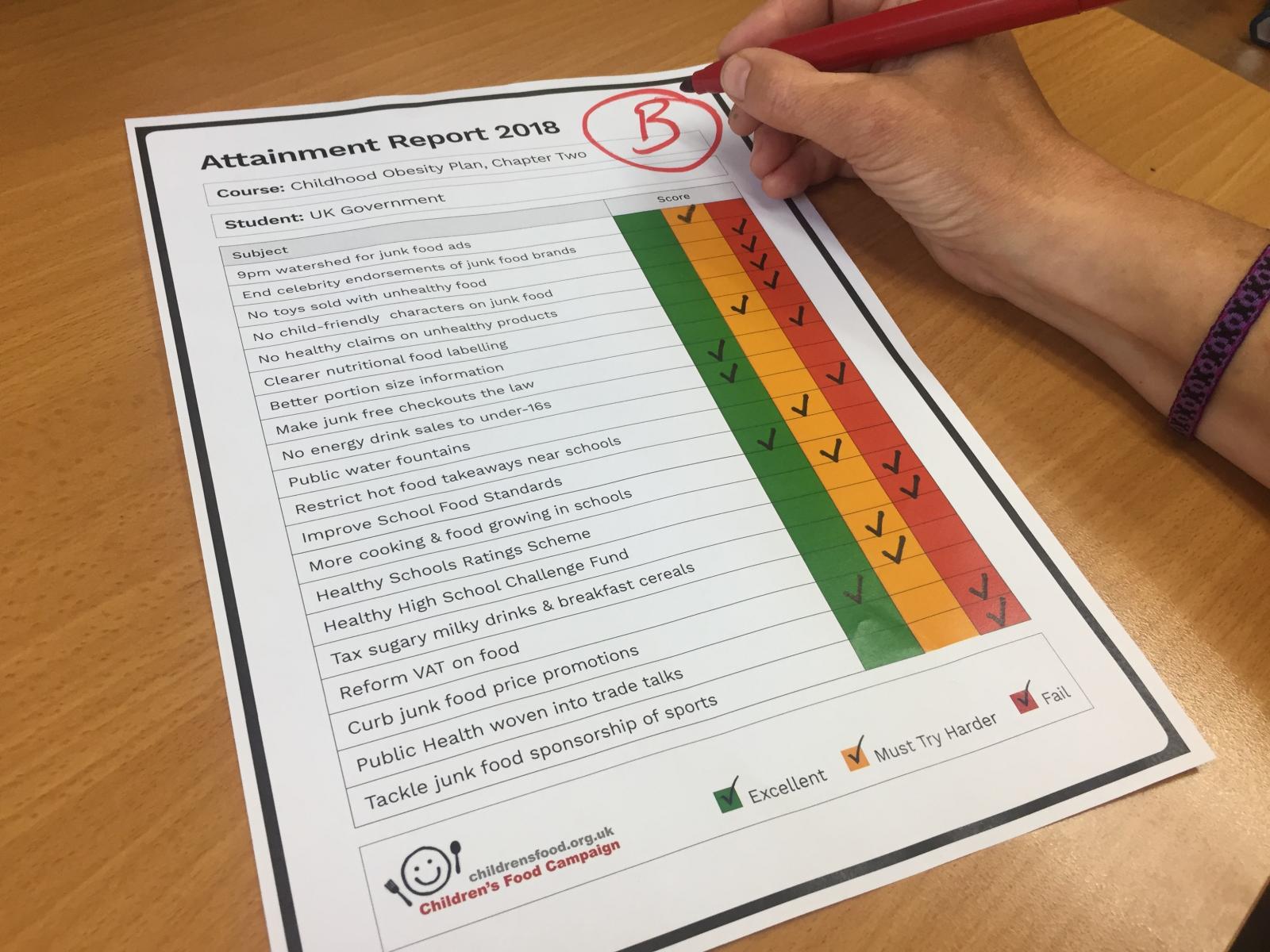 We are delighted to see a number of measures included that Sustain and the Children's Food Campaign have been campaigning on for many years, not least consultations during 2018 to introduce a 9pm watershed on junk food advertising both on TV and online. Over 30,000 people signed a petition to support such a ban back in 2015, but it was omitted from Chapter One, which was heavily criticised by both campaigners and politicians for lacking ambition.
We are equally pleased to see government commit to introducing a ban on unhealthy food promotion not just at supermarket checkouts, but also store entrances and end-of-aisle displays - this is an issue we have campaigned on since the early 1990s, and won the first pledges from supermarkets all the way back in 1995, but where voluntary action alone has not succeeded in removing them altogether, and government action to create a level playing field now is long overdue and very welcome.
Most of the proposals remain subject to further consultation, and there is still plenty of work to be done to turn these into action. In our scoring, we have given a green light to several commitments where there appears to be a solid intention to bring in new measures. Amber reflects issues that are mentioned in the Plan, but where further detail and work is clearly going to be required. Where there is no mention or no commitment to significant new action, we have scored red.
You can read our full briefing and explanation of our scoring here. We'd love to know your thoughts too!
Whilst there is much to be welcomed, overall we think the Plan deserves a B Grade. We are disappointed to see that several issues about which parents have been expressing concern in our Parents' Jury have still been omitted from Chapter Two. These include the use of children's film, TV and cartoon characters on food packaging and promotional activity, which is one of the key ways companies still market directly to children, encouraging exactly the kind of pester power the Secretary of State Jeremy Hunt decries in his introduction to Chapter Two. We at Children's Food Campaign will continue to research and campaign on this issue. Likewise, the government has failed to acknowledge the way in which unhealthy foods continue to be promoted via sports and leisure networks, including sporting associations, football stadia, local community sports and leisure centres. Unlike schools and hospitals, public leisure centres only have to abide by Government Buying Standards on a voluntary rather than mandatory basis.
In short, we are encouraged by the new Childhood Obesity Plan Chapter Two, but there remains a lot for all of us to do, if we are to make faster progress in building a happy, healthy food environment for our children today, and for the generations to come.
For more information:
Read Press Coverage for Children's Food Campaign on this story:
BBC News Child obesity: Will new measures make your life easier?
Huffington Post Government's New Plan To Halve Child Obesity 'Is An Absolute Travesty', Say Health Campaign Groups
Daily Mail Restaurants, kebab shops and cafes will now be forced to reveal calorie counts under new government plans to halve childhood obesity in 12 years
Express and Star Child obesity plan targets energy drinks and supermarket checkout 'pester power'
The Independent Energy drinks set to be banned for under-16s as part of government plan to tackle obesity
ITV News online Energy drinks and checkout sweets targeted in childhood obesity fight
New Food Magazine UK Government announces new measures to halve childhood obesity by 2030
Shropshire Star Child obesity plan targets energy drinks and supermarket checkout 'pester power'
Food Navigator 'Deep disquiet in the food and drink sector': Industry unhappy at regulation to halve UK childhood obesity
Just Food: UK government likely to give little ground on child obesity measures
The Grocer: Obesity Plan Mark 2: government considers HFSS promotions ban
BBC Radio Wales, Monday 26 June, 10am
BBC Radio London, Monday 26 June, 6.10pm
Support our campaign
Your donation will help us champion children's rights, parent power and government action to improve the food environment children grow up in.