Marks & Spencer promises full fish sustainability by 2015
Marks & Spencer's commits to full fish sustainability by 2015, and contributes over £1 million to WWF to protect fish, seas and coastlines across the world.
WWF press release: 7th June, 2011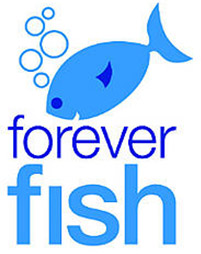 Marks & Spencer's 'Forever Fish' campaign, launched today, will contribute over £1 million to the work of conservation charity WWF to protect fish, seas and coastlines across the world.
M&S' three-year, £3 million Forever Fish campaign, will fund numerous marine conservation projects, including three of WWF's priorities...
(1) Safeguarding UK seas - some of the busiest and most threatened in the world. The new funding from M&S will boost our work with government, industry and other stakeholders to ensure our seas are managed better - so fish stocks can recover and threatened species such as dolphins and harbour porpoises have a safe haven.
(2) Securing a future for tuna - stocks of some of the most commercially valuable tuna species are dangerously low. Extra funding will help us highlight and tackle some of the biggest challenges facing tuna, such as illegal, unregulated and unreported fishing.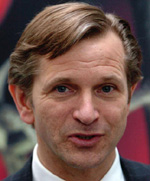 (3) Protecting marine diversity off east Africa and in the Coral Triangle - home to some of the world's most fabulous sealife. M&S will be supporting our work with governments and communities to establish marine protected areas, countering threats from overfishing, climate change and the unsustainable development of tourism.
Marc Bolland, Chief Executive of Marks & Spencer (left), said: "We will work together with our customers, our people and their children to promote a healthy future for our beaches, seas and fish. Forever Fish involves schools, charities, fishermen and fisheries so that we can all enjoy cleaner beaches, more sustainable fishing and healthy fish."
Helping M&S to make further commitments
As part of the Forever Fish campaign, WWF will be supporting other environmental commitments by M&S, such as:
Ensuring that the fish available to customers are fully sustainable by 2015. M&S have already doubled the amount of Marine Stewardship Council (MSC) certified wild fish available to customers over the last two years and are also helping develop international standards for farmed fish.
Encouraging customers to eat a variety of fish. By offering a variety, M&S are ensuring there is not too much demand for any one species, and fish that would normally be discarded are retained and sold, potentially reducing the enormous and unnecessary wastage of fish in EU waters.
How the Forever Fish campaign will be funded


M&S is funding its Forever Fish campaign by donating profits from its 5p carrier bags. From 22 June, you'll find bags in M&S stores featuring WWF's panda logo and that of the Marine Conservation Society (MCS). These charities will both receive 40% of the profits from the sale of the bags to support marine conservation efforts in the UK and around the world.
As well as contributing to WWF's work, M&S' Forever Fish campaign will fund efforts to encourage as many people as possible to join in the MCS's Beach Watch clean-up programme. And it'll provide money to the National Schools Partnership so it can create an education programme for 3,000 primary schools around fish, fishing and marine life.
Sign up to WWF's More Fish campaign
Read more about the Forever Fish campaign on the M&S website
Support our campaign
Donate now to help us to protect marine environments and fishing livelihoods.