Brent Council and Apleona Food Services win Sustain award for sustainable procurement
At the ninth Good Food For All Londoners event at City Hall, London, Brent Council and Apleona Food Services received a Special Recognition award for their efforts bringing sustainable food to thousands of residents at Brent Civic Centre in Wembley.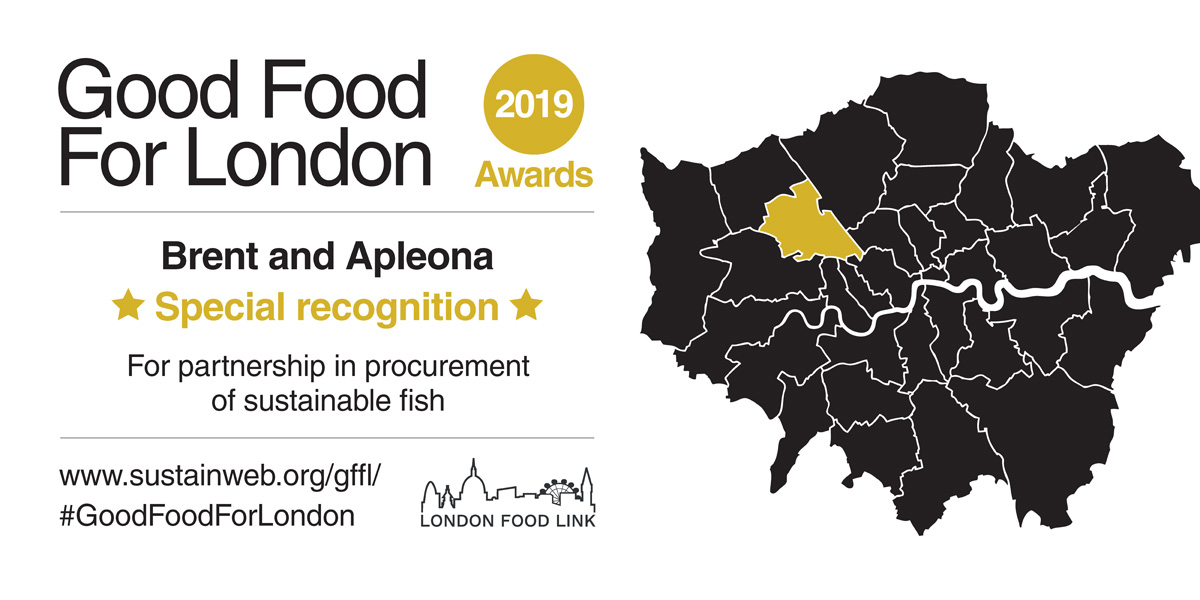 The award specifically recognised their efforts on serving sustainable fish – Apleona have signed the Sustainable Fish Cities pledge, and now the 26,000 meals that they serve every year to staff, visitors, events and conferences and the public only contain sustainable fish.
Apleona were also congratulated for serving Fairtrade bananas, sugar, coffee, tea, orange juice and cage-free eggs, and for growing some of their own food onsite.
Partnership for sustainable procurement
For Brent, as for many London councils, part of the food service is operated by a company independent of the council. For some, this has proved an obstacle to serving food which reflects the sustainability and health ambitions of the council. Brent tackled this at the beginning of the contract with Apleona, agreeing ambitions for a sustainable food operation and ensuring they aligned with the council's values. They now have regular contract reviews to ensure the catering remains sustainable, which remains a high priority for the council.
Good Food For All Londoners saw the launch of the latest Good Food For London and Beyond the Food bank reports, which reveal which councils are leading the way in delivering good food environments and culture for their residents, workers and visitors.
Coming out top of this year's league table, for the second year running, is the borough of Islington, followed by the Royal Borough of Greenwich and borough of Tower Hamlets.
This year, twenty-seven councils have taken significant action to ensure the future of fish stocks by committing to and implementing a sustainable fish policy. These policies make a real difference to the way fish is bought and promoted in London, including removing Marine Conservation Society 'red rated' fish from their purchasing, and therefore the related menus.
Support our campaign
Donate now to help us to protect marine environments and fishing livelihoods.