Want to write for True Loaf issue 50?
Your work will be seen by thousands of people around the globe!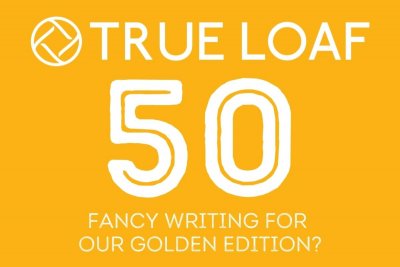 Nifty fifty. Credit: Chris Young / www.realbreadcampaign.org
February 2022 update
Writers for issue 50 have all been commissioned but we have opportunities to have your work published in our magazine and on our website throughout the year, so please get in touch!
In April 2022, we'll publish the 50th issue True Loaf magazine and YOU could be one of the people whose work appears in this golden milestone edition!
Be seen and heard
Tens of thousands of people worldwide read our articles in True Loaf magazine and on the Real Bread Campaign website.
If you have Real Bread related:
Stories to tell: Either about yourself or someone else.
Knowledge to share: Maybe a recipe, technique or technical/scientific deep dive.
Views to air: Something you're burining to champion or challenge.
...please drop us a very brief outline (bullet points will do) of what you want to say, plus a short line about yourself, to: realbread@sustainweb.org
The maximum word count for articles ranges from 450 to 900 words and the deadline for articles commissioned for the 50th issue will be 26 February 2022.
In the picture
We'd also love to hear from photographers and artists interested in helping bring the written articles to life.
Subject suggestions
Want to write but not sure what about?
It can be anything in or related to the Real Bread chain from seed to sandwich - grain, farming, milling, bread making, therapeutic baking, community wealth building, food labelling, health/nutrition, culture and self-identity...
Your article can be pitched at entry level for newcomers to the subject, right through to a properly chewy piece for experts/hardcore nuts - our network spans the full gamut.
Here are some topics about which we think people in our audience would be interested to read but we haven't covered recently / at all.
Sisters doughing it for themselves. The women who own and run SME Real Bread bakeries.
YQ? The place that the yield-quality wheat population, developed by the late Professor Martin Wolfe and the Organic Research Centre, has in the Real Bread revolution.
Table-top 'semi-pro' oven comparison (eg Rofco B40, Tom Chandley Pico, Rackmaster etc.). You must have experience of using each that you write about.
In-depth expert guides/masterclasses - eg using temperature, hydration and more to control acidity and other sourdough characteristics; pasta madre for sweet sourdough baking; shaping dough...
Deep dives that go into technical/scientific/obsessive detail about a single subject –eg Hagberg Falling Number, osmotolerant yeast...
Real Bread: Oh so white? People of every colour and ethnicity make bread. What are the obstacles that inhibit/prevent more Black people and people of colour around the world from joining our network or at least from choosing / being able to be seen and heard on social media and elsewhere?
Who else is underrepresented as subjects (and writers) of the articles we publish?
Beyond the bakers: Profiles of other Campaign supporters involved in the rise of Real Bread, eg John Lister and co at Shipton Mill; Steve, Ann and crew at Brook Food; Gilchesters' Andrew and Bille; Martin and the Tom Chandley lot.
What Andrew did next: An updated profile of / interview with Campaign co-founder Andrew Whitley, focussing on his current work with Scotland The Bread.
A celebration of the place bread has in your country/culture.
An X generation family bakery that has always made (or switched to making) what we call Real Bread.
Other sorts of Real Bread bakeries with employees (to complement the many pieces we publish by/about sole trader microbakers).
Real Bread social enterprise(s).
Local and non-commodity grains.
…and we're open to your own one line pitches!
Story outline
If you're considering writing an article about a Real Bread business, you might find this outline helpful.
Diversity, representation, inclusion
People of every age, nationality, colour, sex, gender identity, ethnic heritage, (dis)ability, neurological status, religion and economic background worldwide enjoy Real Bread and are involved in its rise.
We know that this is not as well reflected as it could be in our work and network, and are trying harder to use our privileged position to address this. We're working to increase the diversity (in all senses) of the people we help to be heard and seen, and to improve their inclusion in what we do and how we do it.
As such, we're especially keen to hear from and about Black people, people of colour, and others currently underrepresented in and by the Real Bread Campaign.
We will continue to publish pieces about/by 'the usual suspects' but want to share other people's stories as well.
Volunteers
We fully accept and understand that some people are unable or unwilling to volunteer because they want, need and deserve to be paid for their time and skills. We also know, however, that there are many people who can and do want to volunteer these in support of our charity's beliefs and aims.

In 2022, we will be reviewing our practices and budget with a view to paying at least some content creators - writers, photographers, illustrators etc.
Support our charity
Your donation will help support the spread of baking skills and access to real bread.