£5000 up for grabs in the Urban Food Awards
Nominations for London's 5th annual Urban Food Awards are now open!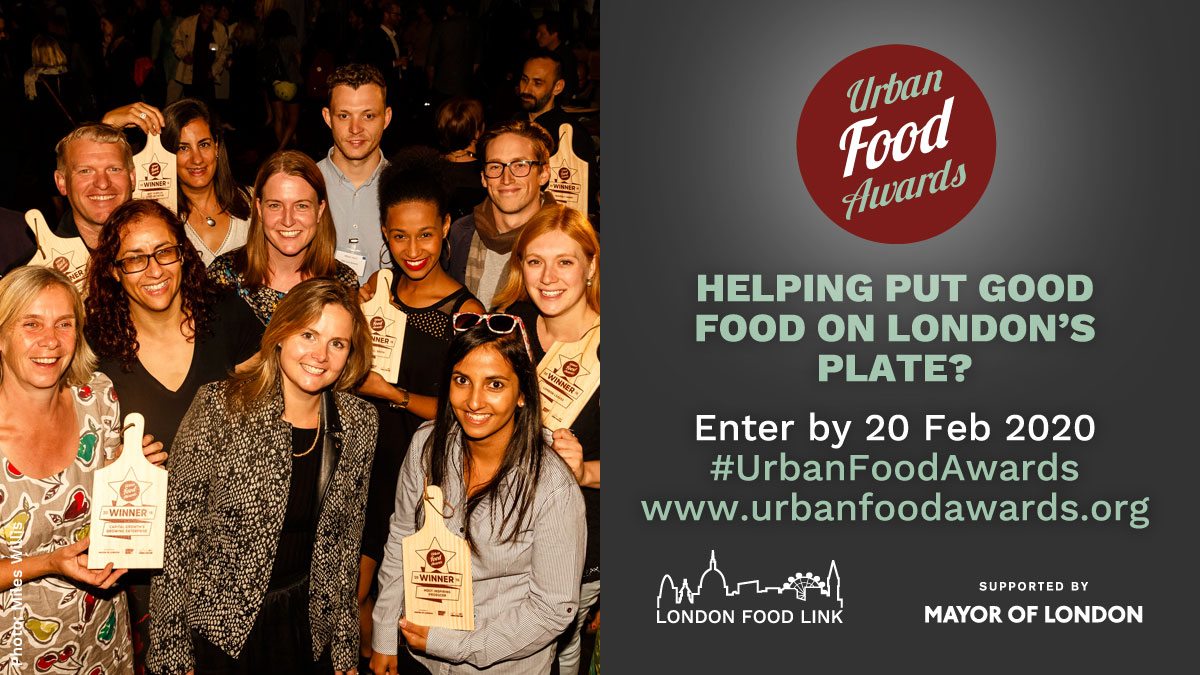 The Mayor of London and London Food Link invite enterprises, organisations and individuals involved in putting good food on the capital's plate to enter, and all other Londoners to nominate their favourites.
Thanks to London Growth Hub sponsorship, winners of the Super Social Enterprise, Community Market Champion and Climate Champion categories will share a prize fund of £5000 towards training and mentoring. All finalists will benefit from a fantastic publicity opportunity and greater recognition of their work.
Entries / nominations are open until 20 February. Everyone who makes a nomination will be entered in a draw to WIN a pair of tickets to the invitation-only awards ceremony at Mercato Metropolitano, London's first sustainable community market, on 18 March.
#UrbanFoodAwards
Categories
Following the success of 2019's special Women in Food category, this year's headline category will crown a multitude of Food for Good Champions, celebrating the Londoners using food to bring communities together, promote social integration and celebrate diversity in our capital. This category is open to Londoners working or volunteering alone, or in a small teams.
Eight further award categories will recognise the contribution and positive impact of enterprises, organisations and individuals championing good food in London. They are:
Children's Food Champion: Someone taking special steps to improve children's food as part of paid or voluntary role.
Climate Champion: An eatery working to embed climate and nature friendly practices into its menu and ethos. In partnership with The Sustainable Restaurant Association
Community Market Champion: Created to celebrate a market stall holder who is working in innovative ways to bring healthy, affordable and sustainable food (particularly fresh produce) to people in a local community.
Good Food for All: An organisation or enterprise working to help Londoners with disabilities, and/or who are facing challenges of growing older, to enjoy access to good food. In partnership with City Harvest
Growing Wild: An urban farm or food growing project enhancing nature through its growing practices and planting schemes, encouraging and promoting biodiversity more widely. In partnership with Capital Growth
Ocean Friendly Caterer: A restaurateur or caterer working at scale or with wider influence, who is demonstrating commitment to sustainable fish and reducing plastic in the supply chain. In partnership with the Marine Conservation Society
Super Social Enterprise: One providing food training and experience in skills and knowledge for employment, particularly to people facing greater than average barriers to the jobs market. In partnership with London Growth Hub
Young Food Ambassador: A young person (or small team of people) aged 25 or under, campaigning within their school, college, university or wider community for a better food and farming system. In partnership with BiteBack 2030
Be a winner
The judging panel will be chaired by Claire Pritchard, Chair of the London Food Board, a group of experts who advise the Mayor of London and the GLA on the food matters that affect Londoners. The panel will include members of the Mayor of London's food policy team, London Food Link staff, and other good food experts.
To be eligible, entrants/nominees must be based and operate in London. Judges are looking for clear examples (backed up by evidence) of how entrants/nominees work to reduce the negative, and increase the positive, impact on the food system of what they do.
The judges will be looking for nominations/entries that:
Make clear how the nominee's work in London aligns with the London Food Strategy's definition of good food and with Sustain's good food guidelines.
Outline the wider benefits their work brings to the local community, economy and environment.
Demonstrate the progress they have made in achieving what they set out to do.
Winners and other finalists will benefit from greater recognition of their work and achievements, including coverage in The Jellied Eel, the title for good food in London.
About the Urban Food Awards
The Mayor of London and London Food Link launched the Urban Food Awards in 2014 to share their passion for good food, raise the profile of inspirational food enterprises and projects in the capital, and celebrate some of the amazing people doing great things for food in London.
Full details and the online entry form can be found at www.urbanfoodawards.org
---