Brexit Forum news, January 2019: EU Withdrawal process
On this page, we share recent news updates on the EU Withdrawal process and how this relates to the food, farming and fishing concerns of the Sustain alliance.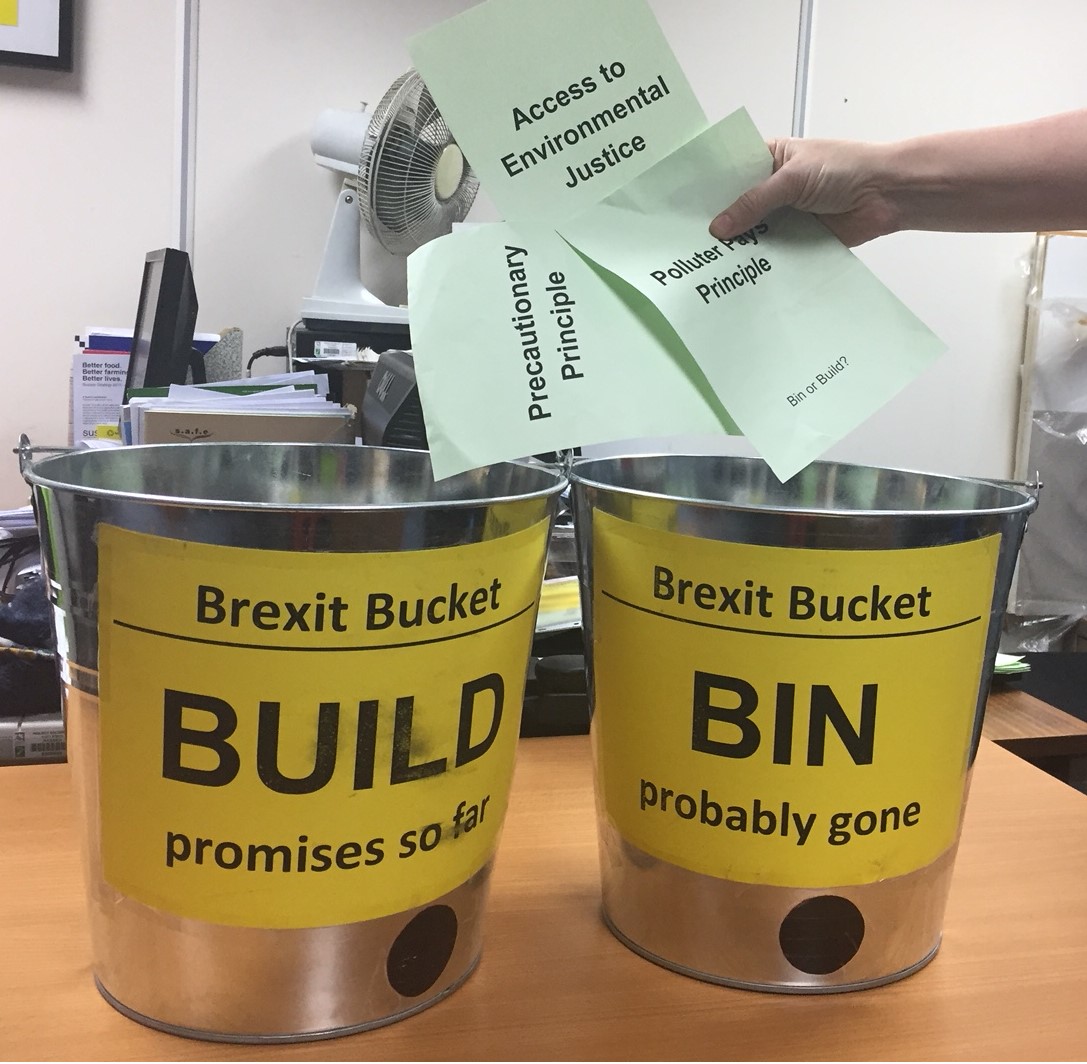 The process of the UK withdrawing from the European Union is detailed and sometimes labyrinthine in its complexity. Below, we report on recent news and developments as part of this process.
The Food Research Collaboration has called on local authorities throughout the UK to prepare Food Brexit Plans. They argue that, "Food will be affected by Brexit on all levels, regardless of the outcome of the Parliamentary vote on the Draft Withdrawal Agreement. As the date for leaving the EU approaches, preparations to ensure we have a safe, adequate and sustainable food supply need to start urgently. Local Authorities have a vital part to play in these preparations, but Government has so far neglected to provide guidance."
As we rumble on, passing major Brexit milestones, it is worth noting some authoritative summaries of what has happened so far. These set the foundations for much that is to come. The House of Commons Library has produced a good summary of the status of retained EU law in UK law, post Brexit. The UK's EU Withdrawal Act converts or transposes EU law into domestic law, adopting a rulebook and set of institutional arrangements that is initially as close as possible to that which currently exists. For the record, as the House of Commons Library explains, the UK is retaining:
EU regulations, decisions and tertiary legislation and elements of the EEA agreement (as they existed on exit day);
domestic legislation passed to implement EU directives (and other EU law);
most general principles of EU law (as they existed on exit day);
most rights and obligations that currently exist in domestic law because of s. 2(1) ECA (as they existed on exit day); and
relevant case law of the Court of Justice of the European Union issued before exit day (though the UK Supreme Court and High Court of Justiciary need no longer follow it).
But the UK is specifically not retaining:
the Charter of Fundamental Rights of the European Union;
the legislative instruments known as EU directives themselves (as opposed to the legislation implementing them or rights and obligations under them, which will be retained);
the principle of supremacy of EU law (for prospective legislation); and
the Francovich principle of state liability (in relation to post exit facts).
Sustain is part of the new Brexit Civil Society Alliance, "bringing together civil society organisations from all parts of the UK to ensure our voices are heard in the Brexit process". These voices come from health, human rights, environment, consumer and workers' rights, equality, food, farming, trade and education. Established in July 2017 and hosted by Unlock Democracy, the Alliance has been active in helping to shape and improve key Brexit legislation (e.g. the EU Withdrawal Bill), connect politicians with civil society and help educate, inform and advocate for those who may feel remote from the Brexit process.
The Brexit Civil Society Alliance wants to make sure that civil society organisations understand the process and what is entailed as we leave the EU and are able to best advocate and articulate their interests in the Brexit process, by means of:
Open & Accountable Lawmaking - Legislating for Brexit must respect the democratic processes, including the devolved nature of the UK constitution. There must be clear limits and safeguards on executive power. There must be robust parliamentary scrutiny at all levels with appropriate levels of transparency and debate.
A High Standards UK, with rights and standards for all sectors maintained - Leaving the EU should not mean weaker standards and less rights. A UK framework for common standards must be mutually agreed between the four administrations to enable cross-border working and an internal common market.
Leaving the EU should not create a governance gap - EU institutions have a role in monitoring, oversight and ensuring compliance with the law as well as setting regulations. Where governance arrangements are changed as a result of leaving the EU, there must be clear powers and procedures for ensuring the law is properly implemented and enforced on an ongoing basis.
The Brexit Civil Society Alliance proposes six tests for any future Brexit legislation:
High standards maintained
Same rights and protection for individuals and organisations
Robust parliamentary scrutiny
Respect hard won existing devolution settlements
No governance gap
Limits and safeguards on Executive powers
The Alliance is making special efforts to involve colleagues in Wales, Scotland and Northern Ireland, and in regions of England that sometimes feel under-represented in discussions in London and Whitehall. A stated purpose of the Alliance is to "offer support, information and intelligence to those who feel most removed from the Westminster bubble".
Find out more about the Brexit Civil Society Alliance at: https://www.brexitcivilsocietyalliance.org/ Join the Brexit Civil Society Alliance at: https://www.brexitcivilsocietyalliance.org/join-us
---
02/01/2019
Brexit
SHARE
---
Brexit: We stand at a cross-roads. When the UK leaves the European Union, will our leaders uphold good standards for our food, farming, fishing and trade deals? And will they agree a sensible deal with the EU? We need to make sure that they do!