Your Real Bread reborn as beer?
Crumbs Brewery seeking bakery partners around the UK.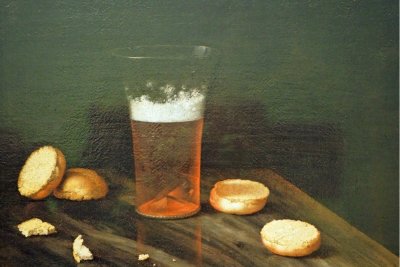 Still life with Beer Glass by Johann Georg Hinz. Credit: Public domain
Since 2017, Crumbs Brewing has been making beer with leftover Real Bread from Chalk Hills Bakery in Reigate, Surrey.
Following a successful crowdfunding campaign to expand the business, the brewery is now looking for all sorts of Real Bread bakeries* to help the company to 'grow nationally by staying local' and take Crumbs beyond south east England, upcycling leftover loaves as they go.
Morgan Arnell, who co-founded the company with his wife Elaine, says: "We want to offer bakeries the chance to send their surplus Real Bread to us so we can incorporate it into our brewing. In return we will give them a range of products they can sell direct to their own customers and to the pubs, restaurants, farm shops and delis they already work with in their local area."
*It doesn't have to be sourdough but should be Real Bread (ie additive-free), which can be made from any flour (wheat, rye, spelt etc.)
Fancy a brew?
Does your bakery:
Make any sort of Real Bread.
Have a strong presence in your local community, where local people love and support what you do.
Have a shop or two of your own, ideally licensed so you can start selling the beer Crumbs make from your leftovers.
Have a strong wholesale business to other shops, restaurants and pubs that might also like to buy beer made from your bread as well.
If you said 'yes' to at least some of these and are interested in exploring the possibility of being a partner, email Crumbs Brewing to find out more.
PS If you don't own a bakery that fits the bill but know of one you think might, Morgan says: "If you're the first to recommend a bakery that we end up working with then there'll be a free case of beer in it for you!"
Don't bin it, brew it!
Better still, don't bake it at all.
The Real Bread Campaign's No Loaf Lost initiative works upstream from food waste prevention initiatives by encouraging and guiding small bakeries to reduce the amount of surplus they generate in the first place.
When there are leftover loaves, however, we'd rather they still get enjoyed by people than pigs, anaerobic digesters or landfill sites. Food redistribution is the main route but brewing can help to use up surplus, raise awareness of the problems of food waste and, in some cases, generate income to help fund worthwhile causes.
See also
Support our charity
Your donation will help support the spread of baking skills and access to real bread.