Meet Morgan Arnell, a brewer helping to highlight the issue of food surplus and saving thousands of loaves along the way.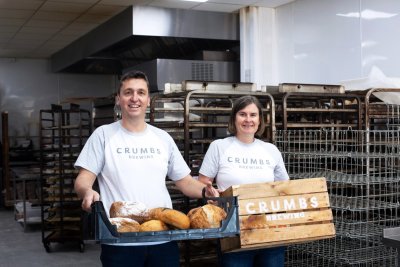 Morgan and Louise. Copyright: Simon Weller Photography
My wife Elaine and I had spent our careers working in insight and innovation but in 2016 decided that we were tired of corporate life. Enough of helping well-known companies come up with new ideas for all sorts from laundry detergents to snacks and beers, we thought, we wanted to create something of our own.
While planning our next move, we came across a shocking statistic: 44% of products sold as bread in the UK don't get eaten. This inspired us to explore the idea of diverting surplus food to make a new product. We then learned of the innovative brewers behind the Brussels Beer Project, who in 2015 had revived a long-forgotten practise of brewing with bread. The seeds of Crumbs Brewing had been sown...
Starring rolls
From day one we decided that not only did we want to do something with a positive sustainable purpose, but also make sure we made great tasting beer! Importantly, we wanted to make sure that the unique ingredient, the surplus bread, was the star of the show. We call it making waste wonderful.
We struck up a relationship with our local Real Bread baker, Chris Robinson, who owns Chalk Hills Bakery in Reigate. Sure enough, despite the team's best efforts, surplus loaves were a fact of life for the bakery. At best they got given to the local farmer as animal feed. At worst some wholesale customers were putting unsold loaves in black bags and sending them to landfill.
Given that the Chalk Hills bakers put so much time, effort and skill into producing their Real Bread, we had to do them justice. With the support of a variety of brewing experts, after much R&D we developed a range of beers. Each is brewed using a different type of loaf and the style of the beer reflects that bread's delicious character.
The first step in our process is to turn the bread into crumbs. The resulting greater surface area to volume ratio increases the rate and level of starch conversion to fermentable sugars. As well as contributing to the strength of the beer, we find that it adds to the flavour as well.
We use breadcrumbs to replace roughly a quarter of the malted grain normally used in a mash to make beer, so each brew requires a fair amount of Real Bread - there's roughly a slice in every pint. So far, we've saved around 30,000 loaves from being wasted, reducing the amount (and therefore carbon footprint) of malt we need to use.
Our beers
In just the same way that a good baker makes a range of clearly differentiated breads, we wanted each of our beers to be very distinct. Part of the skill in developing our products has been to ensure that the types and amounts of malt and hops we use for each beer complement and enhance the characteristics of the particular bread at its heart. Winning two one-star Great Taste Awards in 2021 suggests that we are doing something right. Our range covers the spectrum from light to dark:
Sourdough Pale Ale: Dry and refreshing. Late hops enhance the aroma and flavour of the zesty sourdough bread but don't overpower with bitterness. (4.2% ABV)
Bloomin' Amber Lager: Based on a Vienna lager recipe, it's refreshing with a deliciously malty finish delivered by white bloomer bread. (4.8% ABV)
Rye Ruby Ale: Our recipe folds the complex flavours of rye bread into a dark, warming ruby ale with real richness. (5% ABV)
Rye Coffee Porter: Brewed with rye bread and spent coffee grounds from the bakery's café, this strong porter has a chocolatey, sweet side. (7% ABV)
Drink to the future
If you buy Crumbs beer from our online shop, we make a donation to one of our two chosen charities. Just One Tree's 'buy one, get one tree' pledge is to plant a sapling for every purchase, while FoodCycle redistribute unsold food from a variety of sources to people in need. If you didn't feel good enough drinking our beer already, that's an extra reason to give them a try. You can also buy from a growing number of independent local retailers across the UK, as well as from Waitrose and John Lewis.
We've been so happy with the response to our beers and our growth has been more than we could have imagined, even through the tough time the hospitality trade has had as a result of the pandemic. Hopefully, there will come a point when we need more bread than Chalk Hills Bakery can offer us - not only because our sales are increasing but because they are able to reduce their surplus. At that point we will want to build a network of Real Bread bakers all over the country and create local beers unique to each of them. If you run a bakery, keep us in mind as we may be knocking on your door at some point soon!
@crumbsbrewing
@chalkhillsbaker
---
Originally published in True Loaf magazine issue 49, January 2022
See also
No Loaf Lost
Circle of loaf
Supermarket loaf beer: Surplus saving or publicity stunt?
Published 7 Mar 2022
Real Bread Campaign: The Real Bread Campaign finds and shares ways to make bread better for us, better for our communities and better for the planet. Whether your interest is local food, community-focussed small enterprises, honest labelling, therapeutic baking, or simply tasty toast, everyone is invited to become a Campaign supporter.
Support our charity
Your donation will help support the spread of baking skills and access to real bread.